Reviews
Black Mirror Season 5 Episode 1 Review: Striking Vipers
Black Mirror turns preconceptions about love and identity upside down in an episode that will be ranked among the series' best.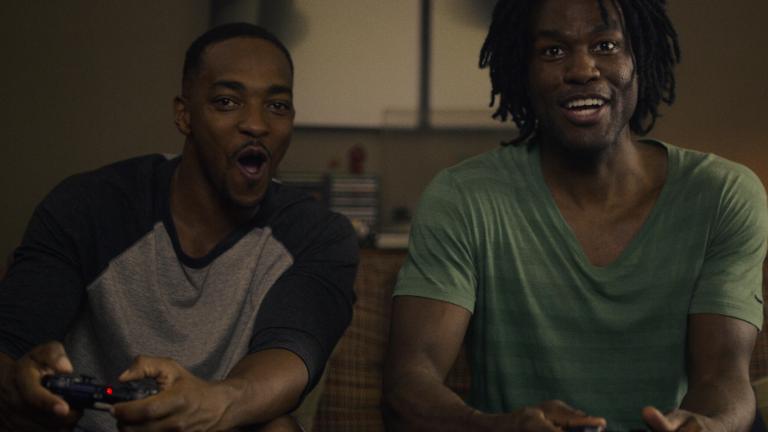 This review contains spoilers for Black Mirror season 5.
Black Mirror Season 5 Episode 1
As one of the most thematically complex Black Mirror episodes to date, "Striking Vipers" can be analyzed from many different perspectives and still be equally as rich. Thanks to some expertly delivered and smartly written dialogue as well as subtle but incredibly important background details, the story transcends the simple plot involving a virtual reality technology that allows the players of the fighting game that gives the episode its name to enter its immersive world. In addition to asking the audience the subtextual question, "What would you do?" this episode poses larger questions about identity, love, and sexuality that allow for endless interpretation.
Black Mirror does a nice job of setting up an atmosphere of disillusionment after it briefly introduces us to a young couple, Danny and Theo, played with incredibly natural chemistry by Anthony Mackie and Nikki Beharie. The sudden eleven year time jump to Danny's 38th birthday party accomplishes two things. First, it creates a contrast between the party atmosphere of the intro and the mundane backyard barbecue depicting an exhausted life in the suburbs. And second, it implies a desire to reconnect to the past when Danny's old friend Karl, played by Yahya Abdul-Mateen II, shows up with a new version of a video game he and Danny used to play when they were all roommates.
Striking Vipers X is a fairly typical PVP fighting game complete with special moves and a variety of arenas to battle in, the main difference being the players exist in a virtual reality where they see through the eyes of their chosen champion and feel everything they feel. Fortunately, Black Mirror uses this technology to frame the story rather than make the episode about the game itself, although the fighting effects, the beautiful backgrounds, and the fighting movements of Roxette (Pom Klementieff) and Lance (Ludi Lin) have the familiar look and feel of Mortal Kombat and other similar games. It won't be lost on fans of comic book movies either that "Striking Vipers" has Falcon, Manta, and Mantis all in the same episode.
But all that's just bonus. At its heart, "Striking Vipers" explores the emotional bonds of friendship, marriage, parenthood, and sex in a way that makes us question our own hangups. Black Mirror even gives us hints about what to expect from the very beginning as Theo tells Danny that she found it very exciting when he pretended to be a stranger picking her up in the bar or when she chastises Danny for not talking more openly and frequently with Karl. The ability to speak frankly about feelings quickly becomes a cornerstone of the episode's central conflict, and although Danny and Karl clearly enjoy each other's company, it's only Karl's disconnected playboy lifestyle and Danny's humdrum suburban existence that can create enough disillusionment to allow them to explore a surprising new outlet for their bond.
Danny and Karl's awkward acceptance of their online dalliance as Lance and Roxi follows a logical progression that leaves us to wonder whether the friends are repressing their own homosexuality or indulging in the objectification of their avatars' hyper-sexualized appearances. Does Danny merely lust after Roxette's lithe athleticism, and does Karl simply have a fascination with the symphonic female orgasm versus the male guitar solo he's used to? Does the violence of the fight have anything to do with it, or is that just the catalyst? All of these questions are equally valid and delightfully complex despite the fact that many of them have clear and definite answers.
Theo's reaction to Danny's secret is as important if not more important given her much more observable emotional reaction to it all. Beharie is as expressive as they come, and whether she's dealing with the ups and downs of fertility, the challenges of motherhood, or the self-image problems brought on by her husband's seeming indifference, her journey brings us closer to her than Danny's tendency to "just go away" ever could. Her acknowledgement that family life can be boring and that temptations, although perfectly understandable, must be snuffed out of respect to the commitment of marriage carries infinitely more wisdom than Danny's clumsy attempts to deny his attraction to Karl-as-Roxi.
But the more we examine "Striking Vipers," the more layers it takes on. What does the episode say, for example, about the process of aging, as Karl laments Mariela missing his Dennis Rodman reference and Danny complains of a knee injury keeping him from working out? What does it say about the nature of identity as Danny and Karl try to decide if loving each other as Lance and Roxi translates to amorous feelings in real life? Their experimental kiss produces no sparks, but since Karl's trysts with other avatars (and even the polar bear character) aren't as transcendent, does that mean something special about their friendship carries over to the meaningful romance between the champions they inhabit?
The fact of the matter is that the game allows Danny and Karl to shed their culturally ingrained male inhibitions and admit their devotion to each other in a way that society discourages in real life. As Theo forces them to hug after their uncomfortable dinner together, she accurately observes, "Guys can be so awkward!" And although it perhaps takes far too long for Danny to tell Theo the truth, it's somehow perfect that his confession happens off screen. All we get is an epilogue of sorts that depicts the new annual arrangement: every July 14th, Theo gets to feel sexy with her stranger-in-a-bar fantasy, and the boys get their virtual night of passion.
Black Mirror has had a lot of brilliant episodes over the past four seasons, but few have had this level of literary merit, allowing for all sorts of analysis for those willing to plumb its depths. Whether viewers see a study in fluid sexuality, an exploration of the meaning of self, or even simply a prediction of what VR technology might be like in the future, there are a multitude of ways to enjoy an episode like this. Heck, maybe there's a market for DC-Marvel crossover kisses!