News
Better Call Saul Season 5: Gus Invents 'Spice Curls' in Exclusive New Clip
Gus Fring proves he's a small business mastermind in this new clip from Better Call Saul season 5 episode 7.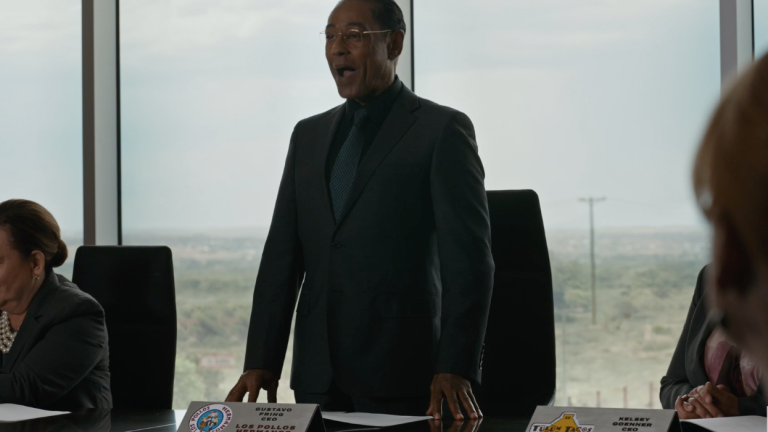 Gus Fring (Giancarlo Esposito) is a man of many talents on Breaking Bad and Better Call Saul. The prim, professional Chilean-American has served as a major methamphetamine distributor, an industrial laundry magnate, and Walt and Jesse's worst nightmare. But above all else, Gus Fring is a simple businessman.
In this exclusive new clip from Better Call Saul season 5, episode 7 "JMM," we get to see Gus in a new environment. Here he is in a nondescript boardroom, sharing the successes of Los Pollos Hermanos with his business partners. Give it a look below.
Great news for everyone who has ever wanted to hear Giancarlo Esposito happily chirp the line "spice curls." Gus's full message to his assembled fellow entrepreneurs is as follows:
"Thank you Herr Schuler. I am delighted to report that last quarter, Los Pollos Hermanos has increased sales 8.3%. Comparable restaurant sales increased by 4.2%, representing the 8th consecutive quarter of comparable sales increases. In addition to our continued focus on our core menu, we are very proud to introduce a new offering that will extend our product line while celebrating our traditional New Mexican culture. I invite you to taste our delicious spice curls: the curly fry with the Southwestern kick."
Spice curls!
Obviously, this being Better Call Saul and all, there is an underlying layer of menace below this cheerful business meeting. Gathered in this scene is a sizeable portion of the food division of major German conglomerate Madrigal Electromotive GmbH. Madrigal is best known to Better Call Saul viewers as the company that signs Mike Ehrmantraut's checks.
In the larger Breaking Bad universe Madrigal has an even bigger role, however. Madrigal is an enormous company that Gus and Head of Logistics Lydia Rodart-Quayle intended to use to take their meth business global. Madrigal is a likely multi-billion dollar company run by the mysterious Mr. Herzog. The man leading this meeting appears to be head of the fast food division, Peter Schuler.
The introduction of Madrigal into Better Call Saul's story suggests an increase in scope could be on the horizon for the Breaking Bad prequel. Or it just means that showrunner Peter Gould really wanted to share his idea for spicy Southwestern curly fries.
Better Call Saul season 5 episode 7 "JMM" premieres on Monday, March 30 at 9 p.m. ET on AMC.