News
Better Call Saul Season 5 Finale Preview: Jimmy Wants Some Answers
Jimmy, Kim, and Mike have their work cut out for them in the Better Call Saul season 5 finale as the legal and criminal worlds get closer than ever.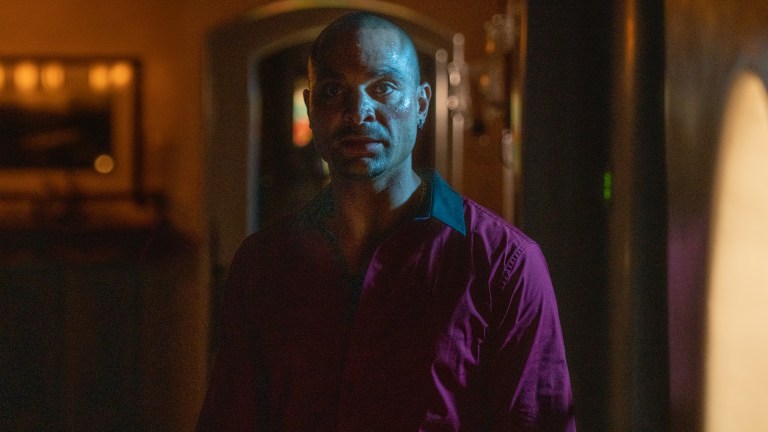 Through four seasons and some change of Better Call Saul, there has been little interaction between the legal world occupied by characters like Jimmy McGill and Kim Wexler and the criminal world occupied by Mike Ehrmantraut and Gus Fring. That all changed in the thrilling penultimate episode of season 5 in which Lalo Salamanca paid an unwelcome visit to Jimmy and Kim.
Now from the looks of things, those two worlds will intersect more closely than ever before in the super-sized Better Call Saul season 5 finale. AMC has released two clips from season 5 episode 10 "Something Unforgivable" and both are full of revealing tidbits. 
The first is your standard episodic preview…though there's nothing standard about how much footage it includes. AMC has come a long way from the days of infuriatingly vague Mad Men teasers.
Looks like Lalo and Nacho have ended up in a heavily-armed compound south of the border. The panic in both Kim and Jimmy's voices suggest they know that their work with the cartel isn't over just yet. "You're not going to do it again?" Kim asks/pleads as the camera lingers over a shot of quite a bit of money. That's even before the gun fire starts. Yeah…this is going to be an intense one.
The next clip is a brief scene from the episode. It offers up a bit of a humorous respite from all the intensity from the promo.
Jimmy wants answers! Or at least that's what he screams as he pounds on Mike's front door. Of course, he would have a better chance of getting answers if Mike were actually home.
The synopsis for the Better Call Saul season 5 finale reads "Jimmy and Kim make a sideways move that takes a serious turn; Nacho gets closer to the cartel than he'd like."
In talking with Den of Geek before the season premiered, Saul star Bob Odenkirk was actually pretty forthright that this blending of crime and the law was coming for the show.
"They're definitely overlapping a lot – the legal Saul world and the criminal world," he said. "This season there's a lot of connection now. It's fun. I like raising the stakes. I think that we are delivering for the audience what they've been hoping for.
Odenkirk also mentioned that there was a moment during filming where he almost died. That moment has almost certainly passed and had to do the weeks of filming in the desert he did for the season's eighth episode. But just imagine if there were something more intense and lethal than even that to come!
We'll find out soon enough as Better Call Saul concludes its thrilling fifth season on Monday, April 20 at 9 p.m. ET
Keep up with Better Call Saul season 5 news and reviews here.