Features
Batwoman: Inside the Broken Toys Ending That Changes the Series
Camrus Johnson stepped behind the camera for a momentous episode of Batwoman, which brought big villains, and even bigger personal moments to the series.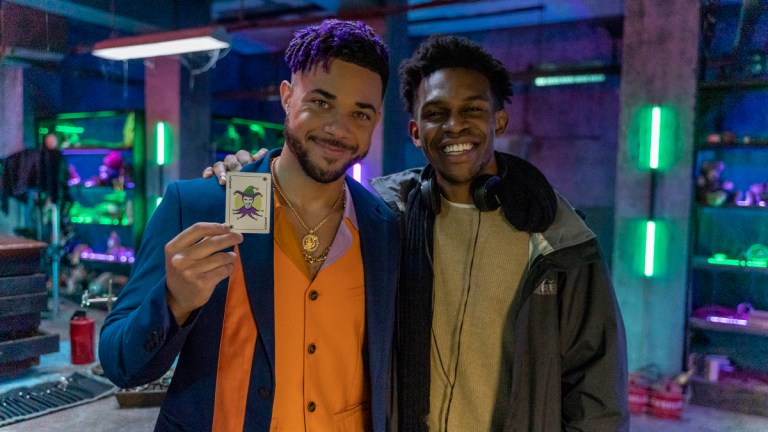 This article contains Batwoman spoilers.
Batwoman Season 3 Episode 11
Last night's episode of Batwoman finally made Wildmoore canon. The episode, which also saw Ryan Wilder and Jada Jett come to Jesus, was directed by the show's very own Luke Fox, Camrus Johnson. We talked to him about his directorial debut, his favorite scenes to shoot, and more.
In "Broken Toys," Marquis Jet is on the loose, and the Bat Team needs to fix the joybuzzer so they can try to save him. Things don't quite go as planned. Marquis sends Zsasz after Jada, and Ryan gets caught in the crosshairs. The Joker's toymaker, Kiki Roulette, pretends to help Mary and Alice, only to betray them and give the joybuzzer to Marquis. Amidst the chicanery, characters reveal themselves, and get closer to each other. Much closer in Ryan and Sophie's case, as the episode ends with the pair having sex for the first time.
MAKING WILDMOORE CANON
Ryan and Sophie getting together is a thing fans (me) have been waiting for, and as the director, Johnson was mindful of doing it right. He utilized intimacy coordinators on the set, and had artists storyboard the entire scene to give the performers the complete idea.
"I talked to them as much as I could on the phone and in person beforehand, just to make sure that no one was doing anything they didn't want to do," Johnson tells us by phone. "Everyone was comfortable and most importantly, everyone was having fun."
Johnson was intent on making the scene enjoyable for the cast, crew, and audience.
"The fun of romance is the imperfection," he says. "It's the making a fool of yourself. It's the clowning around the laughing, it's the giggling, it's the joking around. It's all that stuff. So what I wanted to make sure in this scene was that they were having fun and that we were finding that comedy and they were letting themselves enjoy it."
THE TRUTH ABOUT JADA AND RYAN
Another big moment happens when Zsasz holds Jada and Ryan at gunpoint, and threatens to kill Jada if Batwoman fails to appear. While the clock is ticking down, Jada reveals the truth about her past and Ryan's birth. This doesn't immediately fix things between them, but it does begin to build trust. And when time runs out, Ryan outs herself as Batwoman when she saves Jada from Zsasz. 
Johnson says of costars Javicia Leslie and Robin Givens:
"These black women came in there and they did not play around! They both made me cry at different moments," he says. "I was worried because—I liked the way that we shot it, but as we were shooting, I got nervous. I was like 'oh can I get a little too artsy with my wide shots? Should I have gotten a little more coverage?' But then my editor said that that was her favorite scene to edit because they just bring this powerful thing together." 
The rooftop scene between Ryan and Jada was a particular challenge for him.
"I wanted to do this thing where I gave them separation on camera so that we got to see them slowly close in," Johnson says. "You get to see them literally getting close to one another because that's what they're doing throughout the episode."
BRINGING THE ACTION
This episode also had some cool fights, which Johnson was excited to direct.
"Fight scenes are kind of my thing," he says. "When it comes to my comic books, I love drawing action scenes! I just picture them so much in my head."
He also has a lot of praise for the stunt team, "they are probably one of the best stunt teams on the planet," and for star Javicia Leslie.
"Javicia's a warrior by the way," Johnson says. "This entire episode she brought it. When it comes to stunts, when it comes to tears, when it comes to everything. I don't know how she does what she does, but getting to witness it first hand nearly every day was a dream."
BRINGING THE JOKER TO BATWOMAN
Another dream come true for Johnson was working with the Joker. 
"I got to really dive into my Joker fandom," he says. "I got to really freak out and add all these props and have Nick do the Joker laugh a couple of times. I really got to go in there. And it was incredible."
But Joker isn't the only villain he's hyped for, Johnson wants to see Zsasz and Mad Hatter again, among others. "I love our villains. One of my favorite things about the show is our fun little villain guest stars."
SHE DREAMS AT SUNRISE
"Broken Toys" is the first episode of live-action television directed by Johnson, but the project that prepared him for the task was the animated short She Dreams at Sunrise, which he wrote and directed.
"I was my great aunts' caretaker years ago, and I've been trying to find ways to tell that story because it is in many ways the reason I am who and where I am today," he says. The short tells the story of an elderly woman who escapes her mundane reality through her dreams while her great-nephew helps reconnect her to what's really missing.
"The inspiration behind that was that my great aunt was sick and she would hallucinate," Johnson says. "She was basically living between two worlds. So my job was to constantly bring her down to earth and explain that she was not getting attacked by a tiger, she's not in the middle of woods, she was at her home, and her brain was sort of working against her. I wanted to find a way to tell that story in a way that was heartwarming and pulling on heartstrings. Not so much dark, but you get the feeling of what it was. But you also get to see some of the beauty of it too."
On how She Dreams at Sunrise prepared him for Batwoman, he talks about the feat of completing the short in a tight eight-to-ten week timeline.
"The fact that we actually finished it—and the fact that people like it, the fact that I feel like it's pretty dang good—It just shows that I learned so much about time efficiency and time management on that project."
That experience proved invaluable on the Batwoman set, when crane malfunctions disrupted the shoot on a day when multiple stunts were being filmed. "There were so many things to shoot in 10, 12, 14 hours that we had to find a way to get this incredible work from the actors, get incredible shots from the crew, and do it in a time sufficient way."
Batwoman will return on The CW with new episodes on Feb. 22.