Features
Batwoman: The Importance of Jada Jet to Gotham City
Javicia Leslie and Robin Givens talk about bringing Jada Jet to Gotham City in Batwoman season 3.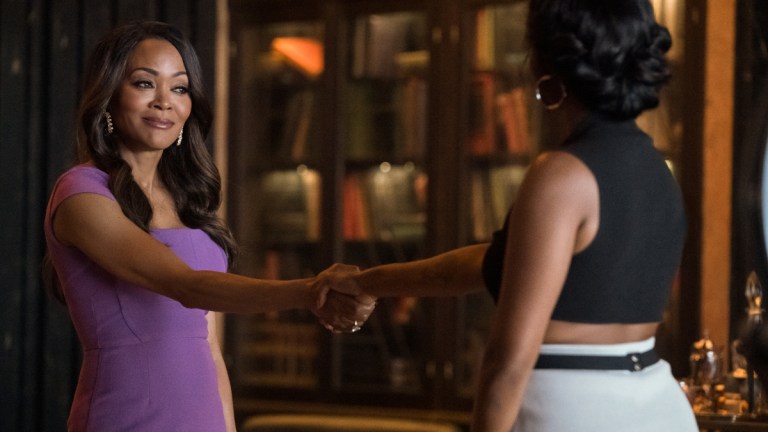 This article contains Batwoman spoilers.
Batwoman Season 3 Episode 2
Slowly, then all at once, Batwoman became a show as much about Black womanhood as it is about heroism. Season two saw Ryan Wilder (Javicia Leslie) step into the titular role, and so began the evolution of Batwoman from vigilante to hero. Ryan made the Bat much more than a symbol for justice, she transformed it into a reflection of the city and the people it protects. Ryan confronted Gotham's many injustices through brute force as a vigilante but also through advocacy, using her connections and their vast resources to better the underserved communities of Gotham.
The second season of Batwoman took time to build Ryan up while allowing the audience and the characters the space to say goodbye to Kate Kane. While everyone was hoping to find Kate, to bring her back to the city and to the suit, Ryan was finding herself and making the suit her own. While Kate's loved ones figured out where Ryan fit into their new reality, she helped those around her evolve into better versions of themselves; nowhere is this more apparent than with Sophie and Luke.
Sophie tried to fix The Crows from the inside, and once she fully grasped the level of corruption within the organization, she stepped away. And even when her personal feelings about Batwoman and vigilantism were uncertain, she protected Ryan's secret, and helped the Bat Team protect Gotham. Luke nearly died as a result of police violence, and struggled mentally and emotionally after surviving. But his relationship with Ryan, and a fortunate encounter with John Diggle, led him on the path to becoming Batwing. Ryan's impact on her friends and the city is not insignificant.
Making Batwoman a Black woman meant more than just putting kinky curls on the Bat cowl; it meant redefining who the hero is for the people of Gotham. And in crafting narratives for Ryan that would authentically reflect the experience of being a Black queer woman, Batwoman writers tapped into a well of storytelling that they likely wouldn't be able to if Kate Kane was still the Bat.
This is the world we're entering into in season 3, a world Javicia Leslie and Robin Givens are excited to explore.
"It's still pretty iconic that we have a Black Batwoman. I just love that it's this particular woman, this particular actress playing this role." says Robin Givens, about co-star Javicia Leslie. "I love Ryan. I think Ryan in and of herself is such a strong woman and so good that then it makes sense to me that she's Batwoman."
Givens steps into the role of Jada Jet, who we formally meet in the latest episode. Last week, Ryan visited Alice to get her insight on a Mad Hatter copycat and Alice fanboy. And after Alice doubled down on her revelation that Ryan's birth mother is still alive, Sophie investigated—leaving an apparent trail for Jada to follow back to Wayne Corp. Sophie discovered the truth, which Ryan chose not to learn, but when Jada makes a surprise appearance at Wayne Tower to discuss a data breach at her corp, Jeturian Industries, Sophie is compelled to let Ryan know.
Jada is a wealthy mogul while Ryan grew up with nothing, which is an interesting character dynamic that will be explored throughout the season.
"I think it can be very complicated, when you've struggled your entire life, and then come to find out your mother is one of the wealthiest people in Gotham," Javicia Leslie says about the dichotomy between Ryan and Jada. "In any version of Gotham—there has to exist the upper-class and the lower-class. That's what makes Gotham Gotham, because there is really no middle class. There is just this vast difference between the haves and the have-nots. I think that for Ryan's entire life to exist as a, quote unquote have-not, but to know that her mother is now leading the haves, to know Jada Jet is one of them and that's her bloodline. It has to be heartbreaking, infuriating, frustrating, all of that."
Givens is similarly intrigued by how the class dynamic between mother and daughter will play out during the season.
"I'll be interested to see how those two worlds we're dealing with, with what Ryan had to deal with when she confronts Jada and says, 'this is what my life was like without you.'"
Batwoman has evolved its version of Gotham to shift the spotlight from people like the Waynes and the Kanes to people who look more like it's lead.
"Not only do we have a black Batwoman, we have a Black version of a Wayne through Jada Jet. We're seeing Black excellence," Leslie says. "I was brought on to the show to play a character that came from the have-nots and sometimes, that can be complicated for our community when we're watching film and television to see like, 'oh, is this the only way we can exist?' Jada Jet's existence on our show shows the diverse ways that we can exist as Black people and as Black women. I think that was one of the most powerful decisions to make on the show, bringing on Jada Jet, and having her be, as of now, the most powerful, the wealthiest, the strongest, the most connected player in Gotham right now. And Robin's doing it so elegantly."
Givens, who says she is "proud and honored to be a part of" Batwoman, also believes that the series has an important story to tell.
"I always believe people are more the same than they are different," Givens says. "And I think oftentimes what happens with us, is that you see one dimension of us, you see us one way. And Black people exist from many different experiences and backgrounds."
Batwoman will have her share of baddies to go up against, now that she's forced to work with Alice to retrieve the missing villain artifacts. But Ryan's biggest challenge might just be getting to know her estranged family. Whether those relationships help or hurt is yet to be seen but we look forward to watching the journey.