Features
Supergirl: Dreamer Confronts Her Transphobic Sister
Chasing the Dream Totem, Nia must work with her transphobic sister Maeve, forcing a confrontation years in the making–with mixed results.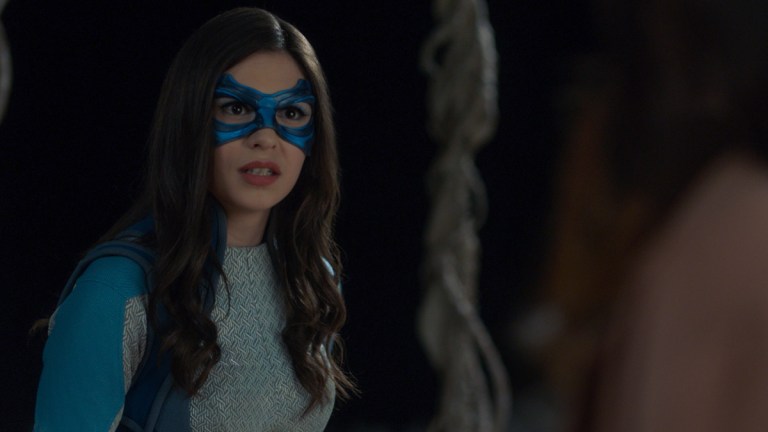 This SUPERGIRL article contains spoilers for Season 6, Episode 16, "Nightmare in National City."
Supergirl Season 6 Episode 16
Nia took on Nyxly and her long-absent, transmisogynist sister while Kara juggled heads of state and her decision to unilaterally put a giant dome over half of National City. And yet, the monster that made them put the dome up managed to feel like the least important part of an episode that belongs to Dreamer.
This episode doled out some fun details, including the fact that Nyxly had a crush on Myxy's cousinwhen she was a kid. Her suit apparently includes her disembodied voice, AI-style, from the future? And also Lex Luthor, because of course. Olsen family get-togethers (that's where Esme and Kelly went) sound like the perfect way to help a kid realize they are safe and loved. Speaking of Esme, her drawings are too cute, as are Kara saying "my niece," and J'onn saying "my granddaughter." Those touches were a nice way to make Alex's new family feel present even when there wasn't room for them to have an arc here.
Brainy is apparently green full time because William's been at the tower, but the idea of him going green and platinum at home with Nia all the time out of comfort is appealing. It's been a while since we've checked in on his attempts to chill out, but if his very open floral (!!!) shirt is any indication, as long as Nia is safe, he seems to be doing just fine. For her part, Nia besting Nyxly was some seriously sweet payback. I don't feel like Nia required redemption, but she clearly relished the opportunity and it was well deserved.
Supergirl had to give Nia some closure regarding the living members of her family, after she was able to get some closure with her mother (and learn some valuable insights) through her tricky deal with Nyxly. The show had a tall order when it comes to making the case for why Nia should ever deal with her TERF (trans-exclusionary radical feminist) sister ever again, who invalidated Nia's gender when it turned out Nia was the once-in-a-generation Dreamer and not Maeve. Maeve caused a horrible, hurtful scene at their mother's funeral and apparently stole all their mother's dream texts. We now know their father took Nia's side afterwards, but that was a very long time for Nia to have to wonder whether her dad is transphobic or not. What good is support for marginalized people if it only happens in private?
Rather than make the case for why Nia should let Maeve back into her life, the writers took a page out of the Super Friends' book and opted for brusque expediency in the face of danger: setting up Nia to simply require Maeve's help to stop Nyxly. They used Nia's refusal to even hear Maeve's apology to try to smooth the way, letting viewers feel righteously angry but sticking us with Maeve (and having every intention of at least setting her on the road to redemption by the end of the hour) nonetheless.
The writers seem to have mostly chosen to set Maeve's radioactive TERF-iness off to the side, having her refer to Nia as her sister throughout the episode and apologize for her behavior at their mother's funeral early on, even if she continued to behave badly in other ways. But rest assured, there's still plenty of TERF rhetoric from Maeve. Her narrative regarding Nia keeping secrets and stealing her powers and purpose smacks of the transmisogynist trope of duplicitous transgender women who steal safety, opportunity, identity, and other resources from "real" women. (TERFs fixate on transgender women to an overwhelming degree.) Maeve lays herself and all TERFs bare when she tells Nia "I just wanted you to be in as much pain as I was." Her hatred, and theirs, was never about Nia or transgender people.
Nia not forgiving her TERF sister sends an important message to viewers. Saying sorry – especially immediately after betraying someone yet again! – doesn't erase the pain, and no one is entitled to forgiveness. It still feels frustrating, though, to watch Maeve get a second chance for simply giving Nia a necklace and apologizing, only a minute or two after betraying Nia and after an episode of talking trash to her. Frankly, I expected a full redemption for Maeve so Nia laying into her sister and refusing to forgive her felt like a win, but that doesn't mean it really is one. Nia is still lonely and grieving because she lost her mother and essentially the rest of her family, forcing her to navigate the world as a hero and a trans woman with only her found family to support her. That can make any warmth from her sister feel like something worth fighting for. But Nia, like all trans people, deserve not to settle for backstabbing and conditional acceptable. The gauntlet was right – Maeve Nal is a traitor.
Kara finally quitting her job feels like a long overdue decision on the part of the writers to finally commit to how to spend their time during these final episodes. Kara has sacrificed her professional life for years, and the show is finally acknowledging it, albeit not in a way that feels all that rewarding or true to the character. Seeing Supergirl and the Super Friends caught on the wrong side of public and governmental outcry was worthwhile, but William and CatCo weren't entirely necessary to communicate that, from a story standpoint. However, it still hurts to watch Kara walk away from her passion instead of melding the two, as it seemed like she might do by either revealing herself or going on camera from Kara's studio, or learn to let go and allow the many other capable heroes to take the lead so she could help humanity another way. Rather than Kara's quitting feeling like a sign of how high the stakes are (Nyxly still feels pretty average on the villain, scale, even with the return of Lex), it feels like a purely logistical need to condense what the show covers for the final four episodes.
Lex's inevitable return felt, well, inevitable. It's no less welcome, as Jon Cryer has long been a great addition to the show. Somehow, though, two fun villains played capably by two good actors still feel inadequate for Supergirl's last stand. Hopefully the next episode will put that concern to bed.