News
Linda Hamilton on Being 'Done' with Terminator Franchise
Linda Hamilton is not hopeful about there being another movie after Terminator: Dark Fate but she'd "really love to be done."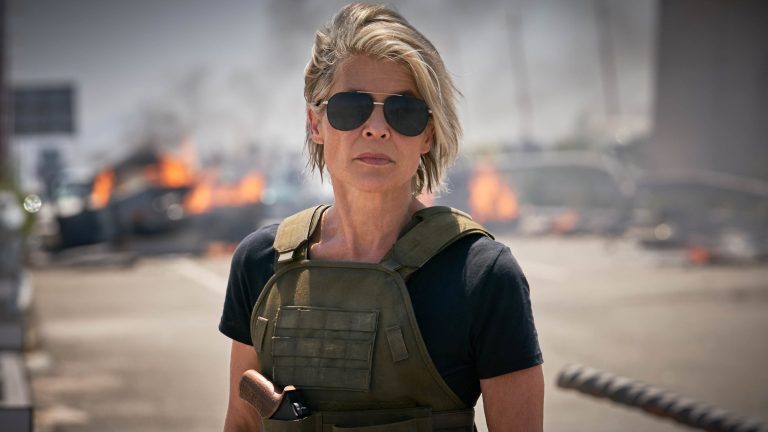 I'll be back. Once simply a clever piece of dialogue in The Terminator (1984), that line has become a self-fulfilling prophecy for the franchise that followed. After five sequels and a spinoff television series—each retconning and contradicting the other sequels in their own ways—it feels like the franchise could never die. It even looked healthier than it'd been in decades with Terminator: Dark Fate, a competent if uninspiring legacy sequel to the original two films.
Yet one of the franchise's greatest stars appears ready to accept that Terminator will not be back after Terminator: Dark Fate's weak box office performance. Grossing only $261 million at the global box office, the reboot that was intended to kick off a new trilogy of films starring Linda Hamilton as Sarah Connor might instead be the final chapter of Terminator on the big screen. That appears fine by Hamilton though, an actor who spent decades happy to be done with fighting off T-800s and other unwanted time travelers.
Speaking with The Hollywood Reporter, Hamilton suggested if she did come back to the franchise one day, she'd want it to be a smaller movie, but she is not hopeful that'll actually happen.
"No," Hamilton said when asked if she's optimistic about playing Sarah again. "I would really appreciate maybe a smaller version where so many millions are not at stake. Today's audience is just so unpredictable. I can't tell you how many laymen just go, 'Well, people don't go to the movies anymore.' That's not Hollywood analysis; that just comes out of almost everybody's mouth. It should definitely not be such a high-risk financial venture, but I would be quite happy to never return. So, no, I am not hopeful because I would really love to be done."
This is not an entirely surprising perspective for Hamilton to take. When Den of Geek spoke to her back in July about returning to the franchise in Terminator: Dark Fate after opting not to come back for Terminator 3 in the early 2000s, Hamilton suggested she'd long thought she was done with Sarah Connor. She also admitted she was hesitant about coming back, as well as determined to make sure the new movie had something new to bring to Sarah.
"There had to be something new to say, or something new for me to play as a character, because I'm not going to just do this endless loop."
It is perhaps for that reason she was happy with one of Terminator: Dark Fate's most controversial decisions. Speaking with THR now, Hamilton opened up about the choice of having John Connor (played by a digitized Edward Furlong) be gunned down in the film's opening scene, set just a few years after Terminator 2: Judgment Day (1991).
"I thought it was a great leaping-off point for my character," Hamilton said. "To create a new fuel and fire for Sarah Connor, I thought it was a very good story point. I'm not one that clings to past ideas. Judgment Day is about John, but John wouldn't exist without Sarah. Then something else will happen, and Sarah will have to die. That is kind of the nature of life, and I would like that to be the nature of franchises where it's not just the same story retold each time. I just think it's much more interesting to launch from a new place."
It's a fair point, particularly since one of Dark Fate's problems was that for all its heart and earnestness, it was more or less a retelling of the original movie. It might still be nice to see another swan song for Sarah Connor that is truly a unique story for the character and Hamilton. But maybe it is time to leave the past (or is that the future?) behind.
David Crow is the Film Section Editor at Den of Geek. He's also a member of the Online Film Critics Society. Read more of his work here. You can follow him on Twitter @DCrowsNest.