News
Anaconda Reboot In the Works
Columbia Pictures has ordered a reboot of 1997's Anaconda with Snow White and the Huntman's Evan Daugherty attached to write.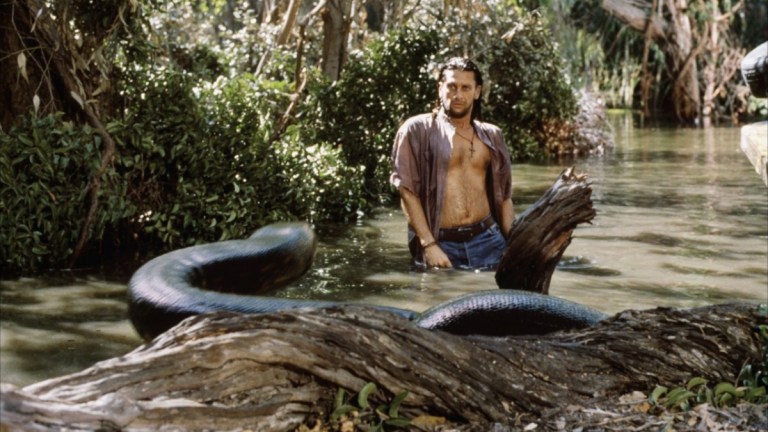 Never doubt the public's appetite for enormous, man-eating snakes…or at least movie studios' perception of the public's appetite for man-eating snakes.
According to The Hollywood Reporter, Columbia Pictures has ordered a reboot of 1997's monster horror hit Anaconda. Evan Daugherty, writer of Tomb Raider and Snow White and the Hunstman, is attached to write the film. No director, producer, or release date has been assigned yet.
Anaconda was critically panned when it was first released in 1997 but soon became a cult classic. The original actually featured a pretty impressive cast including Jennifer Lopez, Ice Cube, Jon Voight, Erik Stoltz, Danny Trejo, and Owen Wilson. The film followed a documentary crew in South America attempting to shoot a story about a long-lost indigenous tribe along the Amazon. Instead of the tribe, however, they come across a monstrously huge anaconda with a taste for flesh. Though the CGI anaconda was certainly terrifying, its size was barely an exaggeration with the longest known anaconda in the real world reaching 30 feet! Reality is terrifying.
The film was just successful enough to launch a small Anaconda movie franchise. Anacondas: The Hunt for the Blood Orchid, Anaconda 3: Offspring, Anacondas: Trail of Blood, and Lake Placid v. Anaconda all followed the first film. The franchise supported several video games as well.
This new project at Columbia is set to be a full reboot which will ignore the expanded Anaconda continuity (obviously). THR reports that the studio is looking to take a Meg-style approach to the new film, which makes sense given that Anaconda was The Meg long before The Meg made over a half-billion dollars worldwide.
While the reboot will likely feature a new cast, producers undoubtedly will want to snag Jennifer Lopez and Ice Cube for at least a cameo. They'll also likely have misplaced Jon Voight's phone number.
Alec Bojalad is TV Editor at Den of Geek and TCA member. Read more of his stuff here. Follow him at his creatively-named Twitter handle @alecbojalad