Reviews
Aliens Invade American Horror Story: Double Feature
American Horror Story: Double Feature kicks off Death Valley with a blast of 1950's sci-fi fun mashed up with some modern social commentary on technology. All that's missing is Jonathan Frakes.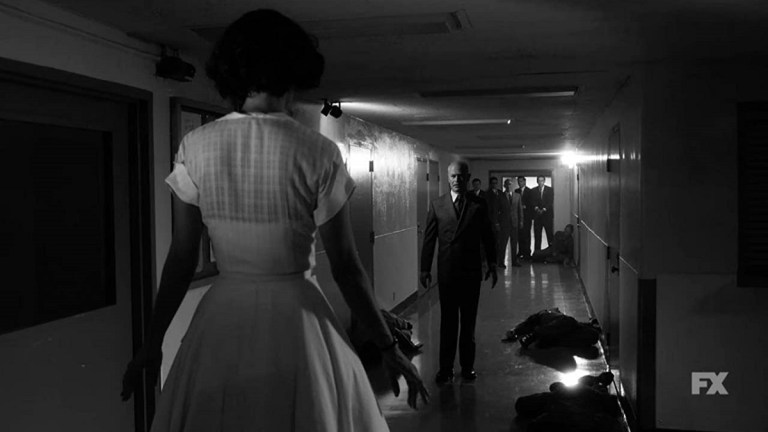 This American Horror Story: Double Feature review contains spoilers.
American Horror Story Season 10 Episode 7
On August 28, 1995, the Fox network turned to Beyond Belief: Fact or Fiction host Jonathan Frakes, special effects guru Stan Winston, cinematographer Allen Daviau, and forensic pathologist Cyril Wecht as part of a never-before-seen special called Alien Autopsy: Fact or Fiction. The footage, released by UK entrepreneur Ray Santilli, was presented as an authentic autopsy of the body of a gray alien recovered from the 1947 Roswell, New Mexico UFO crash supplied to Santilli by a military cameraman.
Despite the Santilli "recreation" being a complete and utter fabrication according to any number of reasonable experts, the special was a huge hit. Alien Autopsy aired on Fox at least three times, with each airing getting higher ratings than the last. In this case, the truth not being out there didn't matter. Alien Autopsy was popular, and it kicked off a debate about the existence of aliens that rages on to this very day (unless you're Tom DeLonge). From a special on Fox to FX's hit horror anthology American Horror Story, aliens continue to fascinate, repulse, and entertain us in equal measure.
One of the things about Death Valley is that, from the very opening moments of the episode, it completely knows what people want from UFO stuff. Namely, killer theremin, lots of blinding lights, weirdness involving electronics, and the occasional exploding head. AHS played a bit with alien tropes in the latter part of Asylum, but now it's front and center, and these aliens aren't as benevolent as the aliens who healed Sister Jude's mind. These aliens, at least from what's been shown so far, have ulterior motives.
More importantly than their motivation, these aliens make an immediate, scary impression. It starts with the swirl of dust devils outside Albuquerque, New Mexico as Dean Martin croons and Maria (Rebecca Dayan) gets dinner ready. The record skips. The lights flicker. Her son, who had been playing outside, disappears into a cone of white light. The house shakes and rattles, the record playing backwards, the clock rewinding, everything going haywire. When her husband comes home that evening, he finds his wife, suspended a foot off the ground, and with a raise of her hand and a rolling of her blank white eyes, his head explodes in a shower of gore.
With a 1950's kitsch sci-fi pop of a bursting balloon as the foley, the exploding head takes just enough of the piss out of the scene to give it the appropriate feeling. Yes, it's horrible and serious and a little bit scary, but it's also a little bit funny, too Probably because it's not happening to you.
The entirety of the set-up to this episode, courtesy of director Max Winkler, walks that line between campy and horrifying deftly, with every possible lighting and musical cue designed to evoke the golden age of black-and-white sci-fi mixed with bits of reality, like President Eisenhower (Neal McDonough) chain-smoking and lying about his health problems to an unbelieving Mamie (Sarah Paulson). The alien autopsy sequence reminded me of Fox's special immediately, and the scenes in which the alien organism bursts out of the body cavity to attack the doctors was straight out of the 1950's Blob right up until their heads exploded and Marie floated in to speak to the President directly.
That retro shooting style smashes up against the ultra-modern sequences of Kendall (Kaia Gerber), Jamie (Rachel Hilson), Troy (Isaac Powell), and Cal (Nico Greetham), who are possibly the most modern people who have ever lived. Even Kendall, who is swearing off smart phones and technology thanks to hooking up with her Luddite college professor Adam (Chris Caldovino). Kendall is suspicious of the rate of technology growth over the last 50 years and its effect on humanity. Unsurprisingly, this comes back in to complicate the plot, particularly after a technology-free weekend in Joshua Tree results in a large gap of missing time and four mysterious pregnancies for both men and women.
The script, from Brad Falchuk, Kristen Reidel, and Manny Coto, is solidly done. The modern-day 20-somethings are annoying, but not to the point that they're too difficult to watch. They're just annoying enough to feel like real self-indulgent, self-obsessed early college students, who are full of information and lacking in real-world experience. It's nicely counterbalanced by the life experiences of Ike Eisenhower, who might not know a lot about aliens but is an experienced diplomat and military leader who is capable of seeing some terrifying things without losing his cool, unlike the college kids.
The balance between ultra-modern and retro is going to be crucial to just how Death Valley plays out. Both elements will be valuable to the story. It's hard not to be charmed by the old-style sci-fi segment just because it contains so many elements expertly replicated by the design team and technical crew. The modern half will have to hold its own without leaning on genre tropes (aside from the Close Encounters aspects of the abduction sequences) and replicating classic sci-fi sequences like the Invasion of the Body Snatchers hand-raising and The Thing From Another World's very long hallways.
It's a lot to live up to, but the teased connection between the initial Joshua Tree crash and the Joshua Tree abduction is strong enough to carry this forward with the momentum of Earth's technological advances. Throwing in UFO greatest hits like cattle mutilation, Betty and Barney Hill, and experimental pregnancy to further combine all of the sci-fi alien tropes together only whets the appetite more for gray aliens and the body horror to come.