Reviews
American Horror Story: Double Feature Opens with Stephen King-ian Terror
American Horror Story: Double Feature debuts with Red Tide, a tale of creative and literal vampirism run wild in picturesque Nosfera-tour of Stephen King's New England.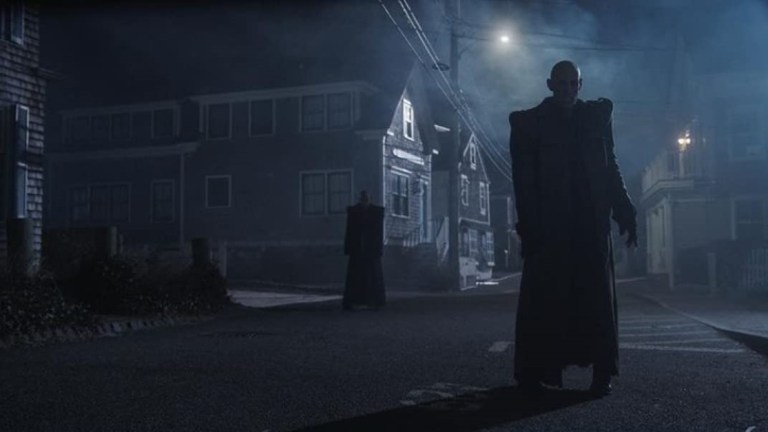 This American Horror Story: Double Feature review contains spoilers.
American Horror Story Season 10 Episodes 1 and 2
For 1984, Ryan Murphy and Brad Falchuk channeled their inner Sean S. Cunningham in order to craft a campy, funny, bloody ode to classic slasher movies from Friday the 13th to Sleepaway Camp. From the very opening moments of this season, in which a car sweeps down a deserted two-lane highway along a cold, frosty beach, the first half of American Horror Story: Double Feature, dubbed "Red Tide", evokes nothing more strongly than the works of Stephen King and Joe Hill. It's hard to do anything related to New England and horror without running into the King family, and rather than attempt to run from the obvious influences, Ryan Murphy and Brad Falchuk lean in and give the people what they want from the very first frames.
Rather than opting for Maine or Haverhill, Massachusetts as King does and Joe Hill did for NOS4A2, Ryan Murphy drew a little bit of inspiration from his own life by setting Red Tide in one of America's biggest arts tourist hideaways, Provincetown, Massachusetts, at the very tip of Cape Cod. Murphy is one of many who call the Cape a summer home destination, alongside luminaries such as Norman Mailer, Eugene O'Neill, John Waters, Kurt Vonnegut, Tennessee Williams, Anthony Bourdain, and Mark Rothko, among countless others. Like a lot of places in that part of the country, it's bustling during tourist season and empty the rest of the year, with residents scrapping out a living fishing or doing odd jobs when winter kicks in.
Clearly, lots of folks, including Murphy, have turned to this part of the world for peace and quiet and inspiration, and joining their ranks is struggling television writer Harry Gardner (Finn Wittrock), alongside his pregnant wife Doris (Lily Rabe) and precocious daughter Alma (Ryan Kiera Armstrong). He's got an order for a television pilot and a debilitating case of writer's block. As The Shining tells us, nothing is better for writer's block than being isolated from the rest of the world with nothing but your family, though unlike The Overlook, P-town has a fun collection of interesting locals willing to provide inspiration to the Gardners.
Oh, and also creepy, bald monsters who look like Nosferatu after a crack binge.
Therein comes the other part of Murphy and Falchuk's inspiration, as Stephen King coastal village full of weirdos runs smack-dab into The Lost Boys in the best way possible, swapping the sheen of the boardwalk for frozen salt spray and the coolness of Kiefer Sutherland and Jami Gertz for the obvious sex weirdo pairing of Austin (Evan Peters, great as always) and Belle Noir (Frances Conroy) who get introduced singing "Islands in the Stream" at a deserted piano bar in town and only get weirder from there. they get their hooks into Harry with a little drug Austin dubs The Muse, which promises to unblock Harry's mental pipeline, but that comes with some insane side-effects.
Essentially, "Cape Fear" and "Pale" are asking a simple question. What would you do to make it big in your chosen artistic field? Most people feel like they have some sort of hidden talent; if they didn't, we wouldn't have decades of TV talent shows from Star Search to the Great British Bake Off. In Harry's case, he takes a pill given to him by some wildly successful weirdos and, from the looks of things, turns himself into a vampire (or at least a person who drinks human blood, since technically he's not dead and can go out during the day). If you have talent, The Muse amplifies it, be it music or painting. If you don't have talent, you end up like the mindless Kurts Barlow that hang out at the graveyard and terrorize dog-walkers.
Murphy and Falchuk dig into that central question across two episodes, as almost immediately Harry's creative life improves after taking The Muse but his personal life immediately starts to fall apart as the short-cut he takes has an effect on him, physically and emotionally. His relationship with his wife and daughter fall apart almost immediately, and seeing her father take a short-cut to success has Alma looking for ways to get around her own limitations without having to put in any extra hard work as her father lingers, hunched over the computer, banging away on the keyboard to produce page after page of script. It's good work, apparently, but it comes at a huge cost.
Certainly, Austin and Belle are over-the-top characters, with Evan Peters digging in and Frances Conroy never failing to make the most of what she's given, and it's nice to see Finn Wittrock play the main character rather than a side-character. The return of Lily Rabe is always appreciated, as she remains one of the underrated performers in the stable.
Ryan Murphy deepens his bench of dependable character actors for this double season by reaching out to none other than Macaulay Culkin, who plays hustler Mickey. In particular, "Pale" director Loni Peristere taps into Culkin's weirdly positive dark energy, bringing out some interesting depth in a character that could have easily just been one-note or a bit of stunt-casting. As always, Sarah Paulson does yeoman's work throughout; shrieking obscenities at Harry in the grocery store and being nothing if not a weird, unsettling presence in the form of TB Karen. Paulson is always great, and I remain continually impressed by just how much physical work she puts into her performances, and how taxing the character of Karen must be with all the full-body coughing Paulson has to do.
There's no particular stand-out performer as of yet, but as with any Ryan Murphy show, it's all about the rich ensemble cast, and "Red Tide" has that in spades. Characters trapped in a weird world full of horror movie situations. The setting is beautiful and creepy, and Peristere and "Cape Fear" director John J. Gray make the most of the atmosphere of the place; half the creepy work is done just by the gray, ominously empty setting, with streets full of empty houses marked by the occasional blood-red Edison bulb. Gray takes more than a few cues from Cape Fear, to good effect, and the environment is established as ominous well before the first Barlowsferatu shows up and chases Doris and Alma home.
As new season debuts go, this is a very solid entry. If nothing else, the American Horror Story crew knows how to set up atmosphere in minutes, and they do so effectively in "Red Tide". The shorter season seems to have pushed the story into second gear almost immediately, and two episodes flew by without any real wasted time. Like Harry's script, there's no stopping until you need a fresh glass of meat smoothie.