News
American Gods: Shadow Moon Ascends in First Season 3 Trailer
American Gods gets a new setting and some slick new styling in the first look at season 3.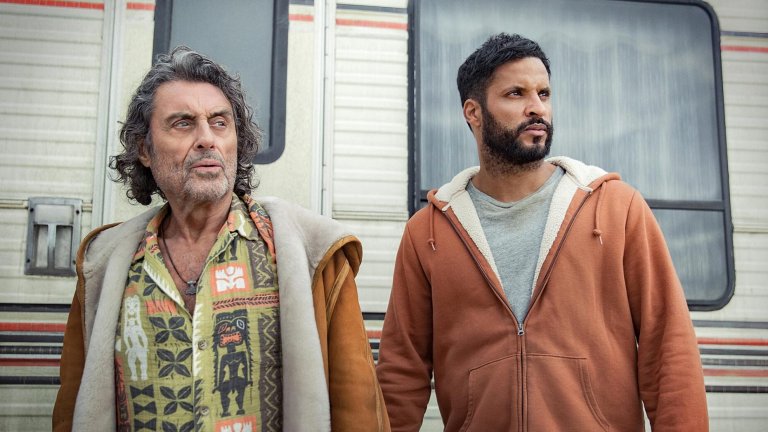 We haven't heard from the American Gods universe in awhile. In fact, it's been over a year and a half since season 2 concluded and the show went through another round of … say it with us: behind the scenes drama.
Well the fine folks at Starz have apparently decided that we've waited long enough. During the show's appearance at New York Comic Con, producers unveiled the first real footage of season 3 as part of an exciting new teaser. You can watch the 90-second clip below. 
There's always a lot to unpack in just about every new bit of American Gods footage, but this time around there's really a lot to unpack. Shadow Moon (Ricky Whittle) is feeling himself and it shows. In addition to a new hairstyle, a new location, and new attitude, Shadow is ready to accept season 3's tagline: "I Am A God."
Elsewhere in the trailer we experience, in no particular order: White Buffalo in a supermarket, the aurora borealis, joyous gospel music, Mad Sweeney extremely dead (or just getting ready to play Master Chief), and of course: Danny Trejo. 
Starz did not announce a release date for season 3 during NYCC but did reveal the show will be arriving in 2021.
The synopsis for American Gods season 3 reads: 
This season follows Shadow as he attempts to break away and assert himself as his own man, setting down roots in the idyllic snowy town of Lakeside, Wisconsin, where he'll uncover a dark secret while exploring questions of his own divinity. Guided on this spiritual journey by the gods of his black ancestors, the Orishas, Shadow must decide exactly who he is—a god seeking veneration or a man in service of the "we."
Adapted from a Neil Gaiman novel of the same name, American Gods has always had a pretty chaotic life behind the scenes with Bryan Fuller stepping out as showrunner after the show's first season. Now the series is looking for a fresh start in its third season with a new storyline that takes the characters to Lakeside, Wisconsin, and yet another new showrunner in Chic Eglee.
New cast members for season 3 include Iwan Rheon as Liam Doyle, Marilyn Manson as Jonah Wengren, and Blythe Danner as Demeter. Returning cast members include: Ricky Whittle as Shadow Moon, Ian McShane as Mr. Wednesday, Emily Browning as Laura Moon, Yetide Badaki as Bilquis, Bruce Langley as Technical Boy, Crispin Glover as Mr. World, Omid Abtahi as Salim, Peter Stormare as Czernobog, Demore Barnes as Mr. Ibis and Devery Jacobs as Sam Black Crow.