News
Amazon Prime Video New Releases: March 2022
Here's everything coming to Prime Video in March 2022 including a new series from The Boys!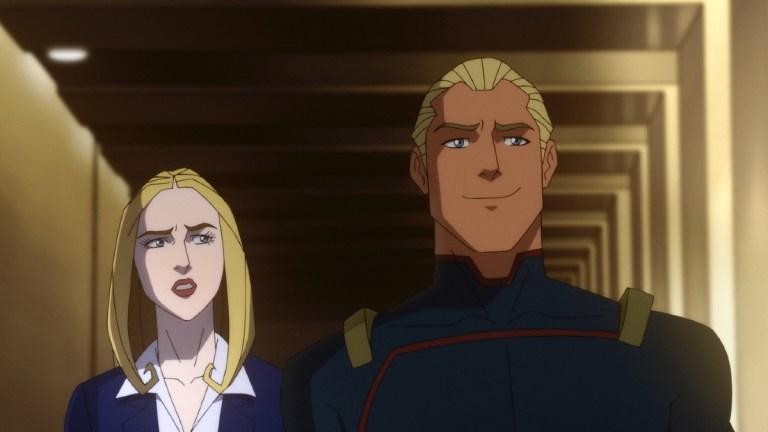 Look, not every month is gonna be full of bangers. Amazon Prime Video's list of new releases for March 2022 is extremely light but still has a couple of good options for streaming obsessives.
The biggest title this month is undoubtedly The Boys Presents: Diabolical on March 4. This series presents eight different stories set in The Boys' universe, all offered up by different writers. Since each of the eight mini-episodes are animated, it's probably fair to say this is The Boys' Animatrix. Call it the "Anivought".
Also arriving on March 4 is season 2 of the high concept comedy Upload. Set in a digital afterlife, this series created by The Office's Greg Daniels asks some big questions about where technology is taking us. And it's hosted on Amazon Prime, no less!
On the movie side of things, March 4 sees the arrival of Lucille Ball documentary Lucy and Desi. Before that, March 1 will bring some notable library titles like Weekend at Bernie's, Prometheus, and Spaceballs.
Here is everything else coming to Amazon Prime Video this month.
New on Amazon Prime Video – March 2022
March 1
The Hundred-Foot Journey (2014)
The Proposal (2009)
Weekend At Bernie's (1989)
Prometheus (2012)
Chronicle (2012)
Confessions Of A Shopaholic (2009)
Flightplan (2005)
The Tooth Fairy (2010)
Dead Poets Society (1989)
Lawless (2012)
Crash (2005)
Dirty Dancing 2: Havana Nights (2004)
Blackfish (2013)
Prince Avalanche (2013)
Coffy (1973)
Blacula (1972)
Spaceballs (1987)
Be Cool (2005)
Scream, Blacula, Scream! (1973)
Foxy Brown (1974)
Baby Sheba (1975)
Cotton Comes To Harlem (1970)
Liar, Liar (1997)
Puss In Boots (2012)
Takers (2010)
March 4
Lucy and Desi (2022)
The Boys Presents: Diabolical (2022): Season 1
Upload (2022): Season 1
March 10
Harina (2022)
March 11
Pete the Cat (2022): Season 2, Part 4
March 18
Master (2022)
March 25
Lizzo's Watch Out For The Big Grrrls (2022): Season 1