Reviews
All American Season 3 Episode 7 Review: Roll the Dice
All American Season 3 Episode 7 finally gives us the breakdown of what really happened in Vegas.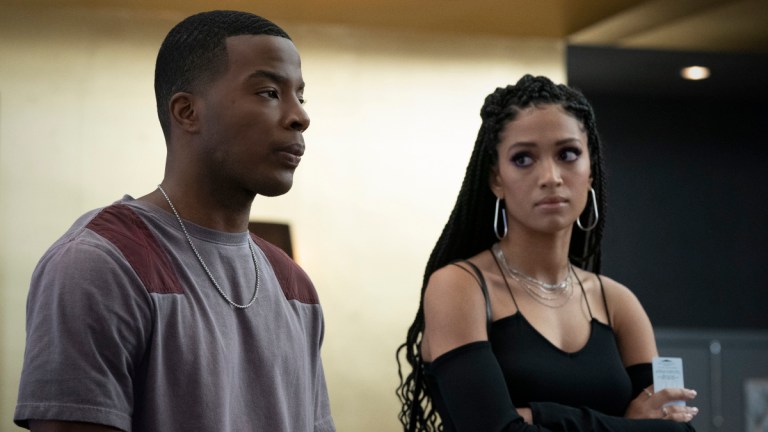 This All American review contains spoilers.
All American Season 3, Episode 7
"Roll the Dice" gives us a break from current events and decides to show us all that went down in the summer before school started. Secrets, revelations, and confessions. How about that for a Vegas trip? Let's discuss…
What happens in Vegas… doesn't stay in Vegas?
Can we all agree that Jordan (Michael Evans Behling) has been very impulsive and immature in the way he makes decisions this season? Like, to the point where you want to go up to his face and yell "What are you doing?" Jordan and Simone (Geffri Maya) getting married didn't even cross my mind as a possibility for the secret of what went down last summer. However, it is Vegas, so why not? Seeing it play out makes can be anxiety-inducing to watch, but I guess when you know, you know. Jordan is still very immature and I am side-eying these teens' decision to get married, but if they don't listen to anyone, maybe they'll realize the impact of their decision later on and think about it more seriously. They moved too quickly and everyone knows that. The way that shows have teens act so sure about decisions like these never fails to make me giggle. I know that it's "to each their own" but come on now, this is way too soon. Oh boy.
This episode really nails it in the way it reveals what really went down in Vegas, and how it changed the course of character dynamics when they all returned home. What I didn't expect was for this episode to center more around Simone and Jordan and what their decision to move forward will be. You can't blame Olivia (Samantha Logan) for speaking the truth about her twin brother. She knows him better than anyone after all.
"I wanted you here. That's why I called you."
Ladies and gentlemen, there you have it. A moment that was a long time coming for Spencer (Daniel Ezra) and Olivia. We've got the answers we've been wanting this whole time. Though things did take an upsetting turn in the end, the most important moment happened and it was beautiful.
I can't get over the intense looks Spencer and Olivia gave one another as Simone and Jordan were saying their vows. It's always moments like these, in which the angst of two characters that have unknowingly had strong feelings for one another this whole time come out, as the "looks" start to unveil itself. Where one or both of them begin to realize that the person they're staring at is the person they've been truly in love with this whole time.
Let me also note that the montage of all the beautiful and intimate moments these two have shared was touching to watch. Two people made for each other realizing that they have always been each other's person. For a second there, I forgot that the main focus was Jordan and Simone getting married. Spencer finally gets clarity that it's been Olivia all along, and that all those moments between them have led them to where they are now. That speech he gave? The writers definitely knew what they were doing because it worked and flowed so well. Ah, teenage love is special and you feel all the feels. For Spencer to put his heart out like that takes a lot of vulnerability and strength, though I wish Olivia said more during that scene, even though she said plenty with her eyes and body language just when Spencer went in for that long-awaited kiss.
Olivia's hesitation is justifiable, she's thinking about how Asher and Layla would feel. Again, it's vry in character for Olivia to sacrifice her own feelings and happiness for her friends'. It's admirable, but it's also time she prioritizes her happiness. What really got to me was the way Spencer said that he loved her—like, those three words finally came out of his mouth. "Roll the Dice" does an exceptional job in giving us such a good backstory of what happened in the past, because it finally gave us clarity of what really happened and what this means moving forward for everyone.
Additional thoughts.
This teenage marriage storyline takes me back to the good old of that one CW drama we can't seem to forget: One Tree Hill. Oh, what a throwback.
They recast Layla's dad! Did not expect that, but due to COVID travel restrictions when filming, the original actor wasn't able to be there.
Going back to a time where Coop and Spencer are still best friends and knowing that they aren't now is sad.
What happened to Patience was not cool at all.
Spencer bought the necklace for Olivia instead! Be still, my heart.