Reviews
All American Season 3 Episode 5 Review: How Come
In "How Come," All American explores the mental health difficulties that come along with competitive sports.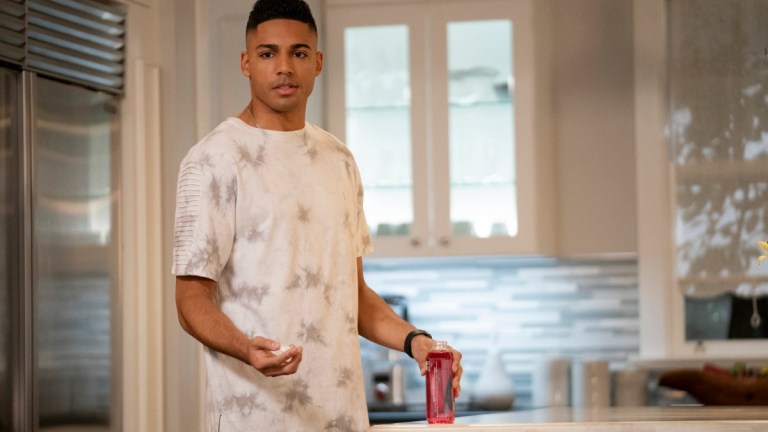 This All American review contains spoilers.
In most TV shows centered around athletes and sports, the stories told are rooted in inspiration, discovering your strengths, and most of all the power of teamwork. But, often, what's forgotten in these portrayals is how sports culture can negatively impact the mental health of the teenagers who take part in them. We don't see this potential toxicity covered as much on TV or film, which is why All American's choice to make space for that type of conversation is so important. 
In "How Come," Jordan (Michael Evan Behling) is putting a lot of pressure on himself to be the best Q1 and then some. He refuses to take "no" for an answer, even when his health and mental well-being may be at stake. We know he worries that missing a game or even losing his place on the team could endanger his future plans to play college football. Ironically, he doesn't seem to realize how much this decision not to take care of himself can affect his mental health and therefore his performance as a football player. It's sad to see teenage athletes go into this type of panic mode where they see losing a game as an unacceptable outcome, and have to do whatever it takes to be great, no matter what it takes. And it's a real feeling that happens with students working hard to make it as professionals in football. In All American, this struggle is one of the main inner conflicts its characters have.
The whole mentality of "I'll sleep when I'm dead" comes into play with Jordan. He's clearly pushing himself when he should be resting. Conditions like these can develop into something even more serious, and it's especially frustrating to see when it could have been avoided. There's so much toxicity that comes along with competitive sports like football. The narratives of having to constantly be the best, win all the games and lead your team to victory are highlighted, but what's forgotten in that framing is how much of a mental toll it can take on athletes—not just teens, but adults as well. "How Come" does a good job making this issue into a character-driven plot. The series can explore this side of sports even more with its characters and how much of an impact this mindset takes on them, while not making the plot somewhat forced or out of place.
While Jordan deals with that in Beverly, Spencer (Daniel Ezra) is still processing his revelation about Coop (Bre-Z) from the last episode. As much as he wants to start focusing on himself, he's stuck with having to worry about how his best friend feels and what she needs. As a protagonist, there is a lot that he goes through in terms of having to learn how to detach from his identity as the one who saves everyone, even when it means sacrificing his own safety and mental health. It's unfair that Coop doesn't see it just yet, but when Spencer finally tells her in person, you can hear the hurt in the way Spencer's voice cracks. Daniel Ezra's performance in this scene tugs at the viewer and conveys so many emotions all at once: sadness, anger, and even resentment.
Ironically, just after Spencer comes to terms with the fact that Coop is his stuck point, it's made clear that Spencer is actually Chris' (Spence Moore II) stuck point. When can Spencer catch that break? But at least he is making improvements in his therapy session.
Additional thoughts.
I'm still very curious as to why Mo is back in Crenshaw. I hope there is more to her story.
So… Asher is back on the team again, just like that? Things are too easy for him sometimes.
Olivia is struggling and I want more screen time on her story.