Reviews
All American Season 3 Episode 1 Review: Seasons Pass
All American returns for its third season with Spencer's return to South Crenshaw.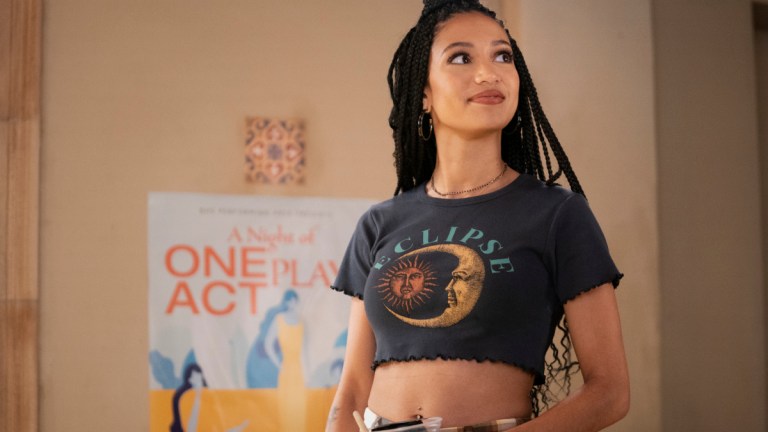 This All American review contains spoilers.
All American Season 3, Episode 1
It's senior year for our Beverly Hills and Crenshaw friends and that means the summer before senior year, something always has to happen to spice up the new school year. Right? After that All American Season 2 cliffhanger, my mind is going to the most obvious guess of what could have happened over the summer between Spencer (Daniel Ezra) and Olivia (Samantha Logan). But, we'll get back to that in a bit…
When we pick back up with him in Season 3, Spencer is no longer a student at Beverly because he wants to give back to the school and community that built him, even if it means having to leave behind his team at Beverly, taking Billy (Taye Diggs) with him. The dynamic is reminiscent of the first season when Spencer was the new kid in town, Jordan (Michael Evans Behling) feels like Spencer stole his dad.. This time, however, it's totally different as Billy chose to resign and to follow Spencer to Crenshaw.
How will Spencer's return to his original school (and its football team) affect the show? Is the rivalry between Crenshaw High and Beverly going to get more intense? We shall see what's in store, but it's a smart narrative choice to send Spencer back to Creshaw and, as a viewer, it's hard not to support the teenager in wanting to return and wanting his coach there with him for the transition. That first punch Jordan threw at him was so uncalled for and I hate seeing them get into altercations. Spencer mentions how after all they have been through, "not once did they put their hands on each other" and was disappointed that it had to happen now. I really hope another fight between them doesn't happen again.
Meanwhile, at Crenshaw High, we see Billy and Grace (Karimah Westbrook) in the hallways, at their own stomping ground and seeing their interactions have always felt gentle and kind, with a lot of history behind it as well. Hopefully, their kindred friendship stays platonic and heads nowhere to romance because they are perfectly fine as is and at least this viewer wouldn't want to see that relationship become a potential roadblock to Olivia and Spencer (if they were to finally explore them as a couple). I'm just sayin.
During their time on campus, Billy and Grace run into the Superintendent D'Angelo Carter (Lamon Archey), aka the person behind the plan to turn Crenshaw into a magnet school. We not only realize that Carter has ties to the school, but that he used to be bullied by Billy and his teammates when they were teens and had to transfer freshman year. Yikes. The moment when the kid you used to bully comes back at a higher position than you and won't forget it is an awkward encounter. He has every right to have resentment. D'Angelo is already intent on not making the football team be a thing at Crenshaw and to make things harder for Billy and his new team, he reveals that he raised the GPA requirement of all athletic participation to make the school become a strong magnet school rather than an athletic-focused one. Now that's what you call revenge.
Speaking of revenge, who thought Tyrone's sister was out to seek it once she made her presence known in the Season 2 finale? I know I did and I was not looking forward to what would come of that and how she'd go after Coop (Bre-Z), even though she wasn't the one that actually killed Tyrone. She's a fancy lawyer now but I hope she knew he got what was coming for him eventually. She can't really be mad about that. I mean, yeah she can be, because that's her brother, but he was a guy that terrorized the community and had Shawn killed. She got Preach (Kareem J. Grimes) out of prison to make amends. I hope she stays on her word and wants to make amends. I got my eye on her, though. It seems unlikely that the show would introduce us to her so easily and have her disappear just like that without causing some drama.
On the other side of town, Simone (Geffri Maya) finally had her baby and gave it up for adoption really quick. That takes quite the strength and resilience to do, especially when she decides not to look at her child before giving it away. It also makes sense, because in a way it helps them make the separation slightly easier. I am impressed by the way Jordan has been with her this whole time. Loving her and loving her baby all this time. I still find it hard to connect with Simone and I can't seem to see the chemistry between those two.
Also, can we talk about Simone's dad? He was chatting it up with the adoptive father and figured out they named him "Shay." My initial guess once he found out that baby was Simone's was that he was going to find a way to sabotage the adoption, but my guess was wrong. Maybe after learning his name and her dad showing her a picture of him that he snagged, she might even have second thoughts? That leaves a lot on the table. Her character is in the works of a getting a spin-off show!
But anyway, let's get back to Olivia and Spencer. What happened?! We know Spencer and Layla (Greta Onieogou) hooked up in Vegas and shared a kiss in this premiere. I thought we wrapped things up with those two. Call me a restless shipper, but the chemistry and tension between Olivia and Spencer in this premiere was off the chain. It always has been, but now it's just intensified. Something went down that summer and that something looks intense and I want more. You could tell the slight jealousy coming out of Olivia when she saw Spencer and Layla together at the cafe. All I know is that the angst is real.
Additional thoughts.
Patience (Chelsea Tavares) has something to spill and I wanna know what it is!
That flashback of Billy and his mother when he was a kid tugged at the heartstrings.
I'm here for Layla and Coop's friendship