News
Agents of SHIELD Series Finale Trailer, Release Date, and Synopsis
With several characters mentioning the team's final mission together, Agents of SHIELD is gearing up for a whopper of a series finale.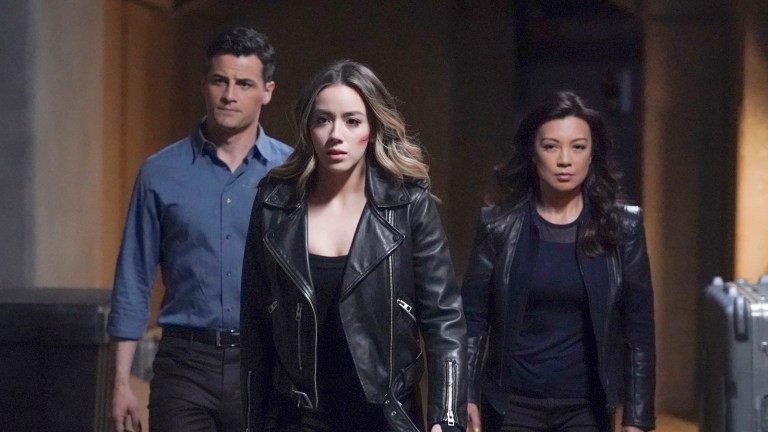 A lot has changed in Agents of SHIELD season 7, not only as a result of the consequences of time travel, but also because of a shift in certain relationship dynamics. May is more emotional; Coulson can handle technology; Daisy is finding love while Simmons has forgotten hers. All of this points towards one conclusion: the team is transitioning to a life beyond the series finale, which means fans will soon have to do the same.
The end of the seven season run of Agents of SHIELD is comprised of two episodes entitled "The End is at Hand" and "What We're Fighting For." Here's the official synopsis from ABC:
"With their backs against the wall and Nathaniel and Sibyl edging ever closer to eliminating SHIELD from the history books, the agents must rely on their strengths to outsmart and outlast the Chronicoms. This is their most important fight, and it will take the help of friends and teammates, past and present, to survive."
Not much to go on, but we can glean a bit more information from the trailer for the Agents of SHIELD two-hour finale, a so-called "farewell event" that airs on Wednesday, August 12, 2020 at 10/9c. Chloe Bennet as Daisy Johnson emphasizes the finality of the episode when she begins the promo by saying, "This is the last mission together, isn't it?" Clark Gregg's Phil Coulson can only gape silently in answer.
Sybil, the Chronicom Predictor in charge of erasing SHIELD from history, tells the team, "The war is over, and you've lost," and it certainly appears as though there's not a lot that can be done about the destruction of every SHIELD base around the world. Fortunately, the Lighthouse is built to withstand such an onslaught, allowing those still on the ground to make a stand.
On the flip side of that, certain questions remain leading into the final episode ever for Agents of SHIELD. Will Fitz return, and if so, how? Will Simmons remember him? What was all that about "bloodwork"? Will the other couples in the show, including the burgeoning relationship between Daisy and Sousa, have their moments as well? Will history be put back on track, or is everything beyond repair? Fans may not want the show to end, but at least they'll have a double episode to draw out those final moments when hopefully answers will be forthcoming.