Features
Agents of SHIELD Season 7: The Legacy of Daniel Sousa
Agent Carter's Daniel Sousa visited this week's Agents of SHIELD episode, but how is the character important to SHIELD history?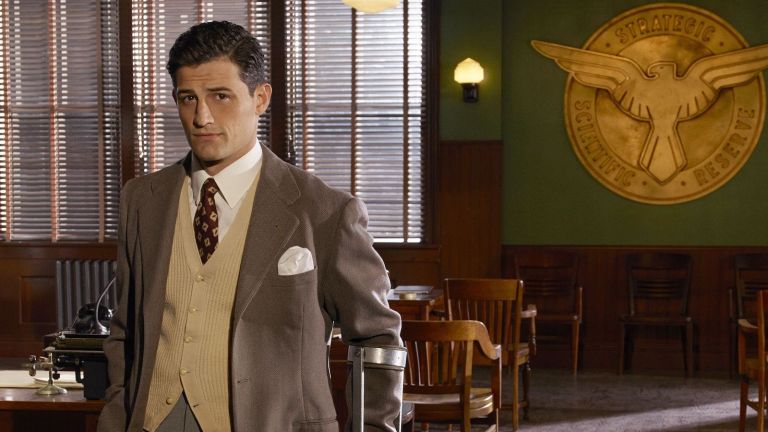 This article contains Agents of SHIELD spoilers.
For some viewers, Enver Gjokaj reprising his Agent Carter role as Daniel Sousa in the most recent episode of Agents of SHIELD was bittersweet. On the one hand, the 1955 setting of "Alien Commies from the Future!" allowed us to see what happened to Agent Sousa eight years after the events of the earlier series, but on the other hand, it reminded us of how the story of Peggy Carter and her SSR colleagues was cut way too short with the cancellation of Agent Carter after only two brief seasons. Although not much information can be gleaned yet from Sousa's return, it's worth revisiting what this war hero means in the big picture of SHIELD's origins.
As mentioned by Daisy in Agents of SHIELD, Daniel Sousa was a scout for the 28th infantry in the second world war. We learned in Agent Carter that he took shrapnel during the Siege of Bastogne, causing him to lose his leg and require a prosthetic upon his return to the U.S. Perhaps because of this, Sousa bonded with Peggy Carter as another marginalized, underestimated agent in the new Strategic Scientific Reserve, the precursor organization to SHIELD. Sousa respected Carter much more than his male colleagues, who thought that Peggy only received her position based on her Captain America and Howard Stark connections.
Over the course of Agent Carter's first season, Peggy and Daniel grew closer, and when another agent took credit for their endeavors, Carter charmed her partner by saying she didn't need acknowledgement: "I know my value." Sousa asked her out on a date after that, but she declined, leaving the door open for future possibilities. The tables were turned later in the series when Carter and Sousa were reunited at the Los Angeles SSR office. This time, Carter asked Sousa out for a drink, and he politely declined, not mentioning he was dating another woman by then. The two did eventually kiss, though, and an off-screen romance was always implied.
Fans speculated at the time that Sousa may have been the unnamed husband Peggy mentioned in Captain America: Winter Soldier (Endgame alterations aside), but this week's Agents of SHIELD may have finally disproven that theory. In the movie, Steve watches interview footage of Carter mentioning that Captain Rogers saved her future spouse during a blizzard behind enemy lines, and the date in the byline is 1953. The events of "Alien Commies from the Future!" take place in 1955, and Simmons and the others are starstruck by Sousa — once they realize who he is — as Peggy Carter's historical partner, not as her husband.
So it seems that Sousa's enduring legacy, as Daisy in her CIA guise says, is his defeat of Hugh Jones and the Council of Nine. This is of course a reference to the head of Isodyne Energy who was on the hidden council within the Arena Club, an organization of wealthy influencers seeking to steer American history to their own benefit in season two of Agent Carter. It's more than plausible that Sousa's success as the head of the Los Angeles field office in this 1947 case would lead to him being in charge of the SHIELD-run Area 51 in 1955.
The big question now is, where does Sousa go from here? The SHIELD team may have tricked him into letting them escape while placing him in their holding cell, but with LMD Coulson short circuiting along with all of the Chronicoms in the EMP blast in this week's Agents of SHIELD, they still might need Sousa's help moving forward. Could he be read in on the whole time travel thing as Ernest Koenig was in a previous episode? Or will Gjokaj's guest appearance just be a nice Easter egg for fans of Agent Carter that won't yield any more information about the aftermath of that series? Either way, it sure was nice to see good ol' Daniel Sousa — like Coulson, we're big fans.