Reviews
Agents of SHIELD Season 7 Episode 3 Review: Alien Commies from the Future!
With plenty of humor and an Agent Carter tie-in, this week's Agents of SHIELD explores the 1950s and the infamous Area 51.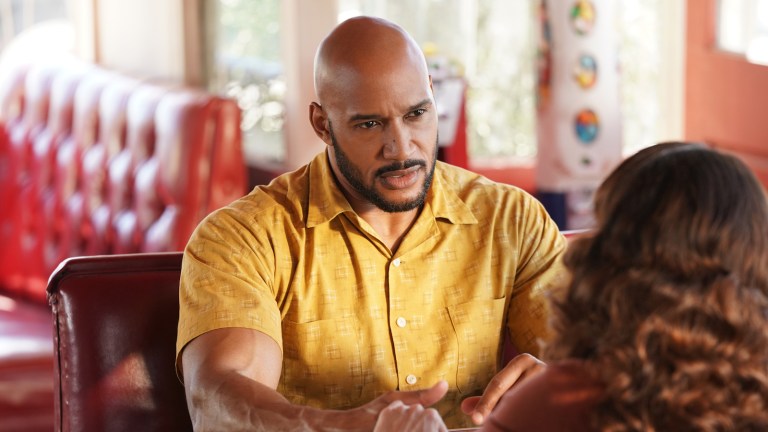 This review contains spoilers for Agents of SHIELD.
Agents of SHIELD Season 7 Episode 3
The final season of Agents of SHIELD has been afforded the unique opportunity to bring the series full circle with references to earlier villains like Hydra and guest stars like Enver Gjokaj from Agent Carter, but it has also been remarkably relevant to current events with its treatment of the history of racism in this country and this week's nod to UFO culture that has resurfaced in the news lately as well. These factors elevated an otherwise okay episode that treated us to plenty of humor in a 1950s setting and new character driven mysteries, particularly with the still recovering Yoyo and May.
One peripheral guest spot that leaves us wanting more is that of Tamara Taylor of Bones and Altered Carbon fame. Her character, Sybil the Predictor, appears to be designing the Chronicom missions based on an ability to examine the progression of history and choose which threads to pull to unravel SHIELD's existence. The character doesn't feel all that original, being very reminiscent of Sherri Saum's far too emotional Atarah last season, who was also in a supervisory role. No one can equal the perfect deadpan of Joel Stoffer's Enoch, but Taylor does a passable job here with her soft-spoken demeanor. It will be interesting to see how her character develops as the season progresses.
Gjokaj's return as Daniel Sousa, on the other hand, is a highlight of this week's Agents of SHIELD, and it reminds us, even though we never truly got over its cancellation, that Agent Carter ended too soon. Having Simmons pose as Peggy to infiltrate Area 51 (which — are we surprised? — was an old SHIELD base) was a master stroke, but Sousa's reaction to the ruse was just as well orchestrated. Following up the capture of Coulson and Simmons with Daisy's infiltration as a CIA agent was fun, too, but it was more enjoyable to hear her delineate Sousa's role in taking down Hugh Jones and the Council of Nine and to see Coulson fanboying over another historical hero.
In fact, Coulson had some of the best lines of the episode as he and Simmons interrogated new arrivals to the base to test them for emotional response. Using everything from criticism of John Wayne to moral dilemmas involving overturned turtles, each additional bizarre test provoked plenty of laughter throughout the episode. One particular favorite involved Coulson asking one of the nerdy scientists, all of whom could easily be mistaken for Chronicoms according to Simmons, to react to the word "moist." Clark Gregg delivered the famously irritating word with perfection, and it's amazing that either he or Elizabeth Henstridge were able to keep straight face.
The fact that Coulson characterized the 50's as a golden era of innovation, overlooking the fact that the waitress was giving Mack dirty looks and that the restrooms were segregated, was a good way to point out that fascination with the past can easily overlook its flaws. It's appropriate that he, as a white male, was the one to commit this oversight, and it was equally provocative that Deke was chosen to interrogate Gerald Sharpe, the bigoted Department of Defense worker, as a use of his white privilege after the others failed. It's hard not to admire the way Agents of SHIELD has been able to confront these uncomfortable truths about American history with a subtlety that still manages to serve the story.
Speaking of the narrative, though, the plot of "Alien Commies from the Future!" wasn't all that compelling overall. The twists involved in eliminating a young Malick as an indirect takedown of SHIELD in the previous installments was much more innovative then exploding an ion fusion drive prototype to take out faceless VIPs. The callback to Enoch overloading his core to activate the monolith to the past in the season five midseason finale was a clever concept, but it wasn't enough to spice up the rather bland fight scenes and the frankly easy defeat using the Simmons-upgraded EMP.
What was interesting, however, was the inexplicable difficulties May and Yoyo encountered while participating — or rather failing to participate — in those battles. Strangely, Yoyo's inability to use her slingshot powers has become more and more intriguing with each passing Agents of SHIELD episode, and the use of extra visual effects to illustrate her struggle was particularly effective. May, meanwhile, has gone from being an emotionless super-soldier to displaying a panic and psychological distress we've never seen in her before. It was smart to have both of them experience their difficulties at the same time, too, to heighten the mystery of each.
Since the team was still in 1955 at the end of the episode, it's likely that there is more to this part of the Chronicom's plan than just Project Helius, and until the time window closes, there's plenty of hope that this decade will provide more excitement for Agents of SHIELD. In the meantime, ending the episode by using a quinjet as part of an alien abduction scenario was a great way to use the epilogue to cap off the humor of the installment. And there are still unknown consequences for knocking out LMD Coulson with the EMP, too! Perhaps Sousa will have another chance to interact with his future counterparts after all. We can only hope.