Features
Agents of SHIELD Season 7: Elizabeth Henstridge Directs Time Loop Episode
This week's Agents of SHIELD is directed by Simmons herself, Elizabeth Henstridge, and she reflected with us on the episode and the series.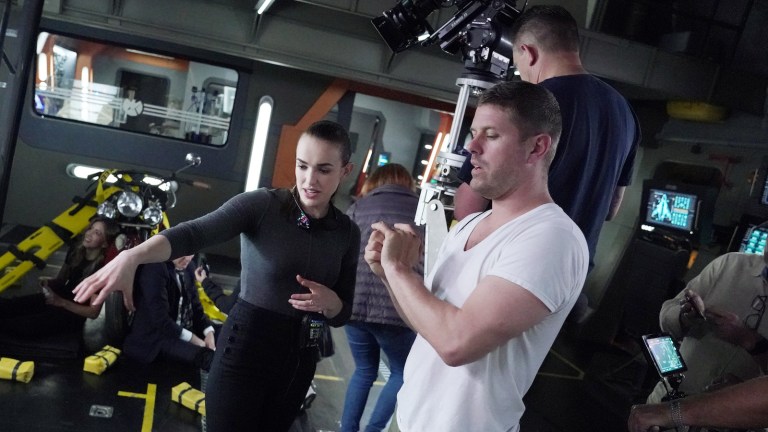 Elizabeth Henstridge and her character on Agents of SHIELD, Jemma Simmons, have both been fan favorites for as long as the show has been on the air. It's a role Henstridge landed just a year after coming to the U.S. with only a passion for acting and a few professional connections, but now with her success on the Marvel series she has made it all the way to the director's chair. Her helming debut will be seen this week in the season 7 episode, "As I Have Always Been," an installment that finds the team experiencing a Groundhog Day style time loop which they must escape or perish.
Henstridge welcomed the chance to take on such a story, and she gave a lot of the credit to the episode's writer. "It was a very welcome challenge," she said. "As a director, it's kind of the best episode to get because you really have to use all the tools in your toolbox to keep it interesting. It was written incredibly, and Drew Greenberg is an exceptional writer. It flew off the page; it was perfectly paced. It has such great comedy, and then allowed for these moments of pure tragedy. So I was already given such a head start by it just being wonderfully written."
It also takes a lot of Simmons-like organization to keep all of the wrinkles of a time loop straight and make each repeated scene visually distinctive. "We block shot it," Henstridge explained, "which is something that is typical really of a time loop: the scenes are repeating but slightly different. And just to get it all shot in time, you block shoot in one direction all the different scenes in that set, and then the cameras shoot the other direction all the scenes in that set. As an actor, it's like sprinting a marathon — it's an endurance test. It was very challenging! I had lots of color-coordinated shot lists."
The episode also allowed Henstridge to direct some of the truly heartfelt emotional scenes that Agents of SHIELD is known for. "Every character gets such a lovely arc, and we get to delve deeper into some moments that we haven't had the time to see before," she said. "It's a very Daisy-centric episode, which is lovely because she's been recovering for a few episodes, and we really get a lot of Daisy in this… And then we also really get to delve into Coulson and how he's feeling and the crazy journey that he's been on and coming to terms with some existential questions and what that has done for different relationships he's had and how that's affected other members of the team."
She then coyly added, "And then there's some really lovely revelations and character development between really new friendships and relationships."
Henstridge is, of course, intimately familiar with the relationships in Agents of SHIELD since Simmons is a big part of that dynamic, but she also puts her behind-the-scenes theatre training to work. "I studied scene study and English literature at university within my drama degree, and for me everything starts with the script," she noted. "Being able to have a good handle on the script and know how to break it down and find all the little clues that a writer would leave in the script for you was invaluable. And then having training in acting makes you a good director simply because of that skill of knowing what an actor is going through to get to the point of a brilliant performance."
In fact, it's not only Henstridge and her castmate Clark Gregg that have been able to take on different roles behind the camera. "Agents of SHIELD has been a brilliant incubator for new talent," Henstridge said. "Being on the air for so long, it's been able to make creators' and writers' PAs fully-fledged writers and the same with me shadowing, for example. ABC has a brilliant shadowing program… Eli Gonda shadowed within ABC's director's program and directed last week. It's so special for me to get to do the one after him because we were kind of preparing at the same time and we'd been through the different workshops together."
As Agents of SHIELD nears the end of its seven-season run, Henstridge looks back fondly on her time with the show that really gave her her start. "It's been a year since we filmed it now, and the moments that I really miss are the little moments between scenes of getting a cup of tea and seeing somebody there and just chatting about what their kids are doing or how they got to work that morning or the new car they bought or they discovered a new brand of peanut butter," she recalled. "Just to feel that sense of belonging in what was a strange country and is now my home — this show gave me that… To be able to be on something this long was truly such a gift."
Agents of SHIELD has five episodes left in its final season, and Henstridge's directorial debut airs tonight at 10/9c on ABC.