News
A Toy Store Near You Season 3 Premieres June 23 on Amazon Prime (Exclusive)
It takes a lot of work to bring a sense of play as A Toy Store Near You focuses on community in season 3.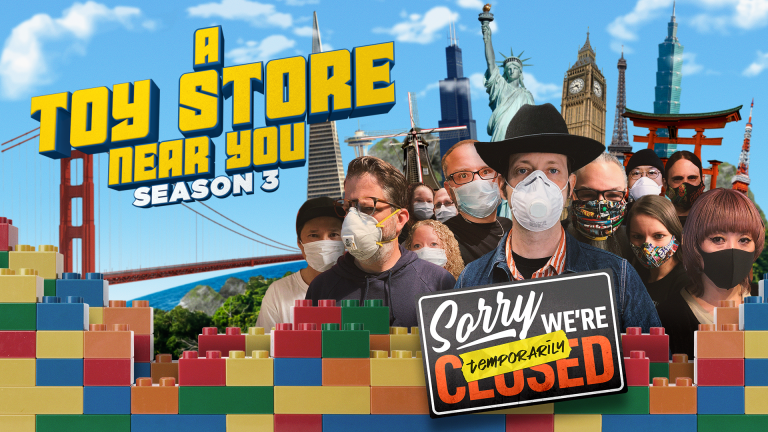 Everyone wants to be a kid again, and sometimes all it takes is a favorite toy to recapture the magic. Twenty-One Pilots and Megan Thee Stallion both set recent music videos in toy shops. The Nacelle Company explored the power of nostalgia when they gifted us with Netflix's The Movies That Made Us, The Toys That Made Us, Disney+'s Behind the Attraction, and Down To Earth with Zac Efron. Now Nacelle will premiere A Toy Store Near You season 3 on June 23, on Amazon Prime Video.
Season 1 hit during COVID, and the show showcased store owners fighting to stay afloat in the middle of the pandemic. Each of the shops' unique history was laid out. Season 2 highlighted the vintage toys. A Toy Store Near You season 3 The travels the globe to visit favorite toy stores and meet the small business owners who keep the vintage toy community running.
"Hard work, resiliency and passion are terms forever synonymous with the toy industry because of the wonderful people who help the industry thrive," Nacelle Company Founder and CEO Brian Volk-Weiss says. "We've truly loved making this series, and we're excited to hear what everybody thinks of season 3."
The first two seasons featured such renowned stores as Billy Galaxy Toys and Collectibles in Portland, Oregon, Spiral Toys in Shibuya City, Japan, Leicester Vintage and Old Toy Shop in Leicester, England, and Batcave Comics and Collectibles in Santa Rosa, California. A Toy Store Near You season 2 gets big in Texas at Jayden's Toys, finds the local mix at Toy Fusion in Sacramento, California, and travels to the Netherlands to party with de ToyBoys.
A Toy Store Near You Season 3 Synopsis
Season 301 – Jayden's Toys – Frisco, Texas
They say everything is bigger in Texas, and it goes without saying that also applies to the personality and perseverance of Jayden's Toys owner, Jayden Frost. When he's not entertaining fans with his George Michael cover-band, Freedom, or being a superhero dad to his daughter, Emmy, Jayden is constantly striving to provide an incredible toy store experience.
Season 302 – S.M.A.S.H. Toys – Chicago, Illinois
In 2016, Chicago-native Jonathan Schoonveld found himself at a professional crossroads. A former ad-man inspired by the Cubs World Series win (and realizing his neighborhood Edison Park was in need of a toy shop) he decided to use his nest-egg to open S.M.A.S.H. Toys. Located just a quick 15 mins from O'Hare International Airport, attracting curious customers from all over the world, S.M.A.S.H. Toys is living proof of one man's passion and determination.
Season 303 – de ToyBoys – TB Haarlem, Netherlands
Nestled above a charming neighborhood in the North Holland city of Haarlem you'll find de Toyboys; an aptly named toy store owned and operated by age-old friends Pieter and Michel. Tracing the store's origins back to Pieter's workplace desk toys and Michel's web-design savvy, they soon realized their destiny as purveyors of pop-culture gold. The next time you take a whole vacation to the Netherlands, make sure to visit de Toyboys!
Season 304 – Toy Fusion – Sacramento, California
For over 20 years, Andrew Leung has made Toy Fusion a cornerstone of the toys & collectibles scene in Sacramento, CA! The namesake of Andrew's store isn't simply a Dragon Ball homage, it's a business model, fusing the items for sale in his store with toy art from local artists, movie and wrestling props and even aerospace collaborations with a local private space company! Any visit to Toy Fusion is an experience worth treasuring!
Season 305 – WonderWorks – Charleston, South Carolina
Christine Osborne and co-owner Dan Morrisey opened the doors to the very first Wonder Works on August 10, 1990. Their mission was to create a toy store aimed squarely at kids, one that inspired the magic and wonder of fun. Two generations in, Wonderworks is still a place where children can play, grow, and experience the wonder of a new toy sparking creativity and joy.
A Toy Store Near You season 3 premieres June 23 on Amazon Prime Video.