A Toy Store Near You Season 2 To Release on Christmas Day (Exclusive)
Nostalgic for your inanimate friends? A Toy Store Near You returns on just in time for the holidays.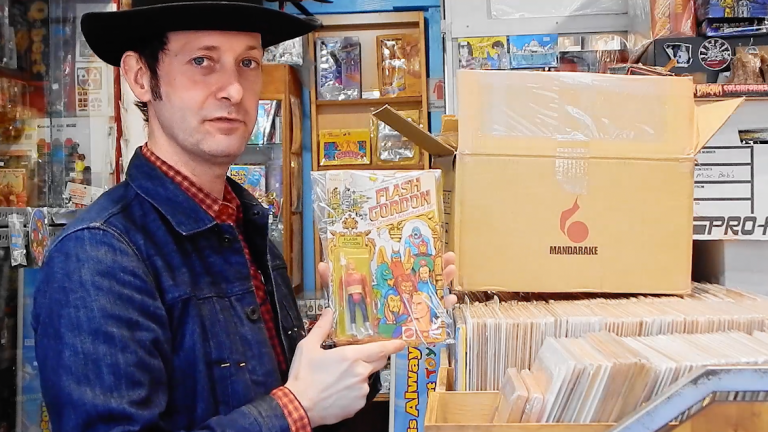 The toy collector community is a small and tight knit group, and one that is more cooperative than competitive. Toy store owners do more than get that Princess Diana Beanie Baby off the top shelf. The Nacelle Company has been on a quest to showcase and promote vintage toys with their docuseries A Toy Store Near You. All episodes of season 2 will be released on Christmas Day, Dec. 25, 2020. The first season of the series focused on how the stores coped with the shuttered existence of the pandemic. Now, they get to explore the love of the toys themselves.
"Season 2 promises to showcase less COVID and more vintage toys, while preserving the same Nacelle Company style of documentary filmmaking that made The Toys That Made Us and The Movies That Made Us such an enjoyable ride into the deepest crevices of our nostalgic memories," show creator Brian Volk-Weiss said in a statement.
The first season included episodes from stores all across the world, including Bill Galaxy Toys and Collectibles in Portland, Oregon, Spiral Toys in Shibuya City, Japan, Leicester Vintage and Old Toy Shop, in Leicester, England, 1313 Mockingbird Lane in Lawrence, Kansas, and Cherry Bomb Toys in Victoria, British Columbia.
Season 2 "will take us across the country once again to visit our favorite toy stores that made us, while introducing us to some of the important individuals that keep the vintage toy community running," according to the press statement. A majority of the proceeds from A Toy Store Near You will go back to each store that is featured.
Episode 1 – Kokomo Toys – Kokomo, Indiana
"Way down in Kokomo…Indiana, Todd and Amber Jordan have built one of the most impressive toy stores you'll ever see," reads the official synopsis. "With row upon row of grails, exclusives and rarities both old and new, Kokomo Toys and Collectibles is the cornerstone of what's become known as "Geek St." With the reputation of the store reaching far beyond Indiana, Kokomo is now a destination location for those looking for an epic toy shop experience. It's the spirit of community that makes this store, and Geek St. so special."
Episode 2 – Farpoint Toys – Mays Landing, New Jersey
Located in the former Fireplace Shanty of Mays Landing New Jersey is a "Museum of Memories" as Justin and Penelope Daniels like to call it. We know it as Farpoint Toys, one of the most beloved toy stores in America. And while they're in the business of selling toys, it's the experience that's most important for Penelope and Justin when it comes to their Eisner Award winning store. Interspersed amongst their inventory are incredible, permanent exhibits, and it's the Danielses' hope that soon people will once again be able to come and experience this carefully curated nostalgia themselves.
Episode 3 – Bric-A-Brac Records and Collectibles – Chicago, Illinois
Nick Mayor and his wife Jen Lamasters exude the same kind of cool as the Chicago neighborhood their store Bric-A-Brac Records and Toys calls home, Logan Square. It's the kind of rare, genuine cool you get from those who are confident about who they are and what they believe in; for Nick that's selling vintage toys and records at prices everyday folks can afford, thinking local, and doing his best to avoid selling online. While the reality of Covid-19 might put those ideals to the test, it's Bric-A-Brac's ethos of always re-investing in the community that will ensure their success.
Episode 4 – Batcave Comics and Toys – Santa Rosa, California
In idyllic Santa Rosa California, Batcave Comics & Toys owners Mike Holbrook and Amanda Barlow share more than just their namesake with the caped crusader, they're both do-gooders in their own right as well; such as donating comics from their store to local youth charities while under quarantine. And if the actions of Mike and Amanda weren't admirable enough, the treasures inside their store are equally impressive (one-of-a-kind prototypes, including the unreleased The Last Starfighter line!), making Batcave Comics & Toys a beacon to collectors from all walks of life.
Episode 5 – Super7 – San Francisco, California
The humble origins of San Francisco California's Super 7 can be traced back to the titular magazine born out of owner Brian Flynn's love of collecting Kaiju toys. Since then, it's grown into not only a retailer of collectibles and apparel in both San Francisco and San Diego, but also a producer of esoteric and imaginative products, the likes of which would never exist anywhere else. After bringing the never-before-released 1979 Alien figures to life, Super 7 has never looked back. Through all of their success, Brian Flynn and Co. still maintain an independent, small-business mentality, understanding that the key to surviving is remembering what got them there, and to have fun while doing it!
Founded by Brian Volk Weiss, The Nacelle Company also produced Disney +'s Behind The Attraction, and BET+'s All The Way Black, Sony's Mad About You reboot, and Netflix's Kevin Hart's Guide To Black History.
A Toy Store Near You season 1 is available to watch now on Amazon Prime Video, Youtube Vimeo and other select platforms.
A Toy Store Near You season 2 will be released on Dec. 25, 2020 on Amazon Prime Video. All episodes will also be available on Apple TV, Tubi, Google Play, Youtube, Microsoft XBOX, Breaker, and Vimeo.