Reviews
A Discovery of Witches Season 3 Episode 4 Review: New Arrivals!
There's joy and heartbreak as the search for the book page and the cure is derailed by some new arrivals. Spoilers.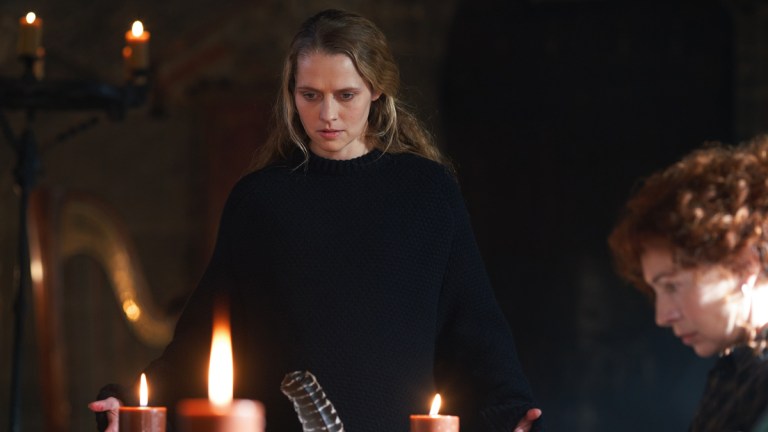 Warning: this A Discovery of Witches review contains spoilers.
Bem vindo, babies! Welcome to A Discovery of Witches, a world of magic, mortal danger, extremely covetable houses, and excellent coats (every character has at least one excellent coat. Presumably the babies will be fitted for theirs shortly). Though their world is fraught with danger, little Philip and Rebecca are lucky mites. Yes, they've been born into the middle of a war, but they've landed on the winning side, with a mum who's an all-powerful witch prophesied to change the world, and a dad who drives a Bentley – it's all the start in life any child needs.
A good portion of episode four was devoted to the babies' arrival, which had a characteristic Matthew-and-Diana honeyed glow about it. Trust those two to have a silky, romantic labour. No hospital gowns, strip lighting and plastic bedsheets for them – just lightly perspiring gorgeousness. I bet that delivery room even smelled of ylang ylang and lavender.   
Diana didn't use pain relief for her multiples-birth, only a combination of bath salts, humming and Matthew Goode (who should be made available in all good labour wards). Surely one benefit to witchdom should be the ability to dose up on magical pethidine or to teleport your babies out with one glittery wave of the hand? Not so. Diana did it the hard way – a reminder that these magical creatures are human too.
Dr Roberts' work underlined that, as he and Miriam used the New Orleans vampire samples to theorise that the trigger for blood rage is down to human and not creature DNA. Something in Matthew, Jack and Benjamin's human genetics was awakened when they became vampires. What does this mean for any potential cure? That's tbc, as is the precise magical nature of the newborns. Witch? Vampire? Daemon? All three?
It wasn't all celebration as the Mayfair house filled up with returning travellers. There was heartbreak for Gallowglass who understood there was no longer room for him by Diana's side. Dr Bishop took her vampire nephew's confession of lifelong love as she does most things – with kindness, equability, and entirely in her stride. Diana thanked Gallowglass, recognised his anguish, and quickly moved on. Actor Steven Cree gave us to understand that Gallowglass' recovery would take considerably longer. Away he rode into the night on his motorbike of pain. Doubtless there are plenty of A Discovery of Witches fans willing to offer solace to that particular broken heart…
Speaking of broken things, Peter Knox has, as they say in the medical profession, 'totally lost his shit'. The man's on a rampage. Diana's method of asking nicely for the book pages has shown far greater success rate than his method, which involves showing up, spitting with rage and threatening everybody with his balls. He swooshed that nice coven witch through a door and then murdered troubled daemon TJ Watson (not to be disrespectful, but has anybody put dibs on his fabulous country house? Call my estate agent). Knox needs to be stopped, and with just three episodes of this show remaining, it needs to happen soon.
Something else that really has to stop for all our sakes, are the tediously intense-yet-moving-zero-forward Venice scenes. Until Gerbert, Benjamin and Satu make their move – any move – let's stop dropping in on their hostile little exchanges. Even Gerbert told Satu to take a day off and live a little. This is Venice, people, maybe get a gelato and go and look at some Titians? Your centuries-old blood feuds aren't going anywhere.
In the time it's taken Satu to slink about in black and tell everyone that she's the main witch actually, Diana Bishop has ticked off her to-do list in two different centuries, given birth to twins, and completed her magical training. Knowing Diana, she probably also published several papers in leading journals, supervised a couple of PhD dissertations and was granted tenure at Yale at the same time. Girl gets things done. Satu should give up now, not that she will.
Neither will Baldwin, as proved in his and Matthew's could-definitely-have-been-an-email meeting. Support my scion, pleaded Matthew. Can't! Said Baldwin. 'kay bye, said Matthew.
Progress was made elsewhere, as Diana finally got her hands on the third page and would have used it to complete the Book of Life if she hadn't been distracted by a sudden and pressing need to give birth. Next up: the christening of Philip and Rebecca de Clermont-Bishop-Clairmont, as they almost certainly won't be known. Let's hope no bad fairies turn up to spoil the party.
A Discovery of Witches Season Three is available to stream in full on NOW in the UK, and arrives weekly on Sundance Now, AMC+ and Shudder in the US.