News
A Discovery of Witches Season 2 Trailer Centers Elizabethan Magic
The A Discovery of Witches crew just dropped the Season 2 trailer and release date at NYCC.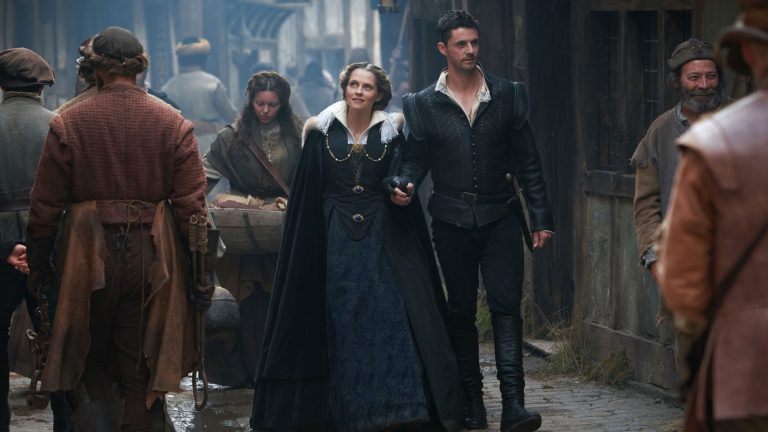 This A Discovery of Witches article contains spoilers for the ending of Season 1.
A Discovery of Witches, like Outlander, is one of the few big-budget genre TV shows that is also unabashedly romance. Based on the All Souls trilogy by Deborah Harkness, the screen adaptation follows Diana Bishop (Teresa Palmer), a historian and witch who, after discovering a bewitched manuscript in Oxford's Bodelian Library, is pulled further into a world of magic and danger she has been trying to avoid since she was young. In the process, she meets and falls in love with geneticist and vampire Matthew Clairmont (Matthew Goode), and the two become caught in the middle of the long-running tensions between witches and vampires.
A Discovery of Witches Season 2 Release Date
A Discovery of Witches Season 2 will come to Sky One and Now TV in the UK on January 8th, 2021. The season will premiere on Sundance Now and Shudder in the U.S. one day later, on January 9th.
A Discovery of Witches Season 2 will consist of 10 episodes, which is two more than Season 1. The series has already been renewed for a third season.
A Discovery of Witches Season 2 Trailer
The first season, which aired in 2018 on Sky in the UK and on BBC America and AMC in the U.S. (it is also available via Sundance Now and Shudder), ended with Diana and Matthew traveling back in time (as you do). And now, thanks for New York Comic Con, we have the first trailer for Season 2. Check it out…
As we can see from the trailer, Diana and Matthew successfully made their planned time jump to 1590 London, and are now hanging in Elizabethan England. But the trip is far from a vacation. They're continuing to hide from the Congregation and Diana has some magic to learn. She's found a powerful witch to teach her what she needs to know for the coming war, as the search for the Book of Life continues.
A Discovery of Witches Season 2 Cast
In addition to Palmer and Goode, A Discovery of Witches Season 2 will also star Outlander's Steven Cree as Gallowglass De Clermont. De Clermont is a vampire and soldier of fortune who is also Matthew's nephew. James Purefoy (The Following) will also appear in Season 2 as Philippe De Clermont, who is the founder of the Congregation, the commander of the Knights of Lazarus, mate to Ysabeau, and stepfather to Matthew. (#familydrama) Other new cast members include Sheila Hancock (Doctor Who), who will be playing elder witch Alsop, and Paul Rhys as Andrew Hubbard, the vampire ruler of all creatures in London.
While most of Season 2's action will take place in Elizabethan England, Alex Kingston and Valarie Pettiford will be back as Diana's aunts Sarah and Em, which means we will be checking in with some modern-day action.
More news on A Discovery of Witches Season 2 as we get it. You can watch the entire NYCC panel below…