News
9-1-1: Lone Star Season 2 Release Date, Cast, Trailer, Episodes, and Story Details
In its second season, 9-1-1: Lone Star will join its parent series in depicting first responders in the age of coronavirus.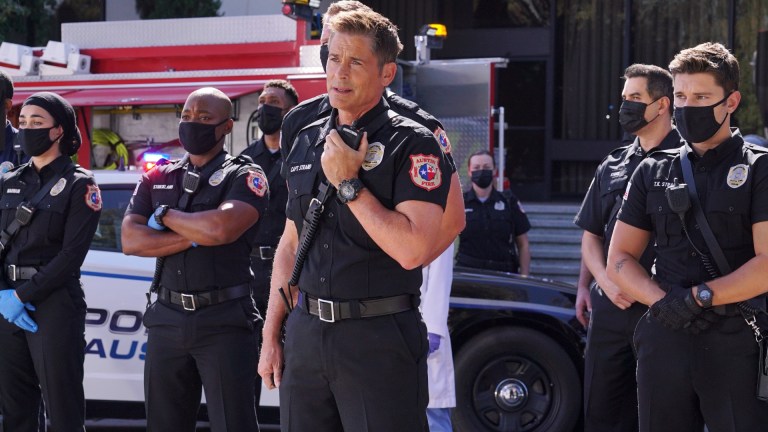 It's not often that a show going into only its third season receives a spinoff, but such was the case with Fox's popular first responder series 9-1-1. That Los Angeles-set series gave way to the Rob Lowe-starring 9-1-1: Lone Star, which premiered on Jan. 19, 2020.
The spinoff experiment was a successful one and now 9-1-1: Lone Star season 2 is set to arrive one year later. Perhaps there's never been a better time for two simultaneously running shows about 911 first responders. Given the coronavirus pandemic and the general mounting crises of life in the U.S. over the past year, viewers may come to further appreciate shows about professionals during their best work under unimaginable circumstances.
As evidenced by advanced photos showing characters wearing masks, 9-1-1: Lone Star will be set in the pandemic-stricken world its viewers' occupy. Not only that, but it will feature a crossover with 9-1-1. Here is everything else we know about 9-1-1: Lone Star season 2.
9-1-1: Lone Star Season 2 Release Date
9-1-1: Lone Star season 2 will premiere on Monday, Jan. 18 at 9 p.m. ET on Fox. Like any good spinoff, it's letting its flagship series go first. The first episode of 9-1-1 season 4 will precede it at 8 p.m. The synopsis for 9-1-1: Lone Star season 2 episode 1, "Back in the Saddle", reads:
"The 126 crew responds to a military tank on the loose in downtown Austin and a human pile-up at the roller derby. Meanwhile, new paramedic captain, Tommy Vega, joins the team and Owen is reunited with his ex-wife and T.K.'s mother, Gwyneth (guest star Lisa Edelstein), and receives an update on his cancer."
9-1-1: Lone Star Season 2 Cast
Another area in which 9-1-1: Lone Star resembles its parent series is in the departure of a major cast member after its first season. Just like Connie Britton left 9-1-1 after its first season, so too did Liv Tyler depart 9-1-1: Lone Star after season 1. Tyler will be replaced by Gina Torres, who will play Tommy Vega.
Per TVLine, the character description reveals that she "was at the top of her game when she hung up her uniform to raise her twin daughters. For eight years life was great, until Covid-19 changed her life. With her husband's restaurant going under, Tommy has no choice but to re-enter the workforce to support her family. Though it breaks her heart to be apart from her little girls, Tommy will show the world that no matter how much time has passed, when she puts on that uniform, she's still a boss."
The rest of the 9-1-1: Lone Star cast is set to return for season 2. This includes: Rob Lowe as Owen Strand, Ronen Rubinstein as TK Strand, Sierra McClain as Grace Ryder, Jim Parrack as Judd Ryder, Natacha Karam as Marjan Marwani, Brian Michael Smith as Paul Strickland, Rafael Silva as Carlos Reyes, and Julian Works as Mateo Chavez.
9-1-1: Lone Star Season 2 Trailer
Midway through the first trailer for 9-1-1: Lone Star season 2 Rob Lowe's Owen Strand says he doesn't want any surprises out there today. Well, you're never gonna guess what they find out there today. That's right: surprises. Volcano surprises.
9-1-1: Lone Star Season 2 Story Details
As Tommy Vega's character description hammers home, COVID-19 will have a sizable impact on the characters' lives in 9-1-1: Lone Star. In speaking to TVLine about 9-1-1, showrunner Tim Minear revealed that "The characters on the screen will have gone through what the audience has gone through. There may be flashbacks that will show what our people went through at the height of the (pandemic), but by the time we resume physical production, that means the world will have figured out how to start opening for business again."
It stands to reason that the characters on 9-1-1: Lone Star will have experienced similar circumstances…especially since this year will feature the long-awaited crossover between the two series. Per The Wrap, the crossover will take place in Lone Star's native Austin, Texas and will find the 9-1-1 Los Angeles team traveling to help out with a major wildfire. The crossover will air on Feb. 1 and serve as the third episode of each series.