News
911 and 911: Lone Star Renewed at Fox
Fox has ordered 911 for season 4 and 911: Lone Star for season 2, keeping the Ryan Murphy first responder universe alive and well.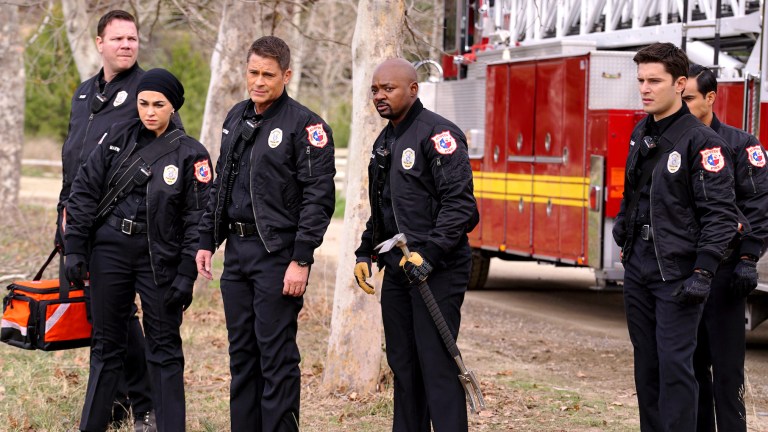 No need to declare an emergency, Fox has gone ahead and renewed its two first responder dramas for new seasons. 9-1-1 (heretofore referred to as the simpler "911") will receive a season 4 and its spinoff 911: Lone Star will be getting a season 2, according to The Hollywood Reporter.
These are Fox's first two announced drama renewals for the 2020-21 fall TV season, joining previously confirmed animated series The Simpsons, Family, Guy, Bless the Harts, and Duncanville on the network's schedule.
The decision to renew was likely quite easy for each. 911 was the highest-rated scripted series on Fox during its second season and has kept up that momentum in season 3, taking in 6-7 million viewers per week. That number crosses 10 million after factoring in a week for delayed viewing. The show is also performing solidly enough in the advertiser-friendly 18-49 demo. 911: Lone Star has also had a big first season ratings-wise. The show topped out at over 11 million viewers for its pilot before settling into 5-6 million viewers per week.
Both 911 series come from successful TV producing vets Ryan Murphy, Brad Falchuk, and Tim Minear who were previously responsible for popular franchises like Glee, American Horror Story, and Feud. Minear serves as showrunner on both series.
"911 and 911: Lone Star are truly two of the strongest and most thrilling dramas on broadcast television, as well as being centerpieces for Fox Entertainment," Fox Entertainment president Michael Thorn said in a statement. "Creators Ryan Murphy, Brad Falchuk and Tim Minear, as well as their incredible teams of writers, directors, casts and entire crews, make jaw-dropping, edge-of-your-seat magic in every episode. From Los Angeles earthquakes and tsunamis to Texas-sized tornados and bucking broncos, both shows deliver incredible spectacle with strong, identifiable characters you care about week to week. We eagerly look forward to many more thrilling rescues in both series, which help honor this country's brave first responders, as well as those around the world."
The original 911 stars Angela Bassett, Peter Krause, Jennifer Love-Hewitt (who effectively replaced Connie Britton after season 1), Oliver Stark, Alisha Hinds, Kenneth Choi, and more. It follows the lives of first responders (including fire fighters, paramedics, and 9-1-1 operators) in Los Angeles.
911: Lone Star adopted the same first responder-centric format and moved things over to Austin, Texas. Rob Lowe and Liv Tyler star in the spinoff.
911: Lone Star's first season concluded with a two-hour season finale in March. 911 season 3 is still airing.