Features
World War Z 2: What's Going On With the Brad Pitt Zombie Sequel?
Why is that World War Z sequel movie taking so long? Well, there are plenty of reasons for the delay...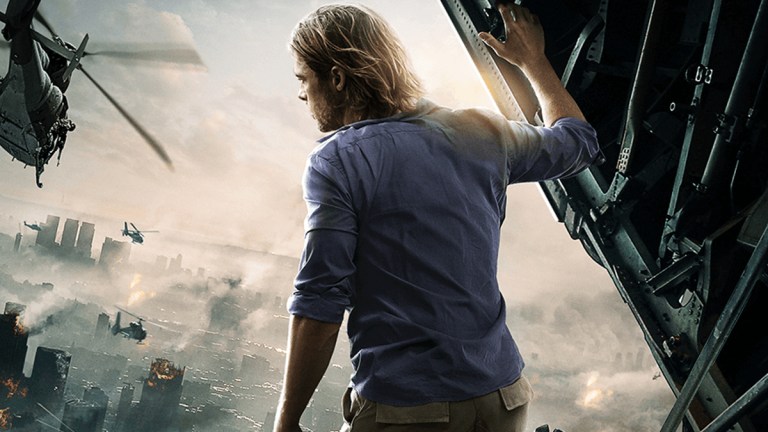 On the surface, World War Z looked like a big financial success back in 2013 when it scored a whopping $540 million at the global box office. But according to Deadline, the film barely broke even for Paramount at the time. A variety of factors, including extensive reshoots, ballooned the budget up to $270 million per the outlet, plus another estimated $160 million for marketing. The Marc Forster-directed zombie blockbuster starring Brad Pitt didn't make much of a dent for the studio. The tepid critical reception, on top of all the rumors of a troubled production behind the scenes, seemed like the final nail in the coffin for this fledgling franchise.
But according to the LA Times, Paramount and Forster had always viewed the big screen adaptation of the incredibly popular Max Brooks novel as just the first chapter of a film trilogy. And initially, Paramount did intend to move forward with a sequel. Yet, 10 years after the film's release, there is still no concrete evidence that the second movie will ever actually happen.
The reasons behind the sequel not materializing are myriad, but there are also several, very influential parties involved who are still interested in bringing this franchise back from the dead.
What Are the Chances World War Z actually Gets Made?
With Paramount confirming its plan to make a World War Z sequel in late 2013, Brad Pitt announced he was also onboard. Director J.A. Bayona was tapped to helm the movie, with a script to be penned by Peaky Blinders creator Steven Knight. This was a very good start for World War Z 2. But in 2016, Bayona exited the project due to scheduling conflicts. The studio was dead set on a June 2017 release date, but Bayona needed more time to work on A Monster Calls. 
In a complete shocker, David Fincher signed on as Bayona's replacement in the director's chair. Fincher confirmed in a 2017 interview with Little White Lies that he and his team were hard at work on the film, explaining that "a lot of stones have been laid. We're just deconstructing it right now against the mythology that exists to see where we can go."
The film went into pre-production in 2019, working off of a revised script by Dennis Kelly. But unexpectedly, in February of that year, Paramount pulled the plug on the film due to budgeting issues. THR reported that the studio refused to greenlight Fincher's proposed $200 million budget, and that China's ban on zombie films was a determining factor in Paramount deciding not to pull the trigger on the movie. China is, of course, a huge driver of box office revenue on a global scale, so it stands to reason that this greatly affected the film's projections.
The project seems to have been completely scrapped by Paramount since then. To make things worse, Forster said in a recent interview, "Regarding World War Z – I don't think that sequel is coming anytime soon."
That said, when asked about the franchise's future by THR in 2020, Jeremy Kleiner, one of Pitt's partners at Plan B, which produced the first film, suggested World War Z wasn't completely dead: "Someday. We love Max Brooks' book. We love the universe of it. It doesn't feel like World War Z is done and over with."
In other words, there's nothing else to do but wait.
What Does Brad Pitt Have to Say About World War Z 2?
Amid all the production chaos and director switch-ups, the one figure consistently attached to World War Z 2 has been Pitt, who was also one of the first film's starkest defenders, especially during its troubled shoot. His involvement in Quentin Tarantino's Once Upon A Time In Hollywood pushed production back on the Fincher iteration of the film, but he and his production company remained onboard nonetheless.
In a 2019 interview, mere months after the sequel was finally shut down, Pitt gushed about Fincher's vision for the film: "Ooh…it was good. It was really good. We had a really strong story, which [Fincher] shepherded. The things he had planned for it just haven't been seen before."
Mireille Enos, who plays Pitt's wife Karin in the first film and was slated to return for the sequel, was similarly gutted by Paramount's decision to halt the sequel, saying on podcast The Big Ticket, "We were all lined up to go. We had Fincher, we had a beautiful script, and then it just didn't happen."
What Would World War Z 2 Have Been About?
An alleged "leaked" synopsis of what Fincher's version of World War Z 2 would have looked like made the rounds on the internet in 2019, although we definitely suggest you take the following with a grain of salt: the sequel apparently revealed that the vaccine developed at the end of the first film would only last for 36 hours. The story would supposedly revolve around the non-infected world, sequestered in safe zones, launching an offensive on the zombie hordes using a virus called E-29, which would make the undead attack each other, effectively winning the war. 
Whether this really was Fincher's take on the material or not, what we do know is that if the sequel does ever rise from the dead, it'll almost certainly have to be revised to reflect the panic, anxiety, and societal unrest caused by the Covid-19 pandemic. Even the first film hits different now that we have endured such a devastating, global event, so it would be all but mandatory that the sequel reflect real-world events in some way, and speak to how our world has been changed by the virus.
Fortunately, Brooks' novel does a fantastic job of imagining many of the sociopolitical issues that would arise during a global pandemic, sans flesh-eating corpses, of course, and a lot that still rings true in our post-quarantine world. It's very possible the movie Fincher and Pitt were gearing up to deliver would really resonate with audiences now.
While Fincher isn't exactly known for making big-budget action movies with dazzling visual effects, he does have a reputation for making incisive film and television that speak to the dark corners of human nature and the state of the world. Even if we never get to see this long-awaited movie, it's fascinating to think about what a Fincher zombie blockbuster could have looked like and how it would have been received knowing what we know now.