Features
What MCU Things to Watch Before Thor: Love and Thunder
Thor: Love and Thunder returns everybody's favorite Space Viking to the big screen, but how much Marvel Studios homework do you need to do before watching it?
It's hard to believe 11 years have passed since Chris Hemsworth smashed a coffee mug across the floor and shouted "ANOTHER!" Yet here we are, more than 20 Marvel movies later, breathlessly awaiting Hemsworth's eighth live-action appearance as the Space Viking they call Thor and his newest adventure across the cosmos.
As the first Thor movie to be helmed by a returning director, in this case Thor: Ragnarok's Taika Waititi, there's a lot of connective tissue with that film and this weekend's Thor: Love and Thunder. But you might be surprised at which other MCU projects will be apropos to enjoying Thor 4. Thus we've compiled a list of all the MCU movies you might want to revisit or be familiar with before entering the theater.
THOR WATCH ORDER
Thor (2011)
Is it crucial? Absolutely.
Why: Chris Hemsworth's debut appearance as the God of Thunder remains vital to this day, although not necessarily for the reasons you expect. After director Taika Waititi basically ignored the events of the first two Thor movies, Thor: Love and Thunder picks up on the romance that started right here with Natalie Portman as Dr. Jane Foster.
Written and cast by design to be Thor's opposite, Jane is a good foot shorter than Odinson but bests him with the superpower of the mind. Thor establishes her as a world-leading astrophysicist who cannot help but be drawn to the beefy (and maybe a little dense) Norse god. Love and Thunder picks up that chemistry, as well as Jane's otherwise overlooked brilliance, and runs with it. Thor also is our introduction to a slew of characters who may yet have business in the 2022 movie's New Asgard.
The Avengers (2012)
Is it crucial? Not really.
Why: Yes, Thor is a member of the Avengers, Earth's Mightiest Heroes. But you don't even have to have seen the trailer for this 10-year-old film to know that bit of trivia. While the Avengers (and Loki) are mentioned by name in Thor: Love and Thunder, you can skip this one if you're pressed for time during your Thor watch party.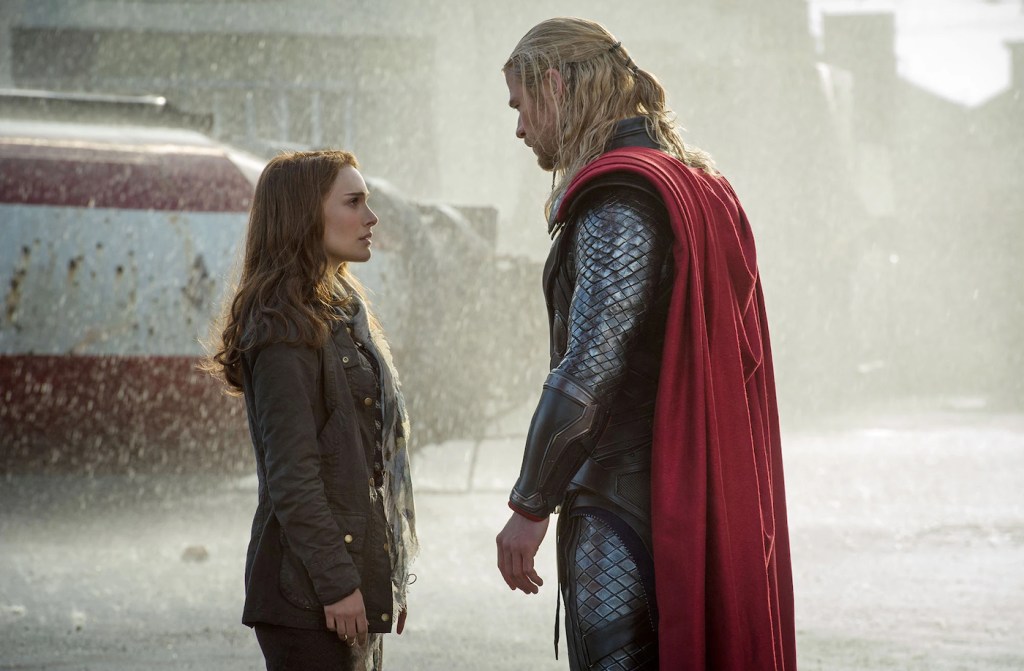 Thor: The Dark World (2014)
Is it crucial? Yes, unfortunately.
Why: While not as important to understanding Thor's journey as the first film, the little loved Thor: The Dark World is still the one where Thor and Jane finally got together, which will become significant when they run into each other as exes in Love and Thunder. This is also the movie where Thor seems to accept his destiny as an adventurer, as opposed to being a ruler of Asgard.
Avengers: Age of Ultron (2015)
Is it crucial? No, thankfully.
Why: Thor takes a bath and brags about his very special relationship with the war hammer Mjolnir, and that's about it for the Thunder God in this one. The former didn't matter in 2015 and it means even less now; the latter fact is already established in the previous two Thor movies, so skip. Trust us, there's little else to see here.
Thor: Ragnarok (2017)
Is it crucial? YES!
Why: This 2017 standard is among the top tier of Marvel Studios releases for many fans—our own staff and readers picked it as their favorite MCU movie! There's good reason for this; Ragnarok is a groovy good time from director Taika Waititi, who brought his personal brand of decadent weirdness to the MCU and finally unshackled Chris Hemsworth's natural comic ability. Dropping the faux-Shakespearean and dramatic airs of previous Thor movies, Hemsworth's allowed to let his hair down (and cut it off!) while revealing a goofier, more gregarious version of his superhero.
Since Waititi returns as director in Thor: Love and Thunder, and now co-writer too, you can rest assured he picks up on the mischievous vibes from Ragnarok and multiplies them. He also brings back Ragnarok co-star Tessa Thompson as Valkyrie, who gets even more screen time to steal in Love and Thunder, and Thor's rocking sidekick Korg (a literal CG-rock monster voiced by Waititi). Not a bad trade-in after losing his war hammer Mjolnir in this movie. And, oh yeah… Mjolnir's coming back!
Avengers: Infinity War (2018)
Is it crucial? Definitely.
Why: Ragnarok might be Thor: Love and Thunder's thematic soulmate, but if you don't know/remember the events of the one-two punch that is Avengers: Infinity War (2018) and Avengers: Endgame (2019), you'll be completely lost in Love and Thunder. And that epic Avengers story arc starts here by revealing the vaguely optimistic fate of the Asgardians set up by Ragnarok was a lie! The very first scene reveals what happens to those space travelers run into Thanos (spoilers: nothing good). Afterward, Thor is sent spiraling into a deep depression, as well as seeking the new weapon he carries in Love and Thunder, the war axe called Stormbreaker.
Additionally, if you don't want to watch/rewatch the Guardians of the Galaxy movies ahead of Thor 4, Infinity War can act as a good refresher on what those space pirates are about. Yes, we know the Guardians are heavily marketed in the Thor: Love and Thunder trailers, however you don't need more than a passing familiarity with them, a la Infinity War, to enjoy the new movie. With that said, if you don't recall why Zoe Saldana's Gamora is no longer part of the team, this might be worth a revisit…
Avengers: Endgame (2019)
Is it crucial? Yes.
Why: This is the movie we last saw Hemsworth's Thor in, and you can bet that Love and Thunder spends a lot of time picking up the pieces. After all, one of the big laughs of Endgame is Thor has gotten on the husky side after wallowing in pity and self-loathing following the events of Infinity War. And he's still a bit thick when Love and Thunder begins. Also due to the events of this movie, he winds up palling around with the aforementioned Guardians of the Galaxy while leaving the rule of New Asgard to a surprise king.
The developments of all this are at the heart of Thor: Love and Thunder.