Features
Does Top Gun: Maverick Ending Set Up Top Gun 3?
Top Gun: Maverick has a pretty final ending, but could the story continue?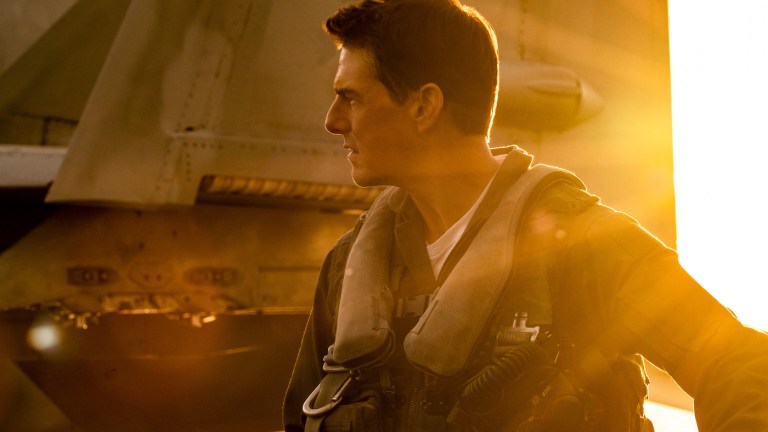 This article contains Top Gun: Maverick spoilers.
It's the ending you always want in a feel-good summer spectacle, and few endings are as feel-good as those in the Top Gun movies. This weekend's much belated sequel certainly led audiences to believe that this would be the swan song for Capt. Pete "Maverick" Mitchell, a character Tom Cruise first played 36 years ago. Just about every superior he has in the Navy is eager to tell him that, no matter what, this tale marks his last mission before he's permanently grounded.
Meanwhile, it's heavily implied that the former TOPGUN champ pilots Maverick is training for a covert mission in an unspecified country are being prepared for a suicide mission. So when Maverick so impresses even the stick up Adm. Beau "Cyclone" Simpson's ass, convincing him that Maverick should lead the suicide mission, few think he'll be coming back alive. The last time he visits old flame Penny Benjamin (Jennifer Connelly) in his Navy whites, it's with an air of finality.
Which is what makes the Top Gun: Maverick ending so rewarding when, after being shot down, Maverick is spared from glorified execution by Lt. Bradley "Rooster" Bradshaw, who like his old man, follows Maverick's lead in disobeying orders and comes back for the old-timer, shooting down an enemy chopper and helping Maverick hijack an F-14 relic. Together, they hightail it back to friendly waters. Even the resident TOPGUN asshole, Lt. Jake "Hangman" Seresin (Glen Powell), reveals that deep down he's just a big softie like Maverick, shooting the MIG on Maverick and Rooster's tail and guiding them back to the safety of an aircraft carrier.
So it's like seeing old friends when all the surviving TOPGUN pilots, and even old Cyclone, come out to celebrate the accomplishment of the mission and Maverick's miraculous survival. In the process, Mav even shot down two more enemies, making him the original definition of an "ace" from World War II. And now that it's all over, he can still take Penny flying up in the air once again. For the record, Connelly talked to us about how that was really Cruise piloting their pleasure cruise in the final scene!
It's perhaps not the ending everyone expected given the scent of mortality that wafts throughout Top Gun: Maverick, but it's the ending we deserve after waiting nearly four decades to see Maverick once more get the need for speed.
So Will There Be a Top Gun 3?
It's far from announced, but honestly I do not see why not. Some of the most dedicated fans of the original 1986 flick have waited close to a lifetime for the followup, and the euphoric reviews and box office tracking suggest it's all been worth it. So why not a third go in the wide blue yonder?
Technically, what we watched was intended by Cyclone and the rest of the Navy's top brass to be Maverick's final mission, but do recall that he wasn't even supposed to fly the mission to begin with. He was brought on simply to train a younger and supposedly better generation of Navy pilots. Instead he proved nobody does it better in the cockpit, which for many moviegoers seems to accurately describe Tom Cruise, one of the few remaining old school movie stars who can get the above the age of 35 crowd out to cinemas in large numbers, despite Cruise himself pushing 60. So who's to say after becoming the first true combat ace in decades that the Navy doesn't reconsider its choice to ground Maverick?
Additionally, Cruise has signaled that the forthcoming Mission: Impossible – Dead Reckoning films to be released between 2023 and 2024 will be his final installments as Ethan Hunt. With that franchise winding down (at least for Cruise), why not keep Top Gun going? Sure they require high precision flying, but we suspect it is still a little less physically demanding than driving motorcycles off cliff sides and then parachuting out. So it might be apropos to keep Maverick flying a little longer after Ethan has finished his mission?
Plus, there is still probably a movie to make about true mortality and retirement with Maverick. I'm not necessarily saying he needs to die at the end of a Top Gun movie, but one day Pete Mitchell really will have to walk away from the Navy forever. Might make a good story, no?
Top Gun: Maverick is playing in theaters now.