News
Top 25 fictional ads in sci-fi movies
Some of the promo spots to come may literally make you explode...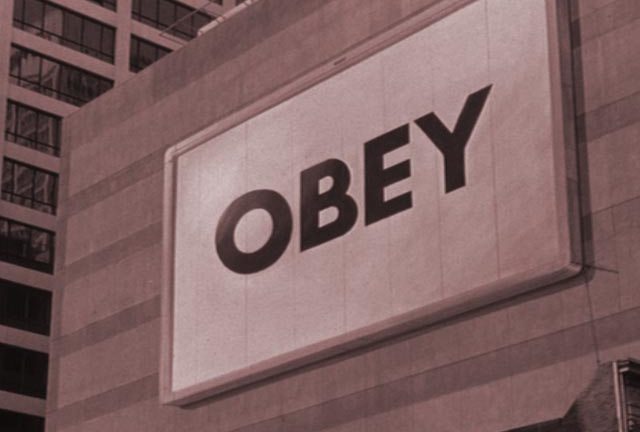 Whether video or printed, advertisements only have moments to engage the viewer/reader and convey an enormous amount of information. Therefore they can be a great benefit to science-fiction films which have complex societal or technological backstories essential to the core plot, but which are a potential drag on pushing the narrative forward.
Apart from this practical consideration, the scope for humour and societal satire is immense when inventing ads in this particular genre. Robocop writers Edward Neumeier and Michael Miner admit that they strip-mined the rich vein of satire – much of which is contained in commercials – in the UK Judge Dredd comic (created by John Wagner and artist Carlos Ezquerra). Dredd's incisive take on advertising culture has spread through Robocop not only into that film's sequels but also into a number of other SF movies since, including many by Robocop director Paul Verhoeven and his Total Recall collaborator Arnold Schwarzenegger. As we shall see…
25: Westworld (1973) – Promo reel.
One can't help but feel upon looking at this promo – for the robot-festooned resort in Michael Crichton's thriller – that you're missing a bit of a lame party. The roaring twenties might have been a more engaging set-up than 'MedievalWorld', and just exactly how many nerdy technicians do you want remote-viewing you while you're humping one of Westworld's plastic prostitutes? If Crichton had seen YouTube coming, he might have rethought this particular aspect. Footage from this sequence was also used in the sequel Futureworld (1976).
24: Looker (1981) – 'Warrior all-purpose cleaner' TV spot.
Without intention, we're immediately in Michael Crichton's company again for this increasingly barmy but very enjoyable techno-thriller, in which plastic surgeon Albert Finney is being framed by synthespian-creating company Digital Matrix for a series of murders on actress-models. Here we see Finney and Susan Dey enjoying a ludicrous 'CGI generated' ad for kitchen-cleaner.
23: I Am Legend (2007) – 'Batman/Superman' film.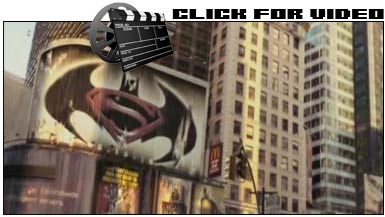 A very nice logo creates a plausible impression of a film that was subject to global rather than box-office disaster. Though thought by many to represent a Batman Vs. Superman film, the logo in the poster is the same as featured in the pair's comic collaborations. That said, look where batmanvssuperman.com resolves to…
22: I, Robot (2004) – 'The Nestor Class 5 – Tomorrow's robot today'.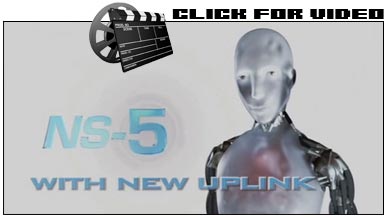 The ads most famous in Alex Proyas' action thriller are the implicit ones for various 'present-day' items beloved of protagonist Will Smith, most famously his 'antique' Converse All Stars trainers. But here we see a big animated billboard ad for the new Nestor 5 class domestic bots, now with added killing capability…
21: Soylent Green (1973) – "Tuesday is Soylent Green day".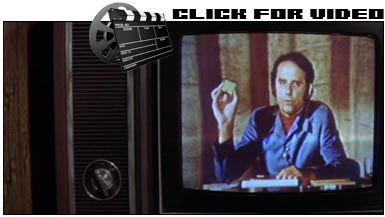 Charlton Heston and Edward G. Robinson are the odd couple getting by in their cycle-powered apartment in a future almost without food. Since most of us know what Soylent Green is actually made from, one can't help but wonder what really went into the 'Soylent Red' and 'Soylent Yellow' mentioned in this TV commercial…
20: Brazil (1985)- Sam Lowry drives up to happiness.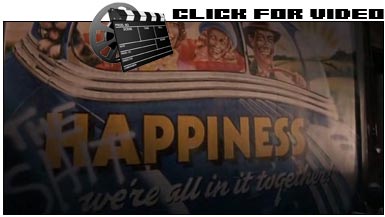 The contrast between the idylls of architects and the grim reality of what their housing estates become is also played with in the Back To The Future trilogy, but here director Terry Gilliam paints an immediate and dispiriting contrast between the dream and the reality…
19: Scanners (1981) – 'Ephemorol' magazine ad.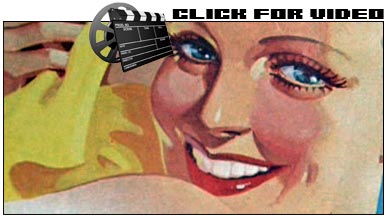 I'm unable to find out who the graphic artist was behind this extraordinary recreation of late-40s/early 50s magazine ad artwork in David Cronenberg's grisly thriller. Ephemerol is the fictional tranquiliser for expectant mothers that turns out to have created a race of telekinetic warriors called 'scanners', and the quality of this ad really 'sells' the idea…
18: Blade Runner (1982) – 'A new life Off-World!'.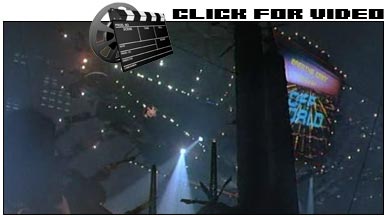 The travelling nature of this commercial uber-blimp both harks back to the days of the Zeppelin and looks presciently forward to the mobile hoardings that ride the roads of modern city centres today. Though the ad by itself does not entirely explain the evacuation of Earth (a confusing aspect, as the city in Ridley Scott's SF-Noir is so overcrowded), the explanation is completed at Bryant's briefing and J. F. Sebastian's explanation to Pris as to why he is still on Earth. In any case, the Blade Runner blimp turns out to be right on time…
17: Children Of Men (2006) – Video ads, London 2027.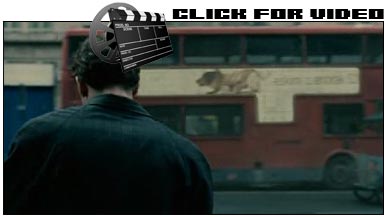 Alfonso Cuarón's adaptation of P.D. James' 'uterine apocalypse' novel finds a very recognisable modern London lightly retro-fitted, with more advanced (or somehow more affordable) video-technology grafted onto the familiar advertising spaces of London buses. Flying cars would have been daft, but the odd unfamiliar curve might have helped to sell the future metropolis.
16: The 6th Day (2000)- 'Repet' TV spot.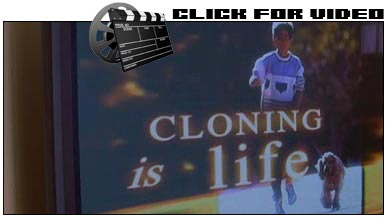 Arnie faces the problem of many a dad when his daughter's beloved dog bites the dust while she is away. A substitute goldfish you could maybe get away with, but only advanced genetic engineering can actually bring the pooch back from the dead. The idea of grafting custom DNA onto generic host templates also seems to be the technology at use in the 'Janus project' at the end of Judge Dredd (1995).
15: Death Race (2008)- TV spot.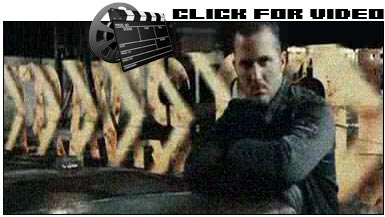 Paul W. S. Anderson's enjoyable re-imagining of the Corman 70s classic finds wrongly-imprisoned Jason Statham roped into motorway mayhem to protect his family on the outside. This very slick TV spot is completely familiar from (slightly) less-bloodthirsty real world equivalents.
14: Robocop 2 (1990) – "OCP: the only choice".
And here begins this list's descent into Paul Verhoeven territory. Even though this incredibly bloody sequel to the 1987 smash was directed by Irvin Kershner, Frank Miller runs with the rich vein of advertising satire in Verhoeven's original, and the ads in Robocop 2 are arguably even stronger. Here we see why you shouldn't switch your ISP away from Omni Consumer Products…
13: The Running Man (1987) – TV spot.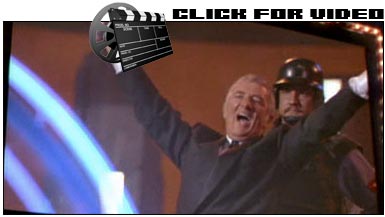 Paul Michael Glaser adapts the Richard Bachman (Stephen King) SF novella into a popular 80s action-fest. The same sense of corporate distrust permeating that year's Robocop is present here, as the US penal system merges with Rollerball-style sports events. Note the announcer prefacing the ad by reminding children of the benefits of shopping their 'rebel' parents, an Orwellian tribute.
12: S1m0ne (2002) – Various commercials.
S1m0ne (or 'sim[ulation] one' if you prefer) is the CGI glamour-girl cooked up by Al Pacino when he tires of Winona Ryder's on-set tantrums in Andrew Niccol's prescient but curiously little-seen satire. Though credited with her character's name, Rachel Roberts is the non-existent actress causing a sensation in the world's press, and she features in a number of commercials within the film as well.
11: Ghostbusters (1984) – TV spot.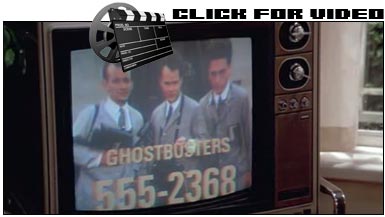 Ivan Reitman's delightfully low-rent TV commercial for the ectoplasmic warriors is one of the highlights of the eighties blockbuster, and unlikely Murray-fodder Sigourney Weaver will soon find need of that number…
10: Galaxy Quest (1999) – TV spot.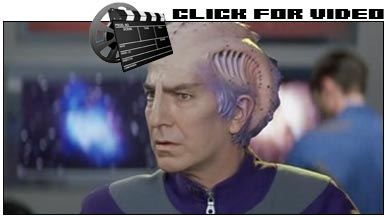 Here we find Sigourney in rather lighter mode as the glamour quotient of a Star Trek-style show that is trying to cash in on its glory days. Dean Parisot's comedy/spoof is a Trekker's delight, as all the familiar off-screen rancour of the ST cast is mirrored, but then delightfully healed in a way which continues to elude some of the real-life cast…
9: Robocop (1987) – 60000SUX TV spot.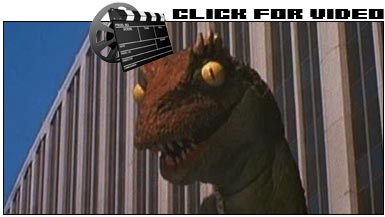 Paul Verhoeven wanted to emphasise conspicuous consumption in his SF satire, and ordered that ED-209 be rigged up with lots of pointless hydraulics and chrome, and clearly engineered for display rather than efficiency. This ad for an 8.2mpg car also emphasises its huge presence over its efficiency, and is believed to be a jab at the gas-guzzling Pontiac 6000. The 6000SUX was engineered from a 1976 Oldsmobile Cutlass four-door sedan.
8: Artificial Intelligence: AI (2001) – The adscape at Rouge City.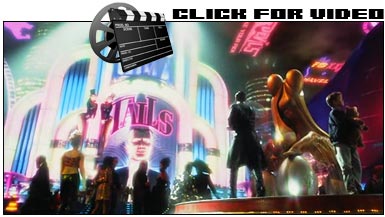 Haley Joel Osment is led to this advertiser's dream by cyber-Gigolo Jude Law in Spielberg and Kubrick's uneven but fascinating exploration of engineered consciousness. Many of the free-floating holographic ads had been seen before in the likes of Back To The Future Part II (see below), but ILM created one of the most layered and eye-boggling future-scapes ever for this scene. Some of the production design – notably the female legs that lead to the club entrance – reminds one a bit of Kubrick's A Clockwork Orange.
7: Robocop 2 (1990) – 'Sunblock 5000' TV spot.
Writer Frank Miller is presumably bemused by the sun-lovers that will risk skin cancer and roast idly for an entire day in pursuit of the perfect bronzing, and the warnings that close this clip are hilarious…
6: Total Recall (1990)- 'Rekall' TV spot.
Roy Brocksmith is the shrink trying to sell us better memories in Paul Verhoeven's mind-bending Philip K. Dick adaptation. The weird thing about this ad is how the patter decides to be a poem about halfway through. That's not something so evident from the version of it seen in the film, where Quaid (Schwarzenegger) watches the advert on a huge CRT screen on the subway to work, but this clip features the complete ad by itself…
5: Back To The Future Part II (1989) – 'Jaws 19' interactive holo-poster.
Writers Bob Gale and Robert Zemeckis were wary of trying to prognosticate future developments, and decided to go for laughs instead in the first of their two back-to-back sequels. I have to agree that the shark does indeed still look fake. I'm not aware that any franchise apart from James Bond has reached the stellar numbers of Jaws 19, though I do recall a very advanced Rocky sequel in Airplane 2…
4: Robocop 2 (1990) – 'Magnavolt' TV spot.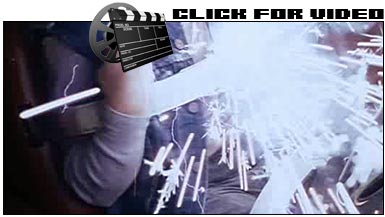 There's something of Heavy Metal's (1981) 'bad passenger' kill-switch about this lethal anti-theft device, which further drives home the economic and social split of the Robocop world…
3: Minority Report (2002) – Ads that know who you are.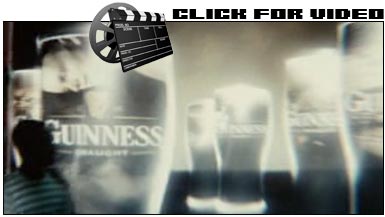 What a nightmare: fugitive future-cop Tom Cruise finds anonymity hard to get in a world where all the ads he passes scan his retina and call out for him by name. Though retinal identification is established technology, it can't yet be achieved 'on the move' or at such distances, nor does it necessitate any kind of 'flash', as seen in this clip….
2: Starship Troopers (1997) – "Why we fight".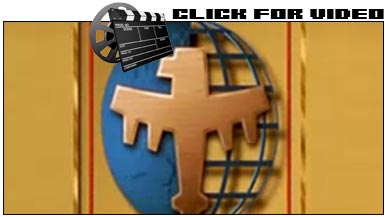 By now a trade-mark of Verhoeven sci-fi, the Dutch director is unable to resist a return to ad-satire as he uses the technique to quickly convey the setup of the human/bug war in this SF action opus…
1: They Live (1988) – Nada discovers the truth.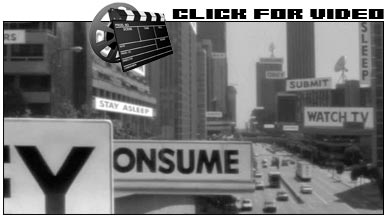 Roddy Piper is the hard-working drifter who finds a pair of sunglasses that reveal the true nature of the military-industrial hegemony in John Carpenter's increasingly relevant SF actioner. The joy of this scene is the leisurely way in which a horrified Piper tries to comprehend that the world is full of subliminal messages advocating the subservience of the human race to the now-revealed bug-eyed overlords. Children Of Men (see above) producer Marc Abraham is behind the 2011 remake. Acclaimed street artist Shepard Fairey got his 'Obey' motif from the underlying subliminal messages in They Live.
BONUS
BONUS: Robocop – Nukem!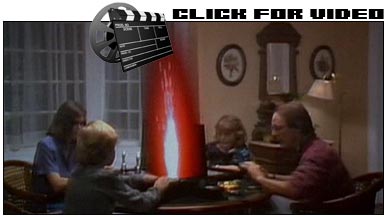 BONUS: Robocop – Heart Centre.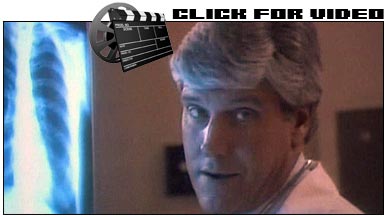 BONUS: Max Headroom (1985) – Blipvert.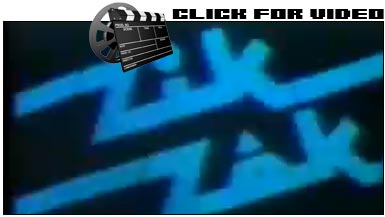 Also consider:
Nineteen-Eighty-Four (1984)A Scanner Darkly (2006)Halloween III: Season Of The Witch (1982)Johnny Mnemonic (1995)Judge Dredd ( 1995, "Recycled food is good for the environment – and okay for you.")Jurassic Park (1993)Last Action Hero (1993)Paycheck (2003)Strange Days (1995)The Island (2005)The Man Who Fell To Earth (1976)V For Vendetta (2005)
Top 50 movie special effects shotsThe 24 worst special effects of all timeDrugged! The top 50 trip sequences in movies
Top 10 most depressing movie endingsTop 10 mindfuck moviesTop 10 exploding people