News
Tom Holland: Uncharted Movie Is For 'Everyone,' Not Just Gamers
The Uncharted movie finally exists, and star Tom Holland explains why you should go see it.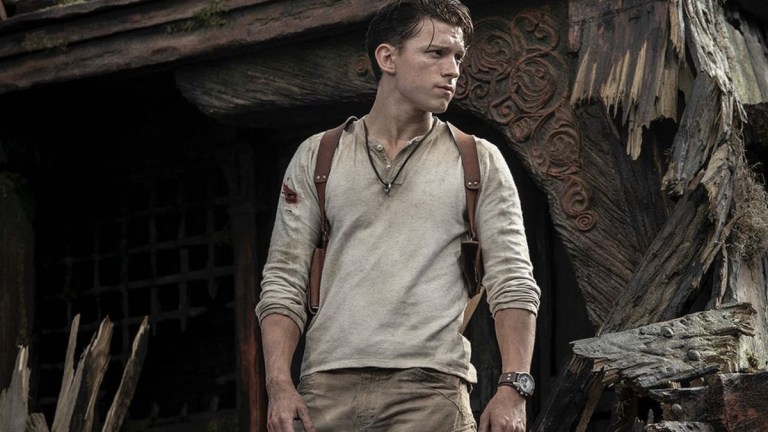 While the world will get to see a lot of Tom Holland in 2021 — in the new movies Cherry and Chaos Walking just days from now, and in his third Spider-Man movie later in the year — the British actor also has a major project arriving in early 2022: Uncharted.
Based on the hit series of video games, Uncharted stars Holland as Nathan Drake, a young treasure hunter who travels around the world unraveling historical mysteries while searching for his next hidden fortune. Along for the ride is fellow fortune seeker Victor "Sully" Sullivan (Mark Wahlberg), who acts as a sort of mentor and father figure to Drake on their adventures together.
The game has been massive since launching in 2007, with its 41 million units shipped making it one of the most successful video game franchises of all time (while almost singlehandedly keeping the lights on at PlayStation HQ). The games have been praised for their cinematic quality, immersive feel and overall excellence in design, production, graphics, voice talent and level of gameplay.
Yet even with all the acclaim lavished on Uncharted by the gaming world, the question always comes up with movies based on these properties: can they make the jump to a different medium and attract a whole new universe of fans?
"I think it's an interesting idea and one that I really think lends itself to our film," says Holland when we chat with him via Zoom earlier this week. "When you watch a video game film, if you're a fan of the games, I often wonder, why would you watch the film? Because it's less immersive. You can go and be that character. Why would I just want to watch that character?"
Holland says that the Uncharted movie finds the answer to that question.
"We're telling the prequel story of how the character, Nathan Drake, became this worldwide known character," he explains. "For the fans that love the games, they're getting an aspect of the story that they've never seen before. The people that haven't played the games are getting a really nice introduction to a character. It kind of works for everyone."
Uncharted has been in development basically forever; Wahlberg was originally slated to play Drake more than a decade ago, which gives you an indication of how long this thing has been percolating. A truckload of writers have penned a boatload of scripts, while directors such as David O. Russell (American Hustle), Neil Burger (Limitless), Travis Knight (Bumblebee), Shawn Levy (Stranger Things) and others have all spent time staring at storyboards in the Uncharted production office.
Ruben Fleischer (Venom) came aboard in January 2020 and actually stuck around long enough to get Uncharted in front of cameras the following March, but production was shut down by the pandemic not long after. Filming started up again in July in Berlin and was completed last October, with the release date bouncing around several times before settling on February 11, 2022.
"It's a really fun film, and the action is amazing, easily some of the coolest action I've done so far," says Holland, who's seen his share of epic action in the Spider-Man and Avengers movies. "I had a lovely chat with Tom Rothman yesterday, the chairman of Sony (note: Holland's chats with Rothman usually go very well), and he saw the film, and he's over the moon with it. If the boss man is happy, then everyone is happy. We're really good."
Holland's enthusiasm is infectious even to someone who's never once experienced Drake's Fortune, Among Thieves or any of the succeeding installments on a gaming console, so we'll wait to see a year from now if Uncharted joins the rarefied list of successful video-game-to-movie translations. If anyone can solve that, Nathan Drake can.