Features
How The Suicide Squad is Different from Guardians of the Galaxy
James Gunn outlines all the dramatic and tragic ways DC's The Suicide Squad is very different from Marvel's Guardians of the Galaxy movies.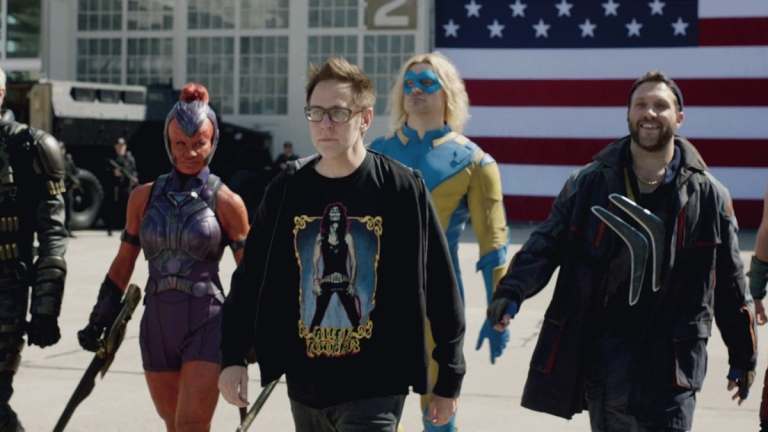 After James Gunn was (temporarily) fired by Marvel Studios from working on Guardians of the Galaxy Vol. 3 in the wake of a controversy ginned-up by old tweets, it didn't take long before he found a home with Marvel's "Distinguished Competition" at Warner Bros. An announcement came just two short months later that Gunn would take over as writer and director of The Suicide Squad.
While the notion of James Gunn taking on a team of misfit, C-list characters for a big team movie may call to mind his other superhero franchise, the director told reporters during a 2019 visit to the set of The Suicide Squad that any similarities end there, promising that his DC movie "is a much, much, much rougher film" than what we got in the Guardians of the Galaxy movies.
Gunn brought the heads of various departments he's worked with on his other projects along to The Suicide Squad, and with them hopes to make something unique.
"Dan Sudick is doing our special effects, and he's doing more live special effects in this film than all the Marvel movies he's ever done combined, which is all the Marvel movies that we shot in Atlanta," Gunn says. "It's just a much…darker film."
Warner Bros. offered Gunn his pick of DC characters, several of which he considered before settling on The Suicide Squad.
"I was playing with a few different ideas of a few different DC properties, and this was the one that just took off and I just fell in love with this particular story that we're telling right now," Gunn says. "I fell in love with some of the characters and the way we can do it and being able to tell a supervillain film like this in a completely different way."
Doing things "in a different way" has been a hallmark of Gunn's career, and he notes that his hope with the Guardians of the Galaxy franchise was "to do a space opera in a totally different way." That carries over now to The Suicide Squad with the hope to do a different kind of war movie…one that features misfit supervillains as its central figures.
And while the characters in The Suicide Squad may be as obscure, quirky, and offbeat as the ones Gunn played with in his other famous franchise, there's a key difference to remember.
"I think with the Guardians, you start out sort of knowing that they may have different problems, but at the end of the day, they're all really good people," he says. "That isn't the case with this [movie]. This is a much more complicated story. Some of these characters may end up being good, some of them are definitely not good, and most of them are somewhere in between different shades of grey."
Gunn has said from the start that his plan has been to treat The Suicide Squad like a war movie. And as in any war movie, you should expect casualties.
"It really is a war [film]" he says. "It's just a more grounded story. It's a sad story. Even though we do kill some [characters] in Guardians of the Galaxy, in this movie, you really don't know who's going to get killed."
There's also the matter of what The Suicide Squad can do that the Guardians movies will never be able to do thanks to its rating. As we've all seen in the trailers, this is a hard-R movie. "I think it's a lot of fun for James to be able to flex some of those muscles that can't do on a PG-13 Guardians movie," Safran says. "He's pretty hardcore with it."
There's leads to a certain anything-can-happen vibe with The Suicide Squad that isn't present in other franchises.
"I don't think most people think that Star-Lord's head is going to explode in the middle of the movie," Gunn says. "Any of these characters [in The Suicide Squad], their heads could explode in the middle of the movie. It's that unknown of being on edge and really not knowing what's going to happen is much different."
The Suicide Squad, in all its potentially head-explodey glory, opens in theaters and premieres on HBO Max on Aug. 6. We'll have more from our visit to the set in the coming days and weeks!