Features
The Scariest Beach Movies (That Aren't Jaws)
It's swimsuit season, so here are the best non-Spielbergian movies that will have you headed for the pool instead of the ocean.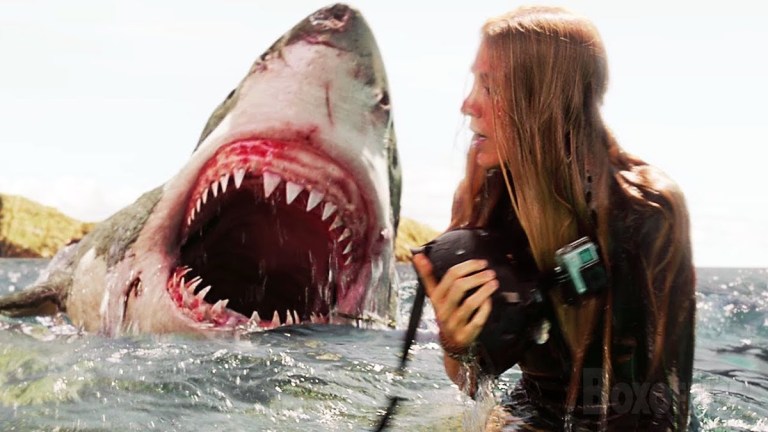 Around this time every year, I tend to enjoy putting on Steven Spielberg's Jaws. In this household it's as annual a hallmark of summer as warm breezes, smoking meat on the barbecue, and blasts of chlorine water. However, it is too easy to fall into the trap of thinking Spielberg had the first and last word in the sounds of shrieking at the beach.
In truth, there are many great summertime chillers that make your blood run cold, and the sand turn to ice between your toes, no matter how hot the temperature is. Hence why we here at Den of Geek have put our heads together to figure what are the absolute best beachside horror movies (other than the obvious one) that will make you a "lake person" for the rest of your life. Enjoy!
The Shallows (2016)
Yeah, we know: a movie about bikini-clad Blake Lively getting cornered on a rock by a great white shark, and in a movie from the director of 2005's House of Wax. We were pretty skeptical too until we saw Jaume Collet-Serra's finished and surprisingly tense thriller. Lively plays Nancy in the film, a woman grieving the death of her mother when she escapes to a secluded Mexican beach. That much needed solitude becomes a nightmare though when this surfer discovers the carcass of a whale in the water. And it's attracted a shark only too happy to stick around and feast… as well as search for humanoid hors d'oeuvres.
A tight 86 minutes, The Shallows sets its teeth in early and never lets go, making your own private slice of paradise turn into perdition as Nancy (and audiences) study every square inch of rock, including its where the shark's teeth come dangerously close to the edge.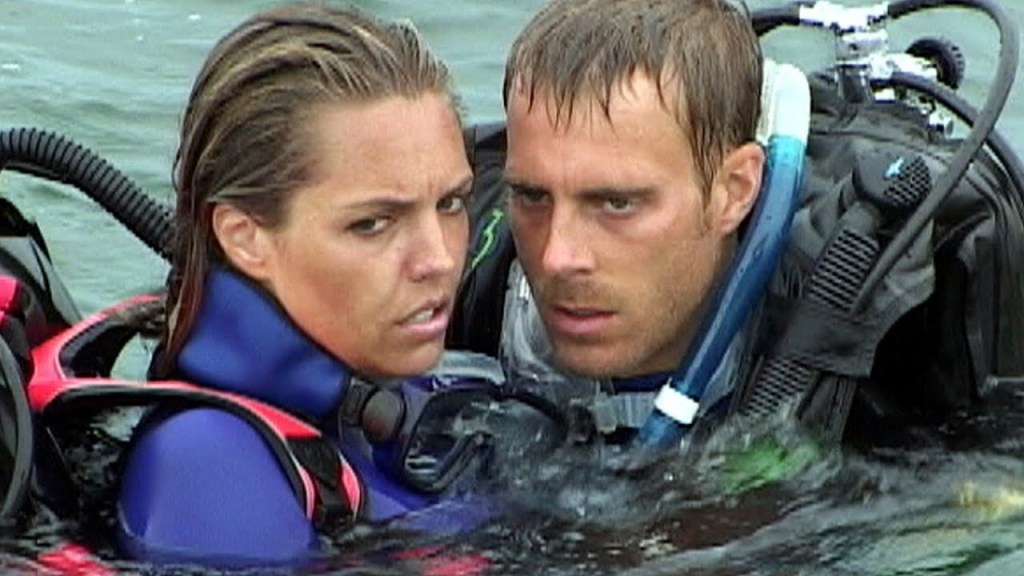 Open Water (2003)
This one is a genuinely disturbing film that becomes all the more unsettling when you realize it's loosely based on a real-life tragedy: a couple goes scuba diving for the first time and are accidentally left behind by the tourist boat they were on. Now out in the middle of the ocean and utterly alone, they're forced to face the existential dread of wondering what lies beneath… and pondering when they will inevitably be pulled beneath those murky waters.
We'll be honest, this movie is not for the faint of heart. Once again based on a grim story, this is survival horror at its most plausible. It'll likely leave you afraid to even stick a toe in the water again.
47 Meters Down (2017)
As the title suggests, this is less a beach movie and more a "you wish you were on the beach" movie. Mandy Moore and Claire Holt play sisters on holiday in Mexico who get trapped in a shark cage 50-odd meters down. With limited oxygen and a whole bunch of sharks circling, this is survival horror of the simplest (and therefore most effective) kind.
Brit Johannes Roberts directs a taught, tense movie which benefits from being plausible (until the end…) where the sharks are not evil geniuses hell bent on revenge, and the girls are neither damsels in distress nor hyper-capable killing machines. Economical at 89 mins this is a watery thrill-ride.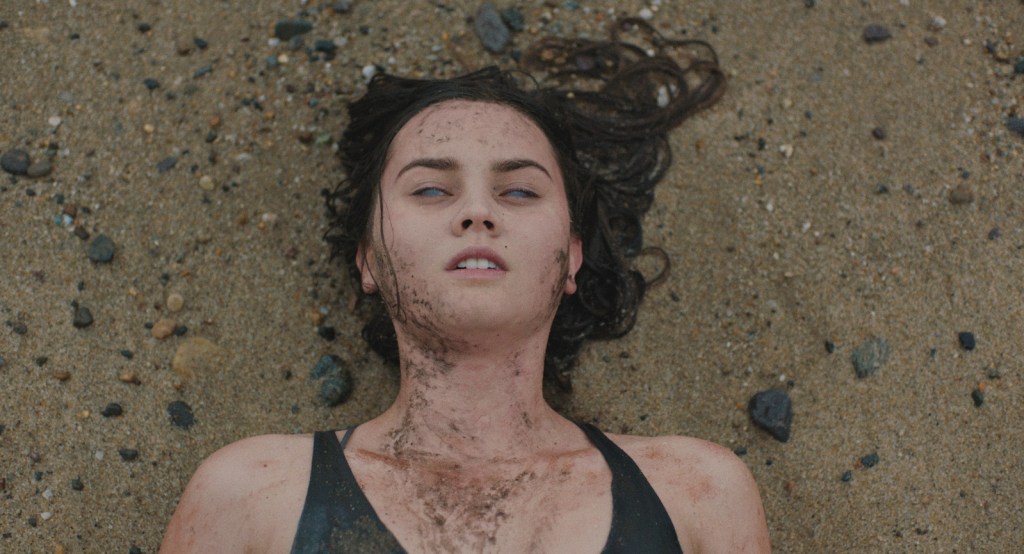 The Beach House (2019)
This indie curio begins as a horror of awkwardness as two couples – one college-age sweethearts and another an older couple one of whom has a terminal illness – appear to be double booked at a beach holiday home. With plenty of room, both couples decide to stay. But this is just the beginning of a movie that quickly moves into the territory of body horror.
It's a journey into the unknown as the four residents of the house take edibles and start hallucinating – or are they? – and something very strange seems to be happening in the water.
Part eco-horror, part infectioner with vague zombie over tones, this is a genre mashup that is gross, sad and compelling. A first feature from Jeffrey A. Brown this is definitely worth a watch for those who like their chillers weird.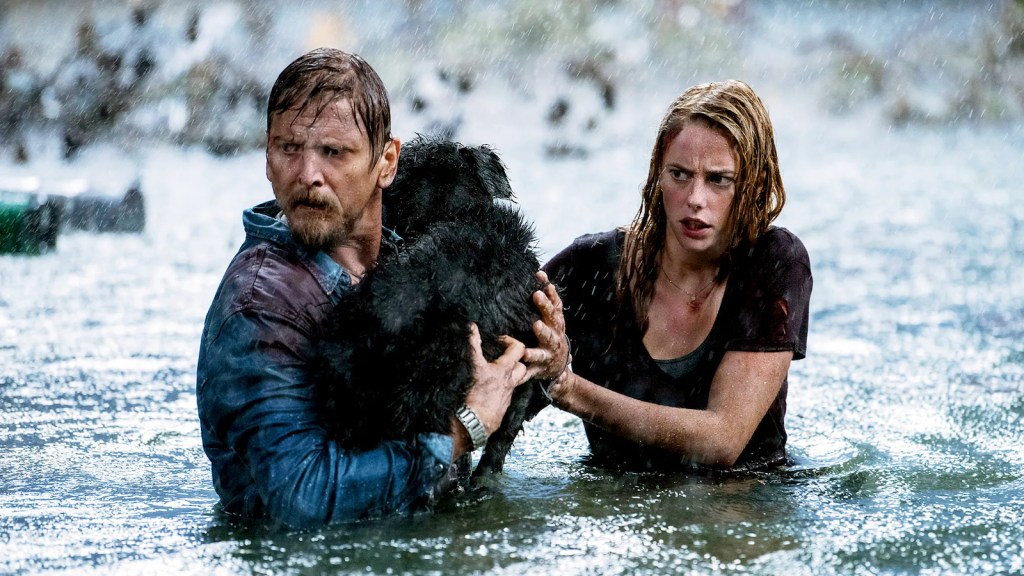 Crawl (2019)
Not all underwater threats wear fins. In fact, the schlocky appeal of Alexandre Aja's Crawl is that this time the ocean comes to you, whether you leave the beach house or not! During a category 5 hurricane, Florida resident Haley (Kaya Scodelario) sees her childhood home invaded by hungry and desperate alligators. Having come back to help her sister before the storm hits, she instead arrives just in time to face a set of jaws that don't need to be in the water to get you…
Old (2021)
This beach thriller is a very slow-burn, and may not top many fans' lists of the director's best movies, but it's worth at least one viewing to experience one of the most far-out twists in an M. Night Shyamalan movie ever. Soon-to-be-separated couple Guy (Gael Garcia Bernal) and Prisca (Vicky Krieps) take their kids Maddox (Thomasin McKenzie) and Trent (Alex Wolff) on one last family vacation to a tropical resort. But when they're invited by the hotel staff to a private beach for ultimate relaxation, things take a turn for the worse. Once they're on this mysterious beach, there's no way to leave it, and even worse: they're all rapidly aging the more time they spend in this "paradise." Why is this happening and what's behind it will leave you speechless. Whether it's in a good or bad way is up to the viewer!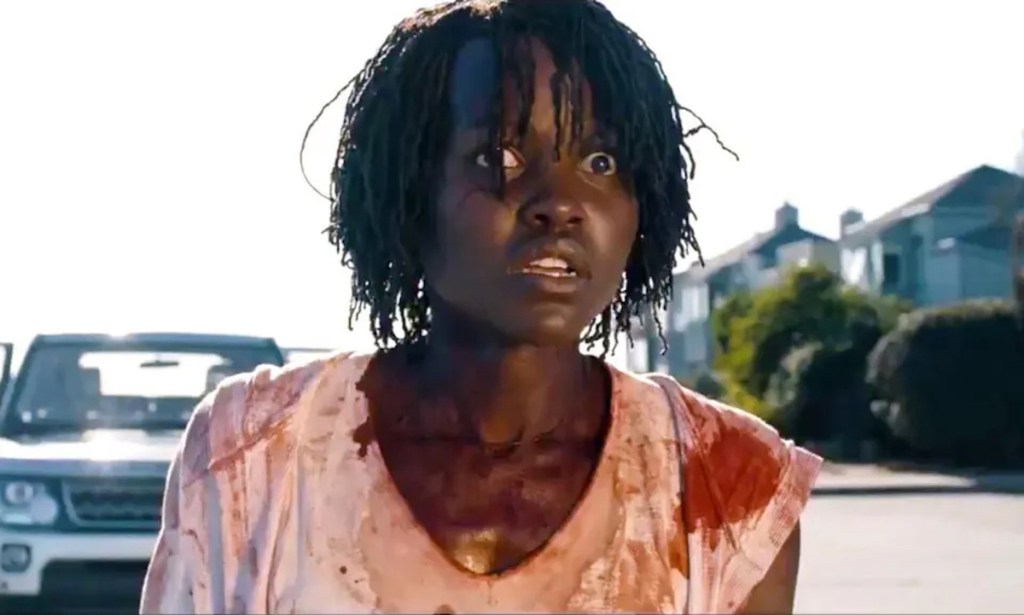 Us (2019)
Less a movie about the horrors that lurk beneath a seaside beach than it is a warning of the type of folks such a place attracts, Jordan Peele's second effort homages another horror film that shot a scene at the Santa Cruz Boardwalk, Joel Schumacher's The Lost Boys, by setting an entire story around a family vacation gone wrong. Lupita Nyong'o's Adelaide Wilson certainly didn't want to come by the film's central boardwalk, still haunted by memories of seeing her doppelgänger step through the glass at a decrepit funhouse mirror when she was a child.
That will turn out to be child's play when compared to what comes next for her, husband Gabe (Winston Duke), and their two children after they meet underworld versions of themselves who are very eager to replace their wealthier, happier counterparts. A movie that's unsubtle while considering its themes of class and upward mobility (the title could just as easily have been U.S.), Peele's Us is an ambitious epic that asks you to remember to lock your rental properties…