Reviews
The Personal History of David Copperfield Review
Veep creator Armando Iannucci delivers a surprisingly earnest version of the Charles Dickens classic David Copperfield.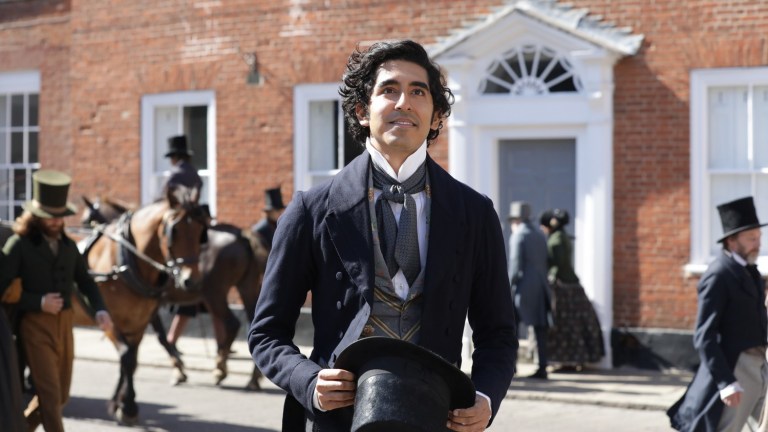 It seems strange to imagine that in this, of all years, our top satirist of all things political, Armando Iannucci, has chosen to make an earnest and charming new adaptation of Charles Dickens' David Copperfield. But here we are. Perhaps the sheer horror of exposing the absurdity of modern politics in films and series like In The Loop, The Thick of It, The Death of Stalin, and the nearly perfect Veep left Iannucci so spiritually depleted that he had to find solace in something wholesome again.
Don't get me wrong: The Personal History of David Copperfield still tackles Dickens' persistent themes of class, privilege, poverty, and human rights, although in far less scathing fashion than Iannucci is known for. And in choosing to cast the film in colorblind fashion–the title character is played by brown actor Dev Patel (Slumdog Millionaire), for starters–Iannucci has subtly modernized it while grounding the piece firmly in its 1850s England period and staying largely faithful to the text.
Well, as faithful as one can be to a 600-page novel in two hours, that is. If one hasn't read David Copperfield (and let's face it, a lot of us haven't), you may get lost a bit in the onrush of characters and events in this fast-paced film. Iannucci may in fact breeze through a lot of the book's events, omitting some scenes and compressing others, so that they don't hit with quite the resonance that Dickens is celebrated for.
But that's still okay, because the story itself and the multitude of vivid, colorful, oddball characters are so timeless and relevant to the human condition that only the most diehard loyalists to the text may find something to grumble about.
Even though it is somewhat abridged, the plot and the major turning points are all essentially the same: born to a loving mother and loyal family servant, David has a few idyllic toddler years before his mother (Morfydd Clark) marries the sadistic Edward Murdstone (Darren Boyd), who brings his equally sinister sister Jane (a frightening/funny Gwendoline Christie) along to live with them.
David is sent away by the Murdstones to stay with the penniless but loving Wilkins Micawber (Peter Capaldi) and his brood, while working in a London bottling factory (touching on Dickens' longstanding battle against child labor). There he grows into a young man and leaves in a fury, setting off on an odyssey of adventures and unlikely run-ins with characters as aptly named as Uriah Heep (Ben Whishaw), a fraudster who will try to lure David into financial ruin. Yet that is just one of his many adventures.
Nearly all the beloved characters from the book are here (a few, like Tommy Traddles and Dr. Strong, are absent) and given delightful life by a cast clearly happy to be along for the ride. Patel is a warm, empathetic David, full of life and refusing to resign himself to being manipulated by a society that is built to keep him down. Other standouts are Tilda Swinton, brilliant as always, and a zany yet compassionate Hugh Laurie as Mr. Dick, the sunny Rosalind Eleazar as Agnes, and, in perhaps the film's best performance, Whishaw as the obsequious, insincere, and falsely humble Uriah Heep.
There are some fanciful flourishes, such as a giant hand coming through the roof of a makeshift house to rip away one scene for another, although those fade out by the time we get to David's adult life. Cinematographer Zac Nicholson's subtle compositions also reflect the circumstances in any given scene–David's childhood home becomes gradually enmeshed in shadows with the arrival of the Murdstones while the scenes at the Peggoty family's boat-turned-house, and Betsey's estate are full of sun and color.
The film also blurs the line, as did the author, between the fictional life of Copperfield and the real life of Dickens. The tone occasionally veers a bit over the course of two hours, with a couple of scenes playing like something close to a Monty Python sketch. But at the same time, you can almost feel Iannucci's palpable joy at adapting a tale in which the protagonist takes great satisfaction from not the power, wealth, or fame he accumulates, but from the journey itself and the people he meets.
Living the best life you can under arduous circumstances is a lesson that just about all of us can appreciate, even without the world being on fire, and Iannucci clearly had no idea what kind of world he'd be bringing into his David Copperfield, the first time the story has been told on the big screen in 51 years, although there have been numerous TV editions. While it may not be the definitive edition of the tale, it's very likely the one we could use right now.
The Personal History of David Copperfield opens in limited theatrical release this Friday, Aug. 28.