News
The Many Saints of Newark Trailer Cements Dickie Moltisanti as The Movie's Tony
Dickie Moltisanti steps up for the family in The Many Saints of Newark trailer.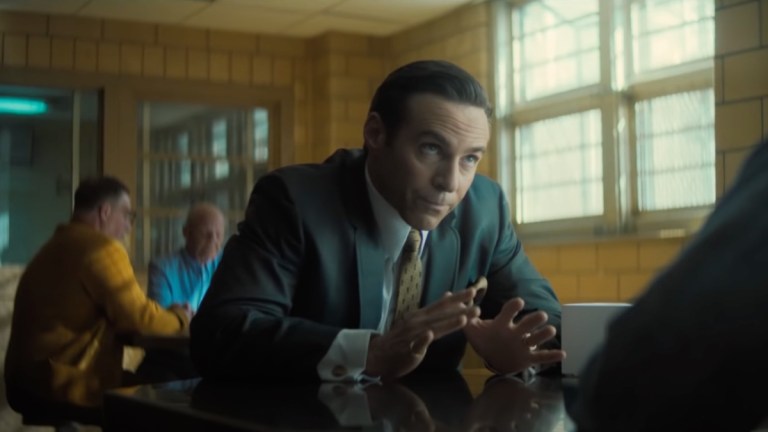 "I want to do a good deed," Dickie Moltisanti (Alessandro Nivola) says in the second The Many Saints of Newark trailer. From the looks of the rest of it, it's only partially out of contrition. The prequel movie to The Sopranos series is set in the gangster heyday, and centers on Tony's (Michael Gandolfini) uncle, series creator and co-screenwriter David Chase insists. It is not a Tony Soprano (James Gandolfini) origin story. Dickie is Tony here. You got a problem with that?
"Young Anthony Soprano is growing up in one of the most tumultuous eras in Newark's history, becoming a man just as rival gangsters begin to rise up and challenge the all-powerful DiMeo crime family's hold over the increasingly race-torn city," reads the official synopsis. "Caught up in the changing times is the uncle he idolizes, Dickie Moltisanti, who struggles to manage both his professional and personal responsibilities–and whose influence over his nephew will help make the impressionable teenager into the all-powerful mob boss we'll later come to know: Tony Soprano."
You can watch the trailer here:
Young Tony is in the trailer, and so is his gang. They're giving more grief to a Mr. Softee ice cream truck driver than Mrs. Softee gives her husband. But it looks like they're doing it for uncle Dickie, the one who wants to do a good deed. "I want to do what I can to help the family," Moltisanti says. He's talking about two families. The trailer gives us a glimpse of a very young Christopher, as Dickie introduces his infant son to the Sopranos household. Dickie also tells his father, "Hollywood" Dick Moltisanti (Ray Liotta), he wants to "set a good example for my nephew." "Hollywood" Dick seems more interested in his son's merit badges. But what does he know? He's a murderer.
"Look at Dickie Moltisanti," Tony's father Giovanni "Johnny Boy" Soprano (Jon Bernthal) declares proudly in the trailer. "He steps up. Takes care of his family. Takes care of all the business." This follows scenes of Dickie in action, and taking pieces of it. In The Sopranos season 4 episode "For All Debts Public and Private," we learn Dickie died because of a feud with a criminal named Jilly Ruffalo, who killed Dickie's cellmate while they were in prison. Dickie gouged out his eye as payback. Ruffalo hired a police detective to kill Dickie. The trailer shows Dickie throwing a guy down on a table as he grabs a drill. Unlicensed ocular surgery or a cellblock revenge?
On the series Dickie Moltisanti is only mentioned by name as Tony's mentor. We are never shown flashbacks to his character, like we get of Tony's father and Junior Soprano, played in The Many Saints of Newark by Corey Stoll. But Dickie is a perfectly representational Sopranos character. He can explore the same themes of the series while changing the tone from what it would have been if it focused on Tony's father.
The first trailer ended with "Hollywood Dick" telling his son to stay away from Tony. In the new trailer, Moltisanti looks like he's having an existential crisis. The series referenced Dickie's issues with alcohol and drugs, and it looks like we'll get a taste in The Many Saints of Newark. "I know you can get anything," Tony tells Dickie in the trailer. This follows a curt discussion between Dickie and Junior, which implies he's a little upset about the "blow."
You can't make a good gangster movie without romance, and it looks like Dickie will also have a love interest. He will also be on the front lines of the race-torn Newark. "Dickie Moltisanti has to die," Leslie Odom Jr.'s gangster Harold McBrayer declares.
The Many Saints of Newark is directed by Alan Taylor (Thor: The Dark World), who directed several Sopranos episodes. The screenplay was written by Chase and Lawrence Konner.
The Many Saints of Newark will premiere on September 22 at the Beacon Theatre to kick-off the Tribeca Fall Preview, a season-long series featuring film premieres and musical performances.
The Many Saints of Newark will be released in theaters on October 1, and will be available on HBO Max for 31 days from the theatrical release.