Features
The Girl In The Spider's Web: "We took the story and lifted it with a lot of action"
Claire Foy, Silvia Hoeks and Fede Álvarez tell us what makes the latest instalment of the Millennium series different from the rest
It's a surprisingly hot afternoon for late October in Rome. A stone's throw from the Spanish Steps, the hotel where the cast and director are promoting the latest Millennium film is blissfully air-conditioned and boasts some top-notch tea. Having attended the premiere of The Girl In The Spider's Web the night before, journalists are ushered into an interview room where an impressive dragon cut-out looms large. "Quello che non Uccide", it reads underneath. I was getting flashbacks from the previous night. It's ever so confusing watching an English language film with strong Swedish accents subtitled in Italian.
The Girl In The Spider's Web is the fourth book in the Millennium series and the first to have been written by David Lagercrantz following Stieg Larsson's death in 2004. It's clear that we all have the same question for director Fede Álvarez, too. Why this film? Why now?
After David Fincher's 2011 film adaptation of The Girl With The Dragon Tattoo, it's all gone very quiet on the Millennium front. While the Swedish language film trilogy is complete, the English language films have now jumped ahead from the first to the fourth book where Lisbeth Salander (Claire Foy) must return a programme of nuclear codes to its rightful owner while confronting her past in the form of her sister Camilla (Silvia Hoeks).
"I wouldn't make the second and third stories because you have to repeat whatever was done before," Álvarez offers before anyone has the chance to ask. He's sitting back in his chair, smiling warmly, encouraging questions like he's invited us in for a Sunday roast at his place. He's just finished an anecdote about the town where he grew up and remembers what he's come here to talk about.
"This is not a continuation of the past movies. This is a departure. The books have evolved; they have become pulpier. That's what I do and that's what I like. There's more room to make it a fable. Things don't have to be 100 per cent realistic and super grounded, you can let your imagination fly a little bit. That's what this book in particular allowed."
Silvia Hoeks also speaks about the film being like a fable in tone, explaining that Álvarez "took the story and lifted it with a lot of action. He was looking for more of an opera, something elevated, a bigger story open to more cinema viewers." And it is. The later scenes of Camilla dressed in red running through the crisp white snow, for example, are reminiscent of a fairytale.
It was the film's female lead that drew Álvarez to the project in the first place, however, and as the #MeToo movement unfolded during filming, the cast and director were acutely aware of the importance of Lisbeth Salander as one of the few powerful female protagonists who doesn't dress to impress – or do anything to impress, for that matter.
"We were in production when #MeToo was blowing up", Álvarez recalls, "and I was really conscious of listening to the actor more than ever. To listen to my leading lady about what she wants to do and what she doesn't want to do; how she wants to be portrayed, what clothes she wants to wear, how much make-up she wants to wear… really put her in a place where she's very comfortable with how she's portrayed as a female lead."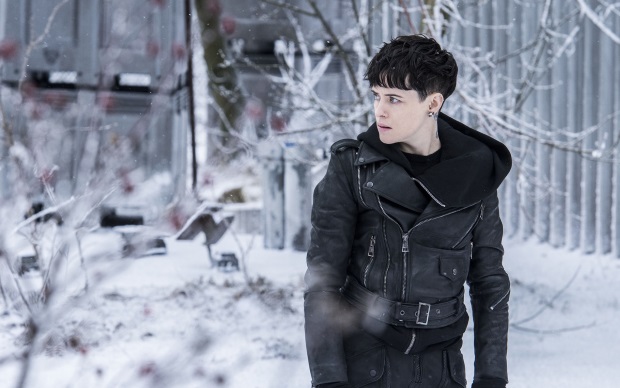 It's all very well, too, because Claire Foy had some firm stipulations when it came to how Lisbeth Salander looked in this film. "I was very protective of her character," she admits. "I felt like she had been so taken advantage of; it felt wrong for her to be taken advantage of in a film. I was adamant about certain choices. There was absolutely no way a mascara wand was coming anywhere near me."
Speaking in a gentle, considered tone for much of the interview, Foy surprises the group with funny quips that reduce us to fan-girl style giggles. When asked about the physical training required to play Lisbeth Salander, she admits: "I loved it, I still do it now because I loved it so much. I never understood that weights were something that didn't mean that I had to be like…" She then proceeds to pull a pained face while attempting to lift invisible dumbells.
"I know all the tricks now of all the buff people and what they do," she faux-brags to the group, "and how they make themselves look really buff. I'm onto them." She widens her eyes and nods knowingly. "People need to start being more honest about that stuff."
It wasn't just the physical transformation that was important to Foy, though. For her, the Swedish accent was vital for the role. "I was adamant that I had to do an accent," she says. "There was talk very early on that it doesn't have to be accented and I was like, 'Errr, I think it does.' And so I was doing an accent whether they wanted me to or not."
Foy called upon the help of her dialect coach from The Crown, William Conacher, to master Salander's voice. "The Swedish accent is very kind and very friendly and very joyful," she explains, "and that's not something you associate with Lisbeth Salander, so the way she used the language, and how infrequently she speaks, and the staccato rhythm with which she expresses herself, was all adapted to make her seem like someone you don't really want to spend time with, really."
Hoeks had the unenviable task of creating a picture of Lisbeth Salander's childhood in the space of a few scenes in which Camilla finally confronts her long lost sister. The actress has shaved her head for a new role and looks effortlessly chic as she explains how her Spider's Web character reveals previously concealed facets to Lisbeth. "Camilla is a tool to show Lisbeth's past and to show where Lisbeth comes from," she says. "They both had a really difficult childhood… and Lisbeth could have been vulnerable. She chose the strong path."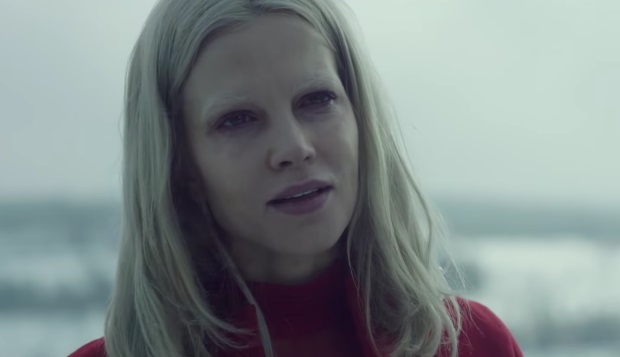 Camilla is not necessarily the force for good that her sister has become, and Hoeks relished the challenge of playing this conflicted character. "It was interesting to find that line; the balance of the villain on the one hand and the victim on the other. In a dark character like that, I really try to look for their vulnerabilities."
With the introduction of Camilla, though, it seems a key player has somewhat fallen by the wayside. Mikael Blomkvist (Sverrir Gudnason), such a central figure in the books and films to date, is little more than a sitting duck while Lisbeth saves the world. For Álvarez, this was entirely deliberate.
"We did to Blomkvist in this film what Hollywood did to every female co-lead in the past," he says. "We made him nice to look at and to be kidnapped in the end." It's difficult not to break a smile at Álvarez's enthusiasm for making this a purely female-driven vehicle. "I didn't want him to accomplish anything that would take away from Lisbeth. I wanted it to be her movie. The other movies are always about Blomkvist. He's the one that connects with the audience, he's the one that gets you into the story, he's holding your hand throughout the stories. Lisbeth is a sidekick – she comes to help. For such a feminist icon, I thought that was unfair."
There is a fifth book in the Millennium series, too, but as for Álvarez's involvement in a potential follow-up film, he is unsure. "I'm not a sequel guy," he says. "It will depend if there's something to say with the next chapter. I think what we did in this movie has never been shown – to really go to a personal place, to break Lisbeth and get her to confess something that she feels terribly guilty about. No one went there before. So in order to do another one myself, I'd have to find what that 'new' thing is."
The Girl In The Spider's Web is in UK cinemas now.