News
The Flash Movie Script Grant Morrison Wrote Had a Back to the Future Vibe
Feels like we may have missed out on quite a fun solo outing for The Flash, as Grant Morrison reveals the direction he went in with his script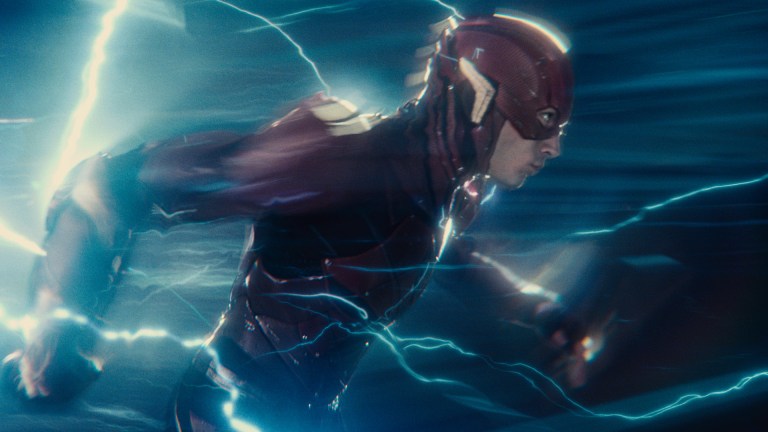 Grant Morrison has been chatting about his time working on The Flash movie with its still-attached star, Ezra Miller. The two united to pen their own script for the Scarlet Speedster solo project back in the early months of 2019 after "a clash of creative visions" with the film's previous directing team, John Francis Daley and Jonathan Goldstein of Spider-Man: Homecoming.
Morrison opened up about his attempt at writing The Flash in a new interview with Collider while promoting his new Peacock series Brave New World.
"Ezra Miller and I wrote that [script] last year," he said. "I thought we had a really good version of The Flash and we wrote it as fast as The Flash, because it was so demanding, and it was pretty good. And I think after a few drafts, it would have been great. But the way some studios work, these things just come and go. I think about 15 people have already written versions of The Flash. But it does seem to be going ahead now, but not with the version that we did. I had fun. Ezra came over to the house and we just had a real blast and created the story."
The former Heavy Metal editor-in-chief described his version of the film as leaning more towards a Back to the Future style of time travel movies, but said he's out of the loop on the movie's current direction.
"I don't know what they're doing with it," he admitted. "But it was pretty good. And it was a very different kind of superhero thing. It was more like Back to the Future, I would say, than a superhero movie."
Morrison, whose Syfy series Happy! was cancelled in June of last year after two solid seasons, confirmed that he and Miller were trying to adapt Geoff Johns' Flashpoint story arc at the time, and indicated that their The Flash movie would have probably been a little more upbeat than some of the DCEU entries of the past. This is fairly surprising, as reports claimed that making The Flash grittier was the main reason for Morrison and Miller taking up the project in the first place.
"No, it wasn't [darker] really," Morrison said. "I mean, elements of darkness were there and the material that they wanted us to use [was] the Flashpoint stuff. So, Ezra and I were actually trying to do something that was a bit more —like I say, it's kind of like just a great science-fiction story. And if you don't know [the comics], it would have made sense. But I have to say, I mean, I don't want to talk about that, because somebody else has done their own work on it and I'm sure it will be great."
Morrison also teased that maybe one day his script "will leak out into the world" so perhaps we'll get more of an idea of what he would have done with it at some point.
Birds of Prey writer Christina Hodson is the latest scribe attached to The Flash movie, while It and Mama's Andy Muschietti is set to direct. It's due to be released in June 2022.