News
The Fast X First Reactions Are In
We have our first taste of how crazy it is to see Vin Diesel and Jason Momoa rev their engines at the same time in the 10th Fast & Furious flick!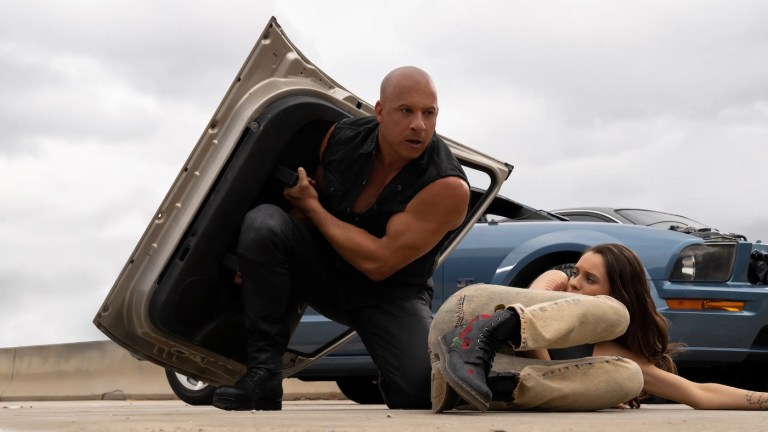 Even the greatest family reunions have to eventually come to an end, and that final turn in the road is within sight. While next week's hotly anticipated Fast X will not be the actual conclusion to the epic Fast & Furious saga, it will lead directly into the 11th mainline film—aka the supposed last ride with Vin Diesel's Dominic Toretto behind the wheel.
It's been a long and winding trip, beginning nearly a quarter-century ago with quarter-mile races paid for by the theft of DVD players. No really, go back and watch The Fast and the Furious (2001), preferably on an old-fashioned 480p laser disc. The series of course evolved a lot after that, adding key extended family members like Roman (Tyrese Gibson) in 2 Fast 2 Furious and Ludicrous as Tej in the same film. Although what might be telling about Fast X is who isn't there.
Onscreen the film famously marks the second consecutive Fast Saga adventure without Dwayne "the Rock" Johnson's Luke Hobbs, who has been with the series since Fast Five (2011), however it also will not include director Justin Lin who really elevated the series in most of the previous installments, including Fast Five. He was signed on to direct Fast X and the forthcoming Fast & Furious 11, but the director publicly bowed out of the film while it was in the middle of production, apparently concerned about his mental health after "a series of disagreements" with Diesel. Afterward, director Louis Leterrier (The Incredible Hulk) stepped in to helm a penultimate film that features a sprawling ensemble cast, including newcomers in Jason Momoa, Brie Larson, and Rita Moreno, and returning faces like Charlize Theron, Helen Mirren, Michelle Rodriguez, and Jason Statham.
But how does Fast X measure up? According to the folks who saw it first at press and junket screenings this week… like a 10-second car that just fired its nitro boosters!
Eric Eisenberg of CinemaBlend praised the movie, calling Jason Momoa's Dante the equivalent of this franchise's Joker (presumably of the Heath Ledger variety). "He's a gleeful psychopath, and it's delightful."
Kirsten Acuna continues the superhero movie comparisons, suggesting this is the saga's Avengers: Infinity War.
The high praise was echoed by several other early junketeers as seen below.
Still, not all of the reactions were fueled with praise. Germain Lussier of Gizmodo and io9, for one, called it the worst installment in the series, saying, "It's the 1st film to not up the ante from the last one & the trademark notion of 'Family' is an afterthought."
Journalist Simon Thompson also seems less than won over, albeit he too praises Momoa.