Features
The Eurovision Song Contest: Why it's a Massive Deal in Europe
It's been running for over 60 years, it's inspired endless memes and drinking games, and now Will Ferrell has made a movie about it. So what's the deal with Eurovision?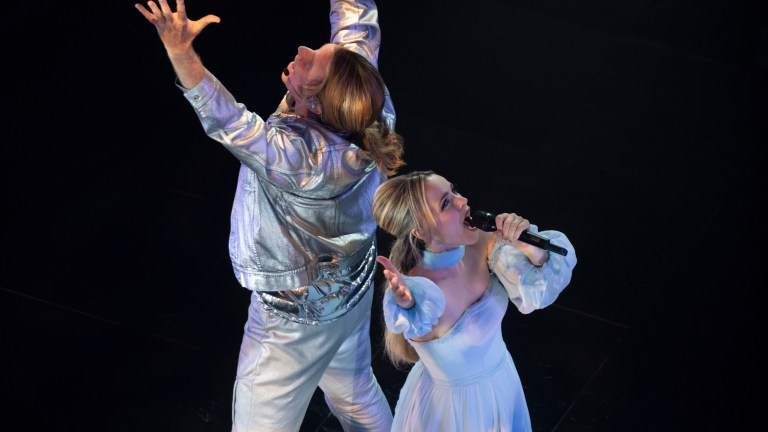 If the Eurovision Song Contest didn't already exist, we'd never be able to invent it. Imagine trying to organise an international singing competition that featured performers from more than 40 countries, all with their own elaborate costume and staging requirements – and then broadcasting it, live, to an audience of up to 600 million people across Europe and the rest of the world? Even arranging the taxis for the various delegations must be a nightmare.
And yet, Eurovision is completely real, and completely brilliant. It's a huge annual celebration of music, fireworks, and joy. It's exhilarating, controversial, and inspiring. If you've never seen it before, it can be a little overwhelming, but it's absolutely worth getting familiar with.
In anticipation of Netflix movie Eurovision Song Contest: The Story of Fire Saga, starring Will Ferrell and Rachel McAdams, here are eight reasons why Eurovision is so special:
You've never seen anything like it
Whether it's The X Factor, The Voice, or American Idol, you'll probably have seen some kind of televised singing competition before. But none of them can hold a candle to the Eurovision Song Contest.
For starters, all the songs are original: the rules state that competing songs must not have been released any earlier than the previous September. For another, due to the international nature of the contest, the range of different musical styles is vast. Where else could you hear Swedish pop, Estonian opera, Hungarian metalcore, and Serbian turbo-folk all in one place?
Because it's a competition, too, all the acts are really fighting for your attention, which means they bring their A-game to the stage. Expect pyrotechnics, dramatic choreography, and all kinds of props. One time, Azerbaijan brought a man in a horse mask who just stood on a ladder during their song. Why? Why not? It's Eurovision. You're guaranteed at least five jaw-dropping moments per show.
The voting system is complicated and deeply compelling
The first ever Eurovision Song Contest, back in 1956, featured just seven countries competing, and even then the voting caused controversy. Things have only gotten more complicated ever since, and the system is pretty impenetrable to newcomers.
Basically, under the current system, half the points come from professional juries and half come from audience votes. So that bigger or more populous countries don't get an unfair advantage, Eurovision uses a positional voting system. Each country's jury awards 12 points to its favourite song, 10 points to its second favourite, 8 points to its third favourite, and then 7, 6, 5, 4, 3, 2, and 1 point, in turn; each country's audience votes are ranked in the same way.
The way the votes are announced varies, but there's always a satellite link-up component during the Grand Final where spokespeople from each country beam in to award their points. Some of them flirt with the hosts, others sing, most of them try to drag out their moment in the limelight, it takes forever and it's always mildly chaotic. It's almost as much fun as the singing bit.
Australia takes part, and they're really good at it
Better get this one out of the way early: yes, since 2015, Australia has competed in the Eurovision Song Contest. The Contest has been broadcast down under since the 1980s, and to commemorate Eurovision's 60th anniversary, the organisers invited Australia to compete. It was supposed to be a one-off, but it turns out Australia is great at Eurovision, so they've been invited back every year since.
Maybe it doesn't entirely make sense, but then Eurovision has never been particularly interested in strict geographical boundaries. Other not-strictly-European countries that regularly compete include Israel, Cyprus, and Armenia, while Morocco even joined in back in 1980. Don't fight it. As long as they play by Eurovision's rules, it's all good.
The rules force entrants to get really creative
Speaking of the rules, there are a few more you should know about. No competing song can be longer than three minutes, for one – any longer and you risk getting disqualified. No more than six people are allowed to take part in any performance. All vocals must be live, but all music must be pre-recorded. Artists must all be aged 16 or over. And you're not allowed to bring any live animals on stage.
Some of these things might sound a bit restrictive – for example, the Belarussian entrant from 2016 was bitterly disappointed when organisers refused to let him bring wolves on stage with him, and he had to make do with LED screens instead. But they've also served as springboards for some incredible creativity. Sweden's "Chalk Boy" (see above) might not have counted as a person on stage, but he was an integral part of Måns Zelmerlöw's winning performance in 2015; in 2018, Moldova's DoReDos made eye-poppingly playful use of their extra performers.
And though COVID-19 cancelled the party this year, future rule changes to help keep the Contest safe might also prompt creativity. It's already been announced that pre-recorded backing vocals, with no limit on the number of performers, will be allowed next year. Fingers crossed for some complex vocal harmonies!
Yes, it's political, but not in the way you'd think
One common criticism of the Eurovision Song Contest is that it's all about politics. Cynics say the songs are irrelevant, because countries just vote for their neighbours. Some even point to the United Kingdom's poor performance in recent years as evidence that the international community hates the British.
But those arguments miss the wider point about Eurovision. The first ever Contest was arranged as a deliberate attempt to unite the continent in the aftermath of the Second World War. The European Broadcasting Union (EBU) wanted to put together a light entertainment show that would bring everyone together for one evening – it was also an experiment in live broadcasting across several countries at once. Looking at how far the competition has come since then, and how many more countries have joined in, it's safe to say that the experiment worked.
So while there are sometimes tensions between countries due to non-Eurovision factors, the real point of Eurovision is togetherness. It's a space to enjoy the things that unite us, above and beyond any of the things that divide us.
It's a real celebration of diversity
Eurovision has a huge LGBTQ+ fanbase, and not just because it's Europe's biggest party. Since 1998, when trans singer Dana International took the crown for Israel with her irresistible banger 'Diva', Eurovision has helped make diverse identities mainstream. Even though some of the competing countries might not be particularly LGBTQ+ friendly, the Contest itself provides a space not just for acceptance but for celebration.
It's continued pushing boundaries even when that caused controversy, too. After a Chinese broadcaster censored the same-sex kiss in Krista Siegfried's performance for Finland in 2013 and then entirely cut Ireland's Ryan O'Shaugnessy's performance in 2018 because of the same-sex interpretive dancers, the EBU blocked them from broadcasting the Contest at all. As the 2017 Contest's tagline said, the point of Eurovision is to "Celebrate Diversity" – and if broadcasters won't respect that, then they don't get to come to the party.
The spectacle is great, but the music is better
Because of its gigantic international audience, many countries take the Eurovision Song Contest really, really seriously, sending their biggest stars or most talented new artists. (This also explains the United Kingdom's mostly awful track record recently, by the way – we haven't been trying very hard.) You might not love every single song, but given the breadth of different genres on display, you're likely to find something you'd love in any given Contest.
It'd be too easy to cite ABBA as a credible, brilliant Eurovision act, and too backward looking – more recent years have featured Belgium's Blanche, a gorgeously deep-voiced singer-songwriter; Russia's Sergey Lazarev, an unstoppable pop juggernaut; and the Czech Republic's Lake Malawi, all jangly guitar-pop loveliness. Last year's winner, Duncan Laurence from the Netherlands, won the Contest with simple staging but a deceptively complex and delicately emotional ballad. Anyone who dismisses Eurovision music as boring and outdated just hasn't been listening.
The meme potential is endless
The final reason Europe loves Eurovision? It's because it's endlessly memeable.
Eurovision has given us Epic Sax Guy, aka Sergey Stepanov, who played saxophone for Moldova's Sunstroke Project in 2010 and then again in 2017; it's given us the Buranovskiye Babushki, a group of Russian grandmothers who baked live on stage in 2012; and it's given us Verka Serduchka, a Ukrainian drag queen whose star-shaped hat became instantly iconic back in 2007. There was a dancing gorilla once. And a band who struck anime power poses during their introduction. Just last year, Italy's Mahmood summed up the mood of the continent by singing in front of a screen reading "It hurts to be alive", while host Assi Azar went viral for a comment he made during the semi-final draws.
Even without a Contest in 2020, the memes have kept coming. Thanks to social media (and Jennifer Garner) chances are you've heard Iceland's breakout hit Think About Things by Daði Freyr – you might even have already tried out the dance moves. That song might be the perfect distillation of everything that's great about Eurovision: it's catchy, it's got moves, and beneath the surface, it's a really wholesome and adorable pop song. Would it have won? We'll never know, but we'll always have the memes.
Eurovision Song Contest: The Story of Fire Saga arrives on Netflix on Friday June 26th