Features
The Coolest Jurassic World: Fallen Kingdom Merchandise (Including a Dino-Drone!)
You can bring home the dino-fun of Jurassic World: Fallen Kingdom with toys, drones, augmented reality books, funky masks and much more...
Many a modern day geek grew up with Jurassic Park toys, and it's impossible to deny the simple thrills that come from whacking a plastic T-Rex into a plastic triceratops and adding your own roar-some sound effects. However, now that Universal has revived this beloved film franchise with Jurassic World and its Fallen Kingdom sequel, the powers-that-be have upped the merchandising game significantly.
In the build-up to Jurassic World: Fallen Kingdom's release date of June 22nd, a huge amount of Jurassic World merchandise has chomped its way onto shop shelves. Making our childhood toys look like fossils from a bygone age, we're now living in a world where the official Jurassic Park merchandise range includes drones and augmented reality products. We've compiled the very best bits of Jurassic World: Fallen Kingdom merchandise below…
LEGO Indoraptor Rampage at Lockwood Estate
Price the last time we looked: $129.99 from LEGO Shop
Clocking in at a hefty 1,019 pieces, 'Indoraptor Rampage at Lockwood Estate' is the biggest set in the official Jurassic World: Fallen Kingdom LEGO range. With the 3-level Lockwood estate, you get two dinosaur figures (an indoraptor and a velociraptor) and six Minifigures (Owen, Claire, Maisie, Mills, Wheatley and Eversol). There is also a collapsing roof that you can activate with a lever and windows that can be faux-smashed by the dinosaur figures. Thanks to those features, this set will be just as fun to destroy as it is to build.
See also: Dilophosaurus Outpost Attack
Raptor Rescue Augmented Reality Book
Price the last time we looked: $11.96 on Amazon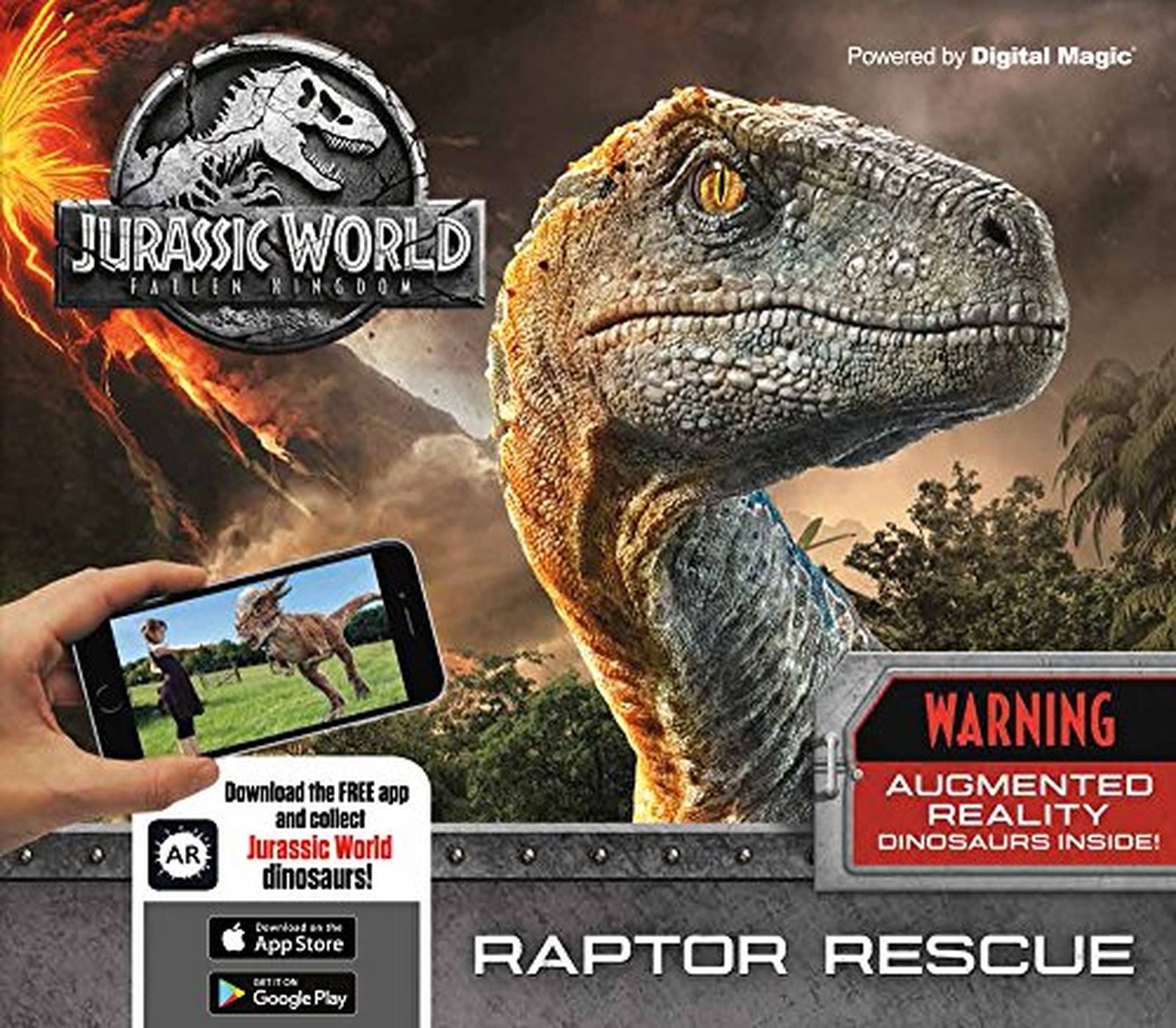 You get 32 page of fun with Jurassic World Fallen Kingdom: Raptor Rescue, a clever little book that encourages readers to download a free app and use it in conjunction with the book to see augmented reality dinosaurs come to life off the page. One particularly enjoyable segment allows you to take control of Blue, Chris Pratt's velociraptor chum from the films. The book is also stuffed with insights about Jurassic World: Fallen Kingdom, meaning it will entertain you in more ways than one.
Funko Pops
Price the last time we looked: $8.99 on Amazon
Every big blockbuster gets a Funko Pop range these days, and the Jurassic Park franchise has enough Funko figures to make a sizeable herd. They range from the predictable (Chris Pratt's Owen and Bryce Dallas Howard's Claire both got new figures recently) to the funky (Blue looks great in Funko form, and Funko Richard Attenborough looks dashing in his safari outfit), via the downright sexy. What kind of person wouldn't proudly display a Jeff Goldblum Funko in a sultry pose with his shirt unbuttoned?   
Chomp And Roar Blue Mask
Price the last time we looked: $34.99 on Amazon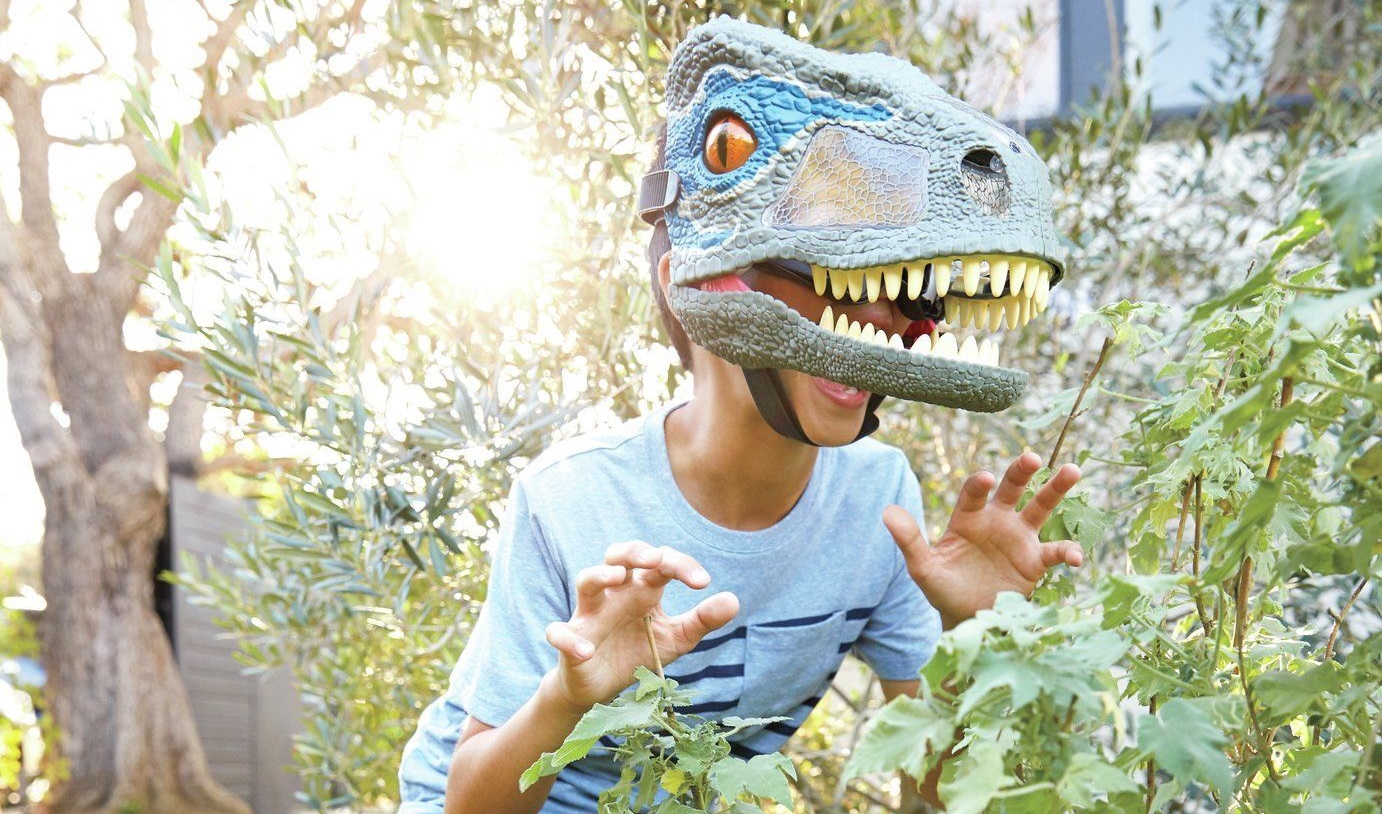 If you want to endow a child or small-headed adult with the ability to scare you senseless whenever they please, this 'Chomp and Roar' Blue mask is the exact product that you're looking for. As well as being somewhat frightful to look at, this mask is also a snazzy piece of tech: it has an electronic jaw that can open and close, and three levels of roaring sound effects. The eyes move as well, adding an extra layer of creepy realism to proceedings.
Mattel's Jurassic World Pterano-Drone
Price the last time we looked: $99.99 from Amazon
It's tricky to get a hold of one these in the UK, with numerous stores being sold out. And it's easy to see why this product has been so popular with shoppers: after all, a winged dinosaur toy that you can actually fly with a remote control is the kind of thing we only could've dreamed of a few years ago. Now it's a reality, though, with the Jurassic World Pterano Drone being capable of flight up to 25 feet in the air. The wings even flap!
See also: Radio Controlled Gyrosphere 
Jurassic World Super Colossal Tyrannosaurus Rex Figure
Price the last time we looked:  $54.99 on Amazon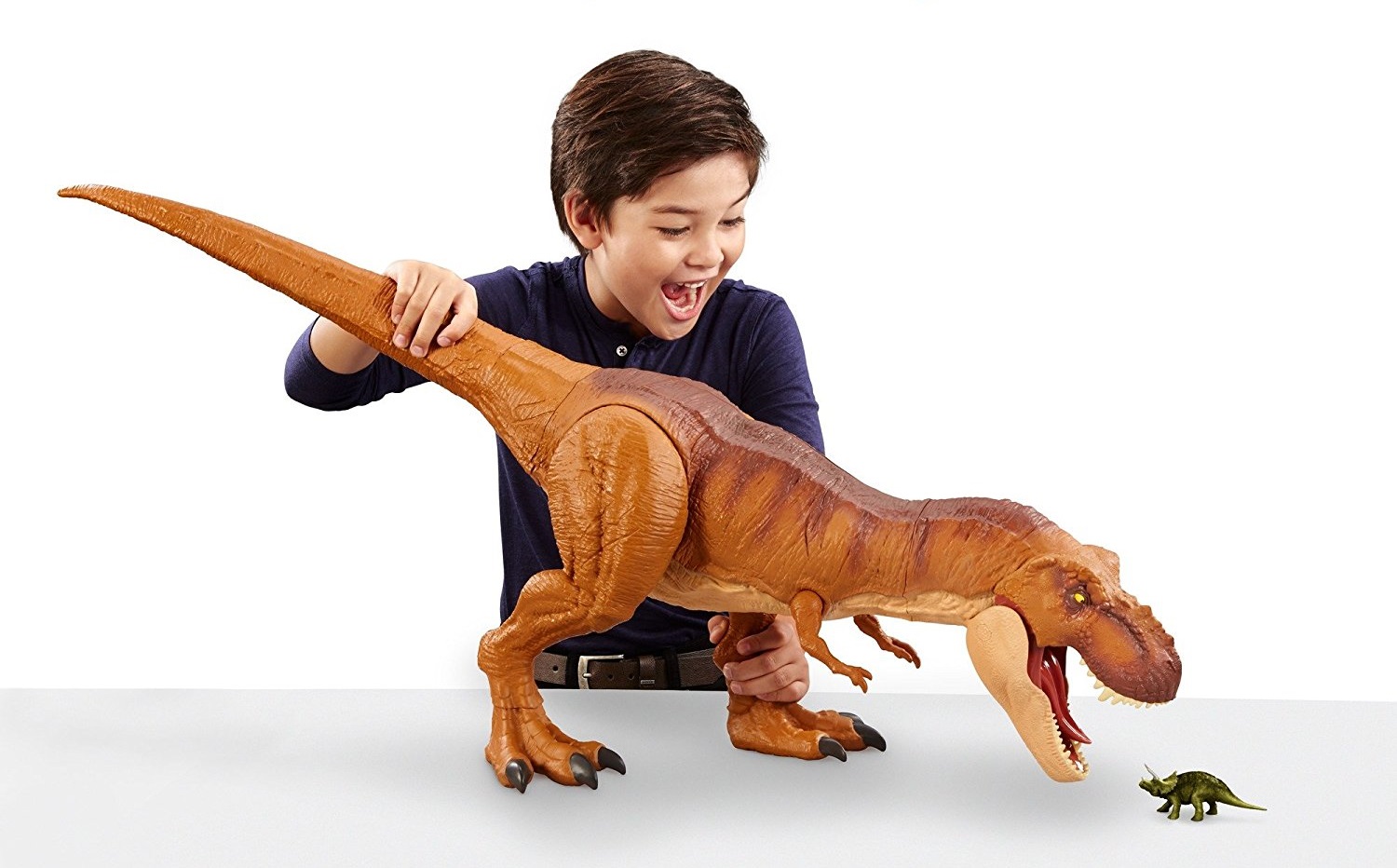 It wouldn't be a new Jurassic Park film if there weren't a few good old-fashioned toys in the merchandising line. This 'super colossal' T-Rex figure is the cream of the current crop, measuring up to a whopping 61cm wide. It's so massive that it can swallow up to twenty of the normal-sized dinosaur figures, it even has working jaws for added fun. Its tummy opens up with a little hatch, which may not be anatomically correct, but it will help you release the T-Rex's prey without a break in play.
'Blue' Lunch Box/Bag
Price the last time we looked: $16.99 on EBay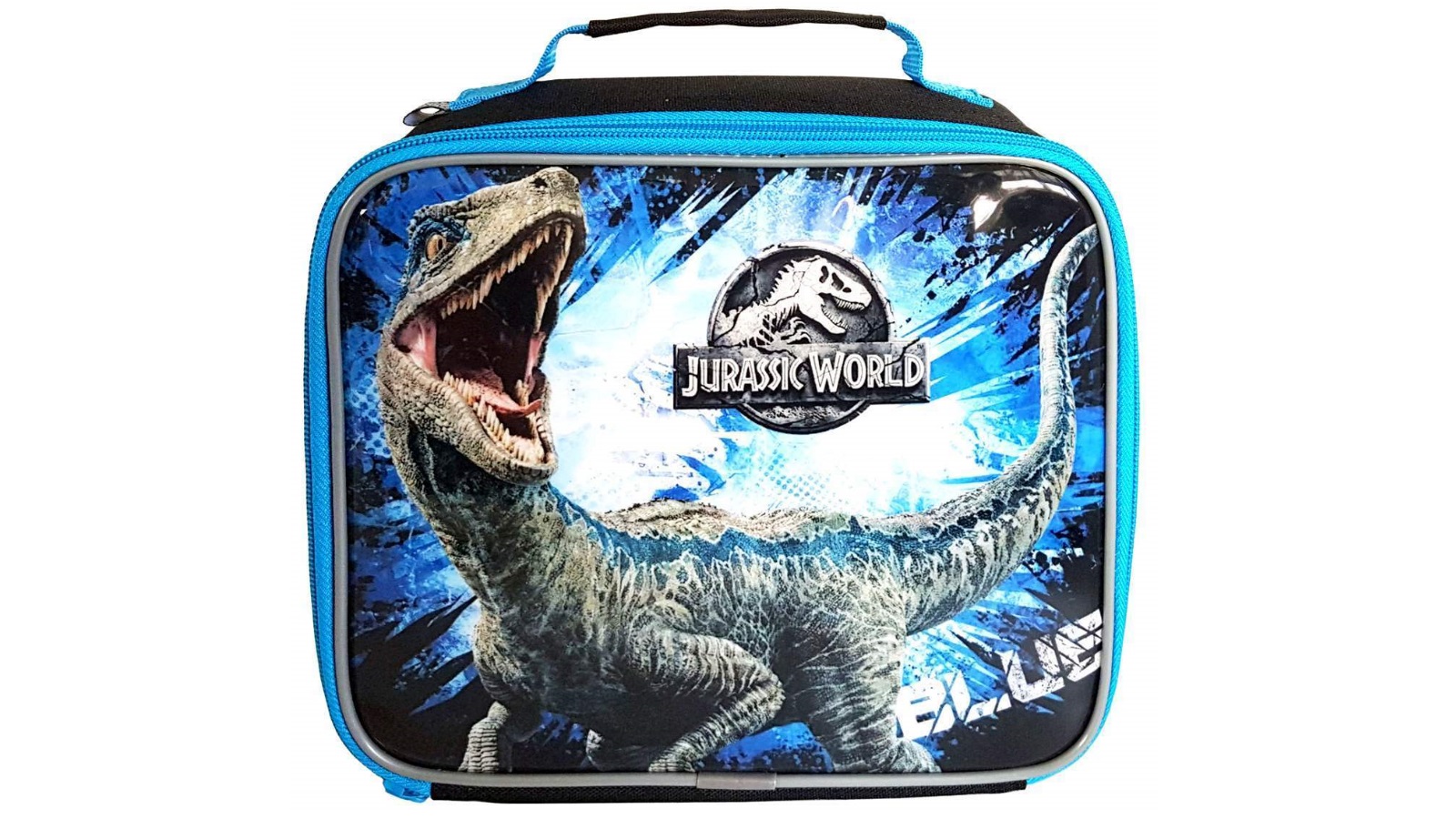 Universal's marketing team seems to be banking hard on Blue the velociraptor being a popular character in Fallen Kingdom, perhaps even its breakout star. Testing the waters of how much money a trained predator might be able to make in merchandise revenue, they've even plonked Blue on a lunchbox in the hope that kids – and perhaps even some geeky adults – will like the character enough to carry his image around every day on the sacred vessel of their midday meal. To be fair, it is quite a cool design.
Raptor Lab: book and model
Price the last time we looked: $22.55 on Amazon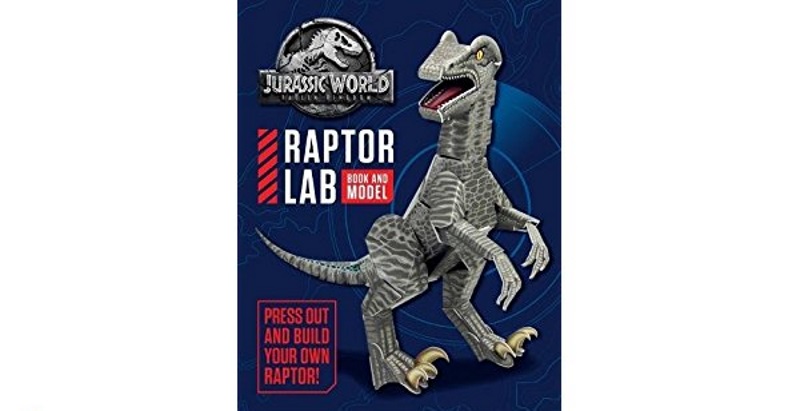 Much like the aforementioned AR book, this tome is another example of an engaging and interactive piece of literature that is gracing shop shelves to tie in with Fallen Kingdom's release. This 'fearsome fact book' will educate the reader about numerous dinosaurs from the film (including the T-Rex and the Mosasaurus), before helping them to build a cardboard model of – you guessed it – Blue, the velociraptor from the films. This could be a perfect little present for an inquisitive child that loves dinosaurs and making things.
Duplo T-Rex Tower
Price the last time we looked: $29.97 on Amazon
For children who are a bit too young for the fancy LEGO sets with all their tiny pieces, the Jurassic World: Fallen Kingdom Duplo set is a perfect alternative. This 'T-Rex Tower' set consists of just 22 pieces, and it is suitable for children aged 2 and up. And to be fair, there are probably plenty of grown-ups would enjoy owning this set. Plonking a Duplo version of Chris Pratt onto the back of T-Rex and making them charge around together is one of life's simple joys, after all.
See also: Gentle Giants Petting Zoo 
Jurassic Park T-Shirt
Price the last time we looked: From $8.49 to $23.95 on Amazon              
There are two levels on which to enjoy this white Jurassic Park T-shirt with black lining: on a basic level, this is simply a classic movie logo on a nice plain shirt; but in a more meta way, it's also a low-key piece of cosplay clobber, since Jake Johnson's Lowery wore a similar top in Jurassic World while raving about how "legit" the original park was. If you wore a fake moustache, some glasses and a grey shirt with this tee, you'd have a nice easy costume for a movie-themed party.
Jurassic World Evolution on PS4 and Xbox One
Price the last time we looked: $59.99 on Amazon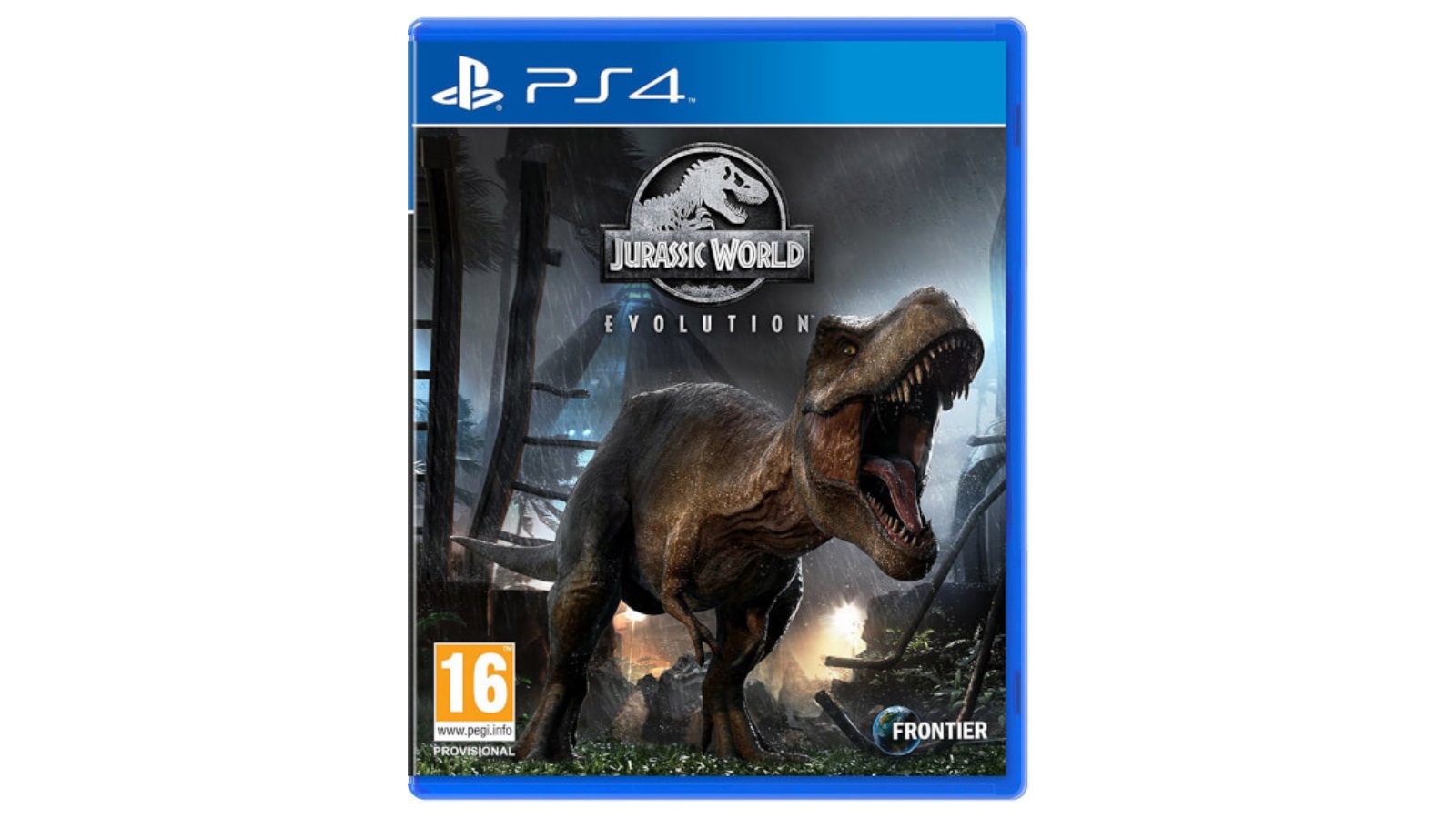 Life finds a way onto your Xbox One or PS4 with Jurassic World: Evolution, an official video game that allows you to build your own dinosaur theme park and bioengineer your own terrifying creations. On top of the core appeal of essentially being Theme Park Tycoon but with dinosaurs (much like Jurassic Park: Operation Genesis from 2003, but with modern graphics), this upcoming game also promises to tell a new narrative chapter in "the official Jurassic mythology" that features "iconic characters from across the franchise". The game comes out on July 3rd, but you can pre-order it now.
Triceratops Plush
Price the last time we looked:  $11.99 on Ebay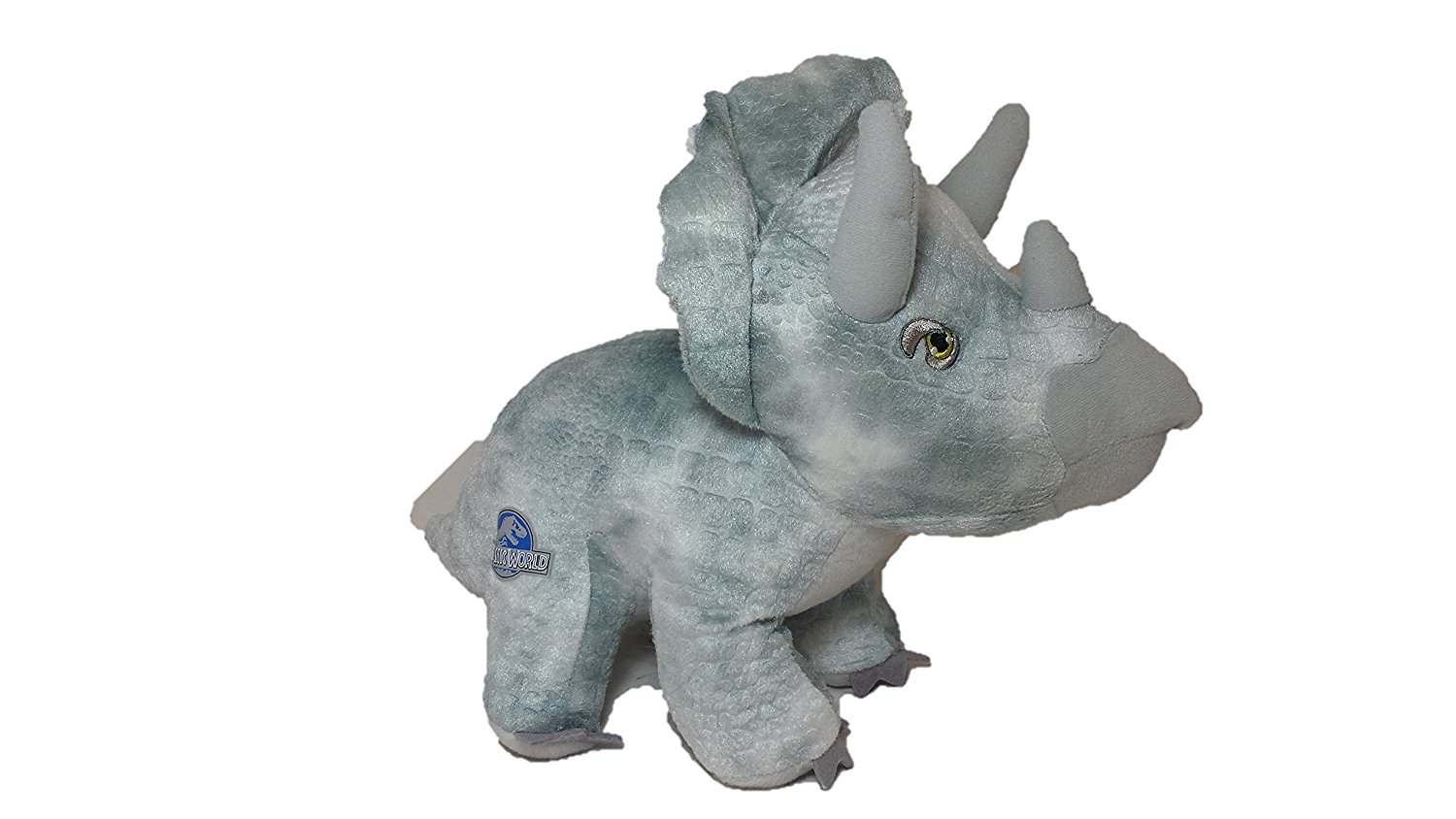 Nothing says snuggly bedfellow quite like an extinct creature that was brought back to life in a movie. And with that undeniable fact in mind, Universal's toy people have come up with a whole range of plush toys based on the dinosaurs from the Jurassic World movies. This grey triceratops is our favourite, but if you click the link above you'll see that there are seven to choose from in this range: as well as the triceratops, there is a brown T-Rex, a green stegosaurus, and four colour-coded velociraptors. It's unclear if they sleep in herds.
See also: Mososaurus Plush