Features
The Best Christmas Action Movies That Aren't Die Hard
Die Hard might be the ultimate Christmas movie, but there are plenty of options for anyone wanting second helpings.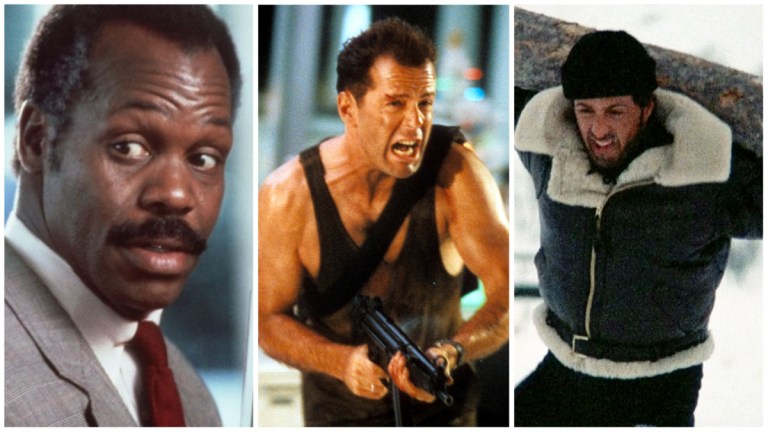 Christmas is fast approaching and while some will be busy decking the halls with boughs of holly, for many action movie fans the holidays are all about indulging in the time-honored tradition of watching Die Hard.
There are some who would have you believe Die Hard isn't a Christmas movie. To them, we say "bah, humbug," or rather "yippee-ki-yay…." For one thing, it's got John McClane cast firmly in the role of Santa Claus, roaming the corridors of Nakatomi Plaza trying to find out "who's naughty or nice." Then there is Han Gruber, a modern-day Grinch with a dash of Ebenezer Scrooge intent on ruining the festive fun. He sees the error in his ways, of course. Unfortunately for him, that moment of realization comes as he takes a swan dive off the top of a very tall building.
It's a biblical allegory, as well, with McClane the weary traveler who arrives at the plaza seeking shelter and soon encounters an employee with a baby on the way. Let's also not forget how Die Hard captures the true spirit of Christmas in the relationship of John McClane and wife Holly Gennaro (Bonnie Bedelia), a couple who, like countless others, spend the holidays bickering before eventually fumbling their way to having a happy Christmas.
Die Hard is the ultimate Christmas action movie but it's not the only Christmas action movie, and with time to kill over the holidays, it could be worth seeking out a few of these overlooked and underrated festive action flicks.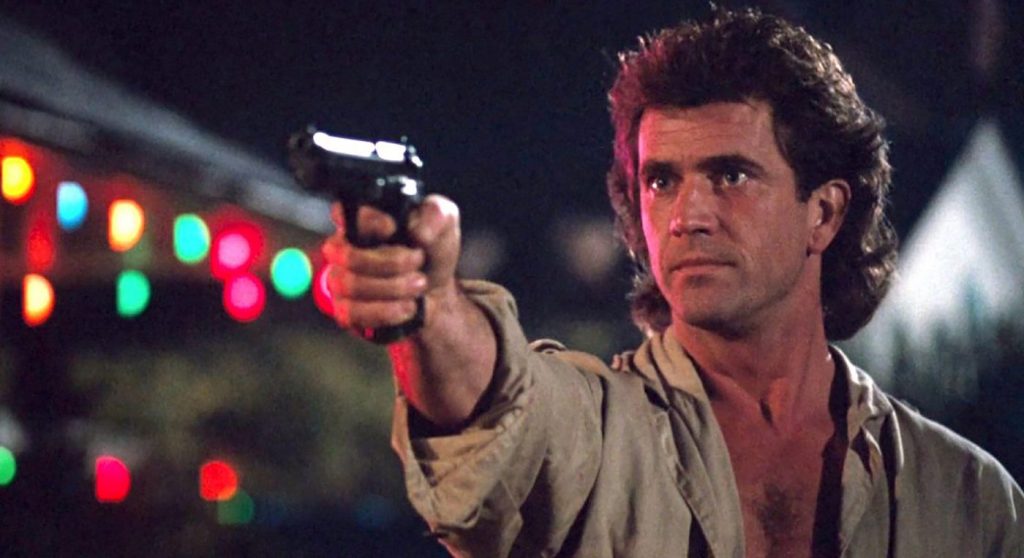 Lethal Weapon (1987)
Writer Shane Black has made a habit of setting his films around Christmas in a move that serves as a reminder of the fact life doesn't stop just because it's the holidays. That penchant began with his debut effort as a screenwriter, Lethal Weapon, the classic buddy cop movie that paired Danny Glover with Mel Gibson in his long-forgotten lovable leading man heyday. 
Glover plays Roger Murtaugh, a respected cop looking forward to retirement and a Christmas with his wife and kids. He's perfectly juxtaposed with his reckless new partner, Gibson's Martin Riggs, who is still reeling from the death of his wife. Christmas is a time for family but it's also a time when the loss of family is most keenly felt.
Yet in taking down a drug trafficking headed up by Gary Busey's suitably deranged Mr. Joshua, Riggs not only finds a purpose but also a friend in Murtaugh. Plus, he gets to take down Mr. Joshua in a good old fashioned fist fight on the lawn outside a house adorned with Christmas lights. Afterward, they still have time for Christmas Eve dinner.
Enemy of the State (1998)
Will Smith may be on Santa's naughtly list for now but revisiting this slick political action thriller from the winning duo of director Tony Scott and producer Jerry Bruckheimer might win a few fans over. A technology-led riff on Francis Ford Coppola's The Conversation, Enemy of the State stars Smith as Robert Clayton Dean, a lawyer forced to go on the run with the help of surveillance expert Edward "Brill" Lyle (Gene Hackman) after becoming a target for a corrupt politician and a crew of NSA goons.
Set over Christmas, events play out like a fast-paced, violent version of It's A Wonderful Life, with Smith's character losing everything before realizing the love of his wife is all that matters. It also features an awesome Mexican standoff in the back kitchen of an Italian restaurant.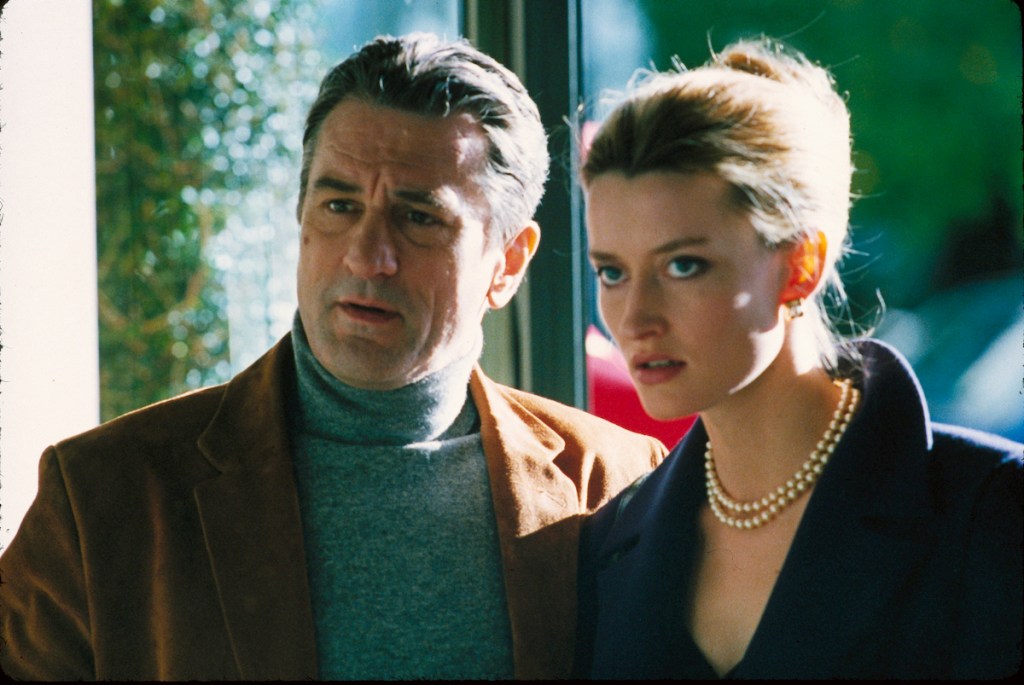 Ronin (1998)
Boasting a contender for the best car chase in movie history, Ronin also features a stellar cast centered around the three wise men of Robert De Niro, Jean Reno, and Sean Bean, a trio of special operatives hired by Stellan Skarsgård's shady German computer specialist to steal a mysterious briefcase.
Filming in and around Nice and Paris during the holiday season, veteran director John Frankenheimer handles the fast-paced action in car and on foot with aplomb. The script, which is penned by David Mamet, under the pseudonym Richard Weisz, is packed full of twists and turns with a story that weaves in the KGB, IRA, and a few other shady government organizations to boot.
Rocky IV (1985)
Some may question the inclusion of a Rocky sequel in any action movie countdown given its sporting subject matter, but true Balboa fans know that any of the gritty boxing realism of the original had long been jettisoned by the time Rocky IV rolled around with Sylvester Stallone doing away with any form of subtlety to take a giant swing at ending the Cold War. Spoiler alert: he didn't.
It's a wild movie that's got all the hallmarks of a traditional family Christmas whether it's the presence of unwanted family guests like the Rocky franchise's very own Tiny Tim, Uncle Paulie, or awful gifts like Sico, the robot butler. Pitting Rocky against the U.S.S.R's Ivan Drago, played by Swede Dolph Lundgren, in a fight staged on Christmas Day is the star on top of the tree, although matters are made even more festive by an epic Rocky training montage in the snowy peaks of Krasnogorsk set to the tune of John Cafferty's "Hearts on Fire."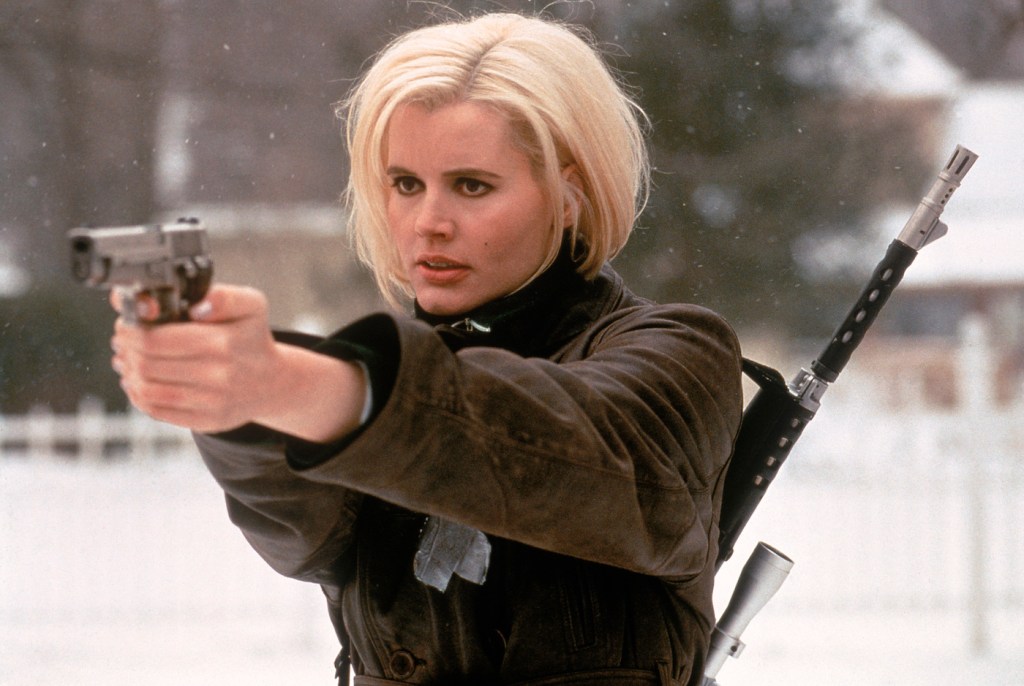 The Long Kiss Goodnight (1996)
Shane Black took an extended hiatus following the lukewarm response The Long Kiss Goodnight generated upon initial release. Thankfully the 1996 actioner has emerged as something of a cult classic in the years since, helped in no small part by a killer turn from Geena Davis as an amnesiac school teacher housewife who, after a car accident over Christmas, remembers she was previously a ruthless CIA assassin.
Aided by Samuel L. Jackson's private detective Mitch Henessey, she sets about trying to uncover the truth about her past while dealing with an array of fellow black ops killers who are led by psychological operations expert Timothy (Craig Bierko), who are alerted to her return. Directed by Die Hard 2's Renny Harlin, The Long Kiss Goodnight touches on the familiar festive theme of family with much of the action also set against a snowy backdrop. There's even a sequence involving a truck carrying a bomb that is headed toward a Christmas parade.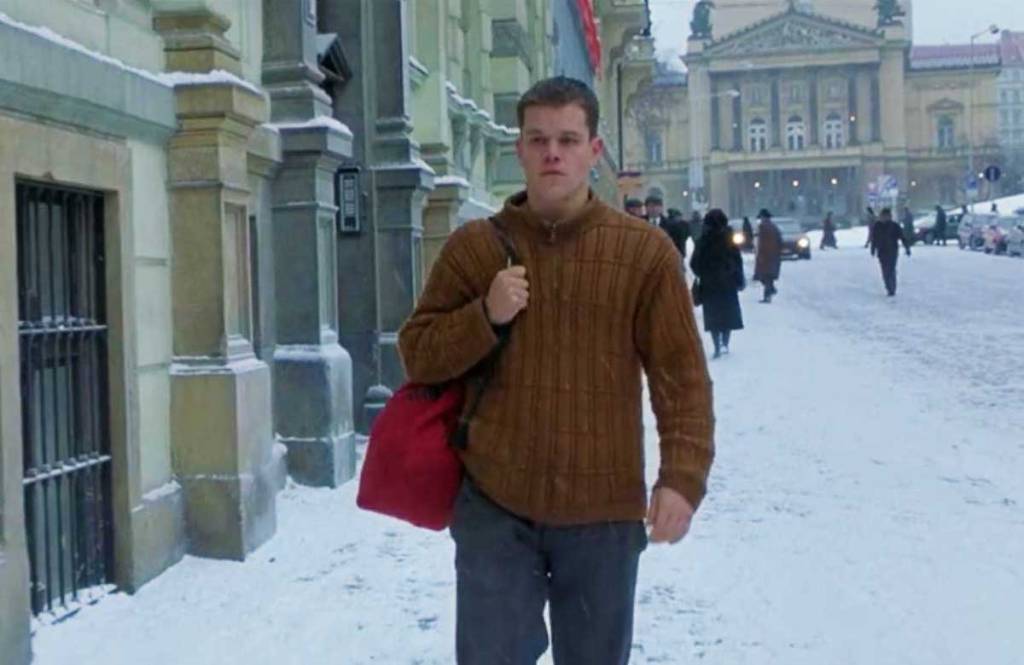 The Bourne Identity (2002)
Much like Die Hard, The Bourne Identity ushered in a new era of action movies. While Die Hard spawned a glut of films about one man vs. an army of bad guys, in the case of the Bourne films, it was the fast pace and frenetic fight sequences that would go on to be imitated in the likes of Quantum of Solace (2008).
Even more similar still to Die Hard, The Bourne Identity had a seasonal undercurrent to proceedings which reveals itself toward the end of the film. On the run and suffering from amnesia, Matt Damon's Bourne heads to a safe house in the French countryside where he discovers to his surprise that it's actually Christmas. He wouldn't be the first to let work get in the way of the holidays but it's a revelation that ensures The Bourne Identity's place among the great festive action flicks.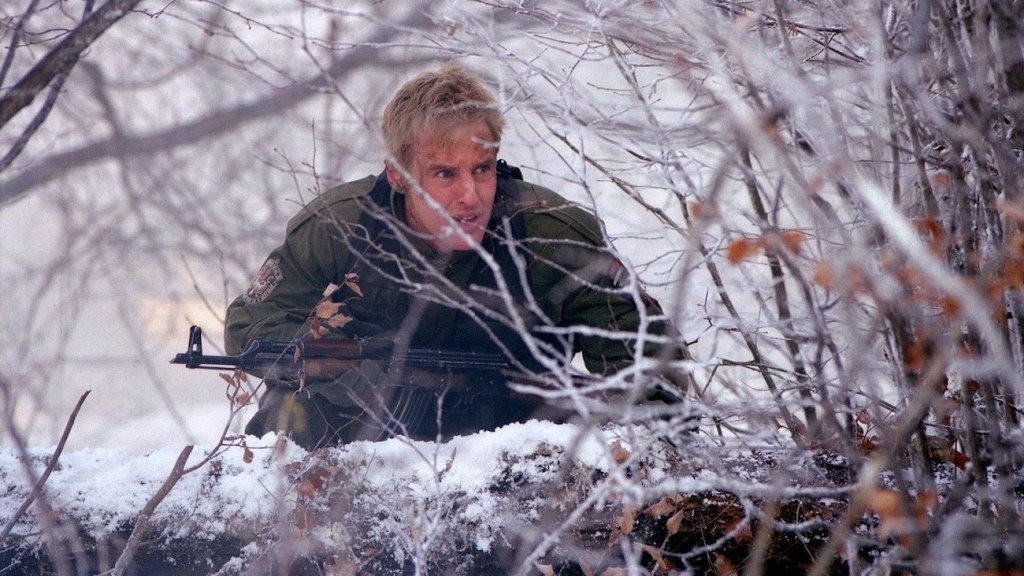 Behind Enemy Lines (2001)
Gene Hackman's second appearance on this list comes courtesy of this underrated war film from 2001 which showcased Owen Wilson's lesser-spotted talents as an action movie star. Loosely based on a real-life incident when a U.S. pilot was shot down over war torn Bosnia and Herzegovina back in 1996, Behind Enemy Lines could not boast a more self-explanatory title if it tried with Wilson cast in the role of the stranded pilot and Hackman providing a little gravitas as the commanding officer back at base pulling the strings to orchestrate his rescue.
Based on a story by Jim and John Thomas, the writers of Predator and directed by John Moore, who would go on to helm A Good Day to Die Hard, it's worth noting that the real-life incident Behind Enemy Lines inspired occurred in June but the filmmakers moved it to December, evidently keen to corner the Christmas action movie market. Big, fun and occasionally dumb, Behind Enemy Lines spawned three direct-to-video sequels. Avoid all three like a bowl of brussel sprouts.
Cobra (1986)
While the Rambo outing First Blood undoubtedly meets the criteria to feature on this list, it's important to remember how far removed that movie is from the muscle-bound hero the character would go on to become in subsequent sequels. First Blood is as much a bleak character portrait of a man left forever damaged by the horrors of war as it is an action movie and, much like your uncle's jokes, is not likely to go down all that well around Christmas. Instead Sly fans might be better served taking in the adventures of Lt. Marion "Cobra" Cobretti in this ludicrous but enjoyable actioner that Stallone opted to make while in pre-production for another movie, Beverly Hills Cop.
Eddie Murphy may have ended up having the last laugh, but Cobra is still a slice of gloriously '80s action fun with the titular cop tasked with protecting Brigitte Nielsen's Ingrid Knudsen from a cult known as "The New World." Set around Christmas, Cobra's festivities peak around an epic supermarket shootout.
I Come In Peace (1990)
Also released under the title Dark Angel, I Come In Peace might rank as Dolph Lundgren's best movie with the big Swede stepping out of Stallone's shadow in Rocky IV to star as Jack Caine, a rule-breaking Houston detective investigating a series of drug-related murders around Christmas. Teamed with straight-laced FBI agent Arwood Smith (Brian Benben), things take a wild left turn when they discover the killings are the work of Talec, an extraterrestrial who has been been spreading a little too much festive cheer by deliberately injecting his victims with a synthetic form of heroin in order to extract the resulting endorphins from their brains to sell as drugs back on his home planet. Told you it was wild.
I Come In Peace blends action, comedy, sci-fi, and horror with German martial arts movie star Martin Hues putting in a surprisingly terrifying turn as Talec. It may veer slightly into B-movie territory, but I Come In Peace is notable for the fact it was written by David Koepp, arriving just a couple of years prior to his breakout success on Death Becomes Her (1992) and Jurassic Park (1993).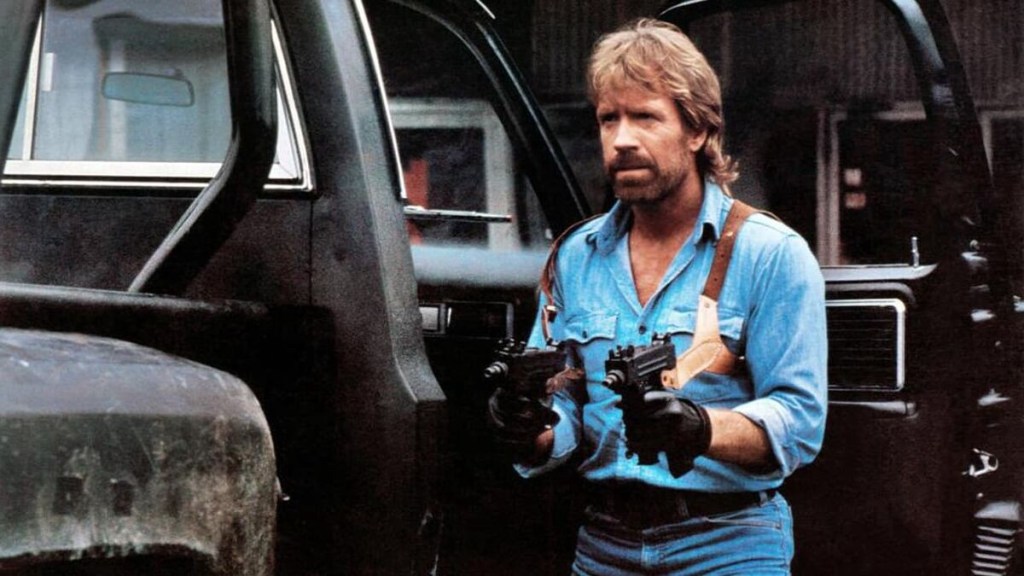 Invasion USA (1985)
No list of action movies would be complete without an entry from the 1980s heyday of Cannon Films, and they don't get much more festive than the Chuck Norris-led classic Invasion USA. When Soviet Commander Mikhail Rostov (Richard Lynch) leads an army of vicious guerilla soldiers on an invasion of the U.S. during the holidays, it's up to his old adversary, Matt Hunter (Norris), a retired CIA operative, to take him down.
Co-written by Norris, who goes full Arnold Schwarzenegger circa Commando (1985) in a bid to save the day, Invasion USA peaks during a memorable Hunter-led rampage through a shopping mall of bad guys. Retail therapy, Chuck Norris style.