Features
The Batman: The Godfather Easter Egg You Might Have Missed
Carmine Falcone has but one heart to give Bruce Wayne, but The Batman ain't no Godfather bandleader.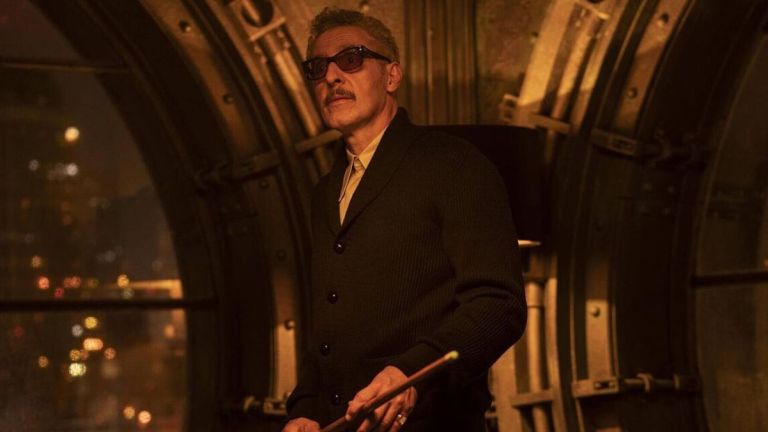 This article contains The Batman spoilers.
"Some day, and that day may never come, I will call upon you to do a service for me," Vito Corleone (Marlon Brando) tells the funeral director who seeks revenge on the men who assaulted his daughter in The Godfather. "But until that day, consider this justice a gift on my daughter's wedding day."
In a pivotal scene in director Matt Reeves' The Batman, it appears the godfather of Gotham City has lit up a similar Bat-Signal.
The new film is more noir drama than your typical superhero movie; gangsters run Gotham City, and Carmine Falcone (John Turturro) is the top crime boss. Every fortune begins with a crime, and even the wealthy eccentric Bruce Wayne (Robert Pattinson) accepts (barely) that his murdered father, the surgeon Thomas Wayne (Luke Roberts), knew some colorful characters in his own wild youth, even stitching up a young Carmine while he was still moving up in the ranks of organized crime. But that was 30 years ago, and Bruce thinks he understands why his father would do a solid for a gangster who couldn't risk going to a hospital.
But that wasn't the end of association. Thomas Wayne saved Carmine's life when he extracted the bullet out of the view of legal eyes, and the young gangster did a favor in return.
In the aforementioned scene, Tuturro's now aged Carmine tells Bruce about the political payback. And for eagle-eared viewers, the Don Corleone of all easter eggs is lying in plain sight (or hearing). Carmine's sound system is tuned to the song "I Have but One Heart," composed by Johnny Farrow, with lyrics by Marty Symes, and was published in 1945.
The tune itself is a loose adaptation of the 1893 Neapolitan song "Marenariello," with lyrics by Gennaro Ottaviano and music by Salvatore Gambardella. But for most, it's simply the song Johnny Fontane (Al Martino) sings at Connie Corleone's (Talia Shire) wedding in The Godfather.
Frank Sinatra released the song as a B-side in July 1947, and it reached No. 13 on the charts then. Vic Damone backed by Jerry Gray's Orchestra hit No. 8 with it the next month. It used to be a popular request at Italian weddings. Sinatra may have sung it himself at the wedding which inspired the scene which opens the classic film.
The Godfather novel's author Mario Puzo and film director Francis Ford Coppola both cited the wedding party of Salvatore Bonanno to Rosalie Profaci, which was attended by Tony Bennett, as the inspiration for the opening sequence of the classic film. But it more closely resembled the wedding of Genovese underboss Guarin "Willie" Moretti's daughter as the ideal counterpart to the party at the Corleone compound. Not only did Sinatra sing, but he brought Dean Martin, Jerry Lewis, and Milton Berle out to Hasbrouck Heights, New Jersey to perform at the wedding of Moretti's daughter. Moretti was Sinatra's godfather, and he owed him a favor. Just like Johnny Fontane owed a debt for past services rendered by his godfather, Vito Corleone.
In The Godfather mythology, Fontane was born and raised in Little Italy, and was a childhood friend to Sonny Corleone. His music teacher, Sister Immaculata, noticed he could sing, and his godfather knew places he could perform. This got him an early contract singing for the bandleader Les Halley.
"As his career got better and better, he wanted to get out of it," Al Pacino's Michael Corleone tells his girlfriend Kay (Dianne Keaton), while Fontane sings to adoring bridesmaids in the film. Vito paid a call on the bandleader, offering $10,000 to buy out the contract. Halley said no.
"The next day my father went to see him, only this time with Luca Brasi, and within an hour he signed the release for a certified check of $1,000," Michael continues, even as the fearsome Brasi practices the speech which will accompany his own, extremely valuable, gift to the daughter of Vito Corleone, elsewhere at the wedding. After all, it was with Luca that Vito made the bandleader an offer he could not refuse: "Luca Brasi held a gun to his head and my father assured him that either his brains or a signature would be on the contract."
This mirrors the story of the kid from Hoboken. Moretti helped Sinatra get bookings in New Jersey clubs, leading to a 1939 recording contract with bandleader Tommy Dorsey. By 1941, girls were fainting over Sinatra at live appearances all over the country, and he wanted a better deal. Dorsey refused to release him from their existing contract. After a meeting with Moretti, Frank was out of this contract. Word on the street is Moretti made an offer while a gun was jammed past the trombone-playing bandleader's lips. Dorsey sold Sinatra's contract for one dollar.
In the book The Godfather, Vito also helps Johnny win an Oscar, but in the film, Fontane shows up at the wedding to ask his own favor of the man who cannot turn down any request on the day of his daughter's wedding. There's a movie in production, a war film with a character so much like Johnny that he wouldn't even have to act. Jack Woltz, the head of the studio, knows Johnny is perfect, and the part will make him a big star, but he's trying to run the kid with the olive oil voice out of town for ruining his protégé, a young actress he was grooming for matinee idolatry.
After Connie's wedding, the Corleone men pay a deathbed visit to the family's former consigliere Genco Abbandando, after which, Vito sends Hagen to Hollywood to negotiate with Woltz. When talks break down, Hagen lets Woltz sleep on it. By morning, the movie producer has made up his mind, realizing the severed head of his prize stud horse, Khartoum, is only the down payment on an offer he can't refuse. Woltz casts Johnny in the war picture. It revived his career. He sent his godfather a floral bouquet as thanks.
While rumors that Sinatra used mob connections to get cast in From Here to Eternity have persisted since production began, no credible details have ever surfaced. Sinatra was not happy about his portrayal in the bestselling novel, and got to air his grievances to the author in person. While Puzo was working on the screenplay for the film adaptation, he was invited to a dinner party at Chasen's in Beverly Hills. He was brought to Sinatra's table. Without looking up from his plate, the singer said "I don't want to meet him."
Speaking about Sinatra in his book The Godfather Papers and Other Confessions, Puzo says he "believed he was a great artist (singing, not acting), and that he had lived a life of great courage." But as the author excused himself, "Sinatra started to shout abuse. I remember that he did not use foul language at all. The worst thing he called me was a pimp, which rather flattered me."
When Sinatra threatened Puzo, however, the writer only found it amusing. Sinatra's family was from Northern Italy, Puzo's was from an island off the boot from Southern Italy. "This was roughly equivalent to Einstein pulling a knife on Al Capone," Puzo writes. But Sinatra got in the last Sicilian curse. As the novelist walked out of the restaurant, the Chairman of the Board called out "Choke. Go ahead and choke."
To be fair, the character of Johnny Fontane is a composite of several real-life singers, including Al Martino, who plays Fontane in the film. Puzo's novel was informed by the story of Martino working in a mob-run nightclub, and being beaten when he tried to get better arrangements.
Popular entertainers and rising politicians tend to keep friends of friends close, but the press at a distance. Bruce's father was no different. When Thomas Wayne announced a mayoral bid in The Batman, a journalist dug into Martha Wayne's life, found she'd been committed to a psychiatric ward, and was planning on running with the story.
Thomas called in a favor from the man whose life he saved. He asks Carmine to lean on the reporter. The gangster decides to nip any future threats in the bud, and goes through with a permanent solution. Carmine's rival, a boss called Maroni, then (maybe) put out the contract on Bruce Wayne's parents, to preemptively solve future political favors. Or maybe Carmine had reason to doubt if Thomas was a rat or not.
Either way, someone made the Waynes one final offer.