Features
The Batman: Robert Pattinson Recalls the First Thing He Did in His New Batsuit
Exclusive: Robert Pattinson recalls his first day in his new Batsuit for The Batman.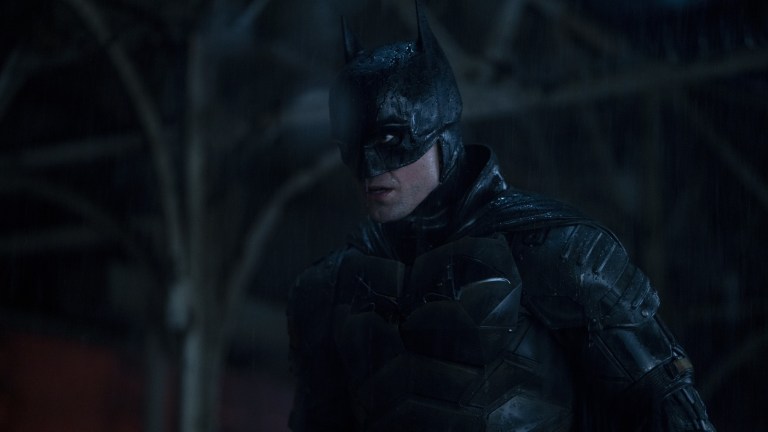 The Batman not only introduces a new star to the Batcave but also a brand-new Batsuit, one unlike any we've seen on the big screen before. Built like expensive heavy duty armor designed to deflect bullets and blades, it nonetheless showcases this Bruce Wayne's DIY spirit, complete with shoulder pads and a Bat symbol that looks like it was forged inside a garage. It's exemplary of the film's much more "grounded" approach to the Dark Knight's equipment.
We spoke to Robert Pattinson for our The Batman cover story in the new issue of Den of Geek magazine and he told us what it was like putting on a prototype of the suit for the very first time.
"I think I immediately started doing somersaults in it just because you could," Pattinson says with his signature mischievous smile. The actor calls the suit a vast improvement over from what's come before. He's especially happy that he can move his neck in the suit, an issue that has plagued past actors in the role.
It's definitely better than the Batman Forever suit he was forced to wear for his screen test, according to Pattinson: "I went into that audition [and] you have the whole concept of how you want to play it. [But] you put on the suit and it's just everything goes out the window. And you can't do anything, and you're just pouring sweat, and it was luckily an incredibly long audition. You had time to calm down, but the combination of the adrenaline, the fear, and then being so boiling hot, it seemed like a completely impossible task."
Pattinson was also shocked to learn during that nightmarish screen test that Val Kilmer's suit had nipples.
In retrospect, it's very difficult to imagine how Michael Keaton, Kilmer, George Clooney, or even Christian Bale in Batman Begins fighting crime in those incredibly bulky rubber costumes. Meanwhile, the suit worn by Pattinson in The Batman was designed to complement a Dark Knight who loves to brawl.
"The suit to us was an opportunity to really look at it more tactically and design it so that it had more maneuverability," explains producer Dylan Clark. "[Rob] can move in that suit much better than the previous suits, which are really onerous. I look at the guys who have played it and just the pain and challenges just to wear that thing every day. So we really wanted to give him the suit that he could actually do the stunts in."
According to the producer, costume designers Glyn Dillon and David Crossman "looked at stuff from the Vietnam War, military tactical stuff that one guy could put together and allow him to fight better." That last detail is key. Since this Bruce Wayne doesn't have a team helping him build all of his tech, his Batsuit had to look like something he could make himself in the Batcave. That's one way in which Pattinson's Caped Crusader stands apart from those who have come before.
It might actually be difficult to remember after several trailers-worth of Pattinson handing out brutal beatings, but there was a time when some fans wondered whether the actor could truly embody this role. But during our chat with Pattinson we learned he has much more experience with Batsuits than we previously knew…
"I remember wearing a Batman outfit a lot when I was a kid but I didn't quite realize how much I was wearing it," Pattinson recalls. "It seems like every single day I was wearing the Batman outfit, and I think I still have it somewhere in my parents' attic." He excitedly tells a story of being forced to accompany his older sisters to dance class and refusing to dance to anything other than the Batman theme tune. "I think I was just running around in circles, pretending I had a cape on. I'm hoping this was younger but I was probably too old to be doing this as well."
Pattinson truly becomes the Dark Knight when The Batman arrives in theaters on March 4. You can read plenty more exclusive details about the film here.