News
The Tax Collector Trailer Shows Shia LaBeouf Embracing His Dark Side
The trailer for director David Ayer's The Tax Collector, previews a bleak crime drama with an unhinged Shia LaBeouf.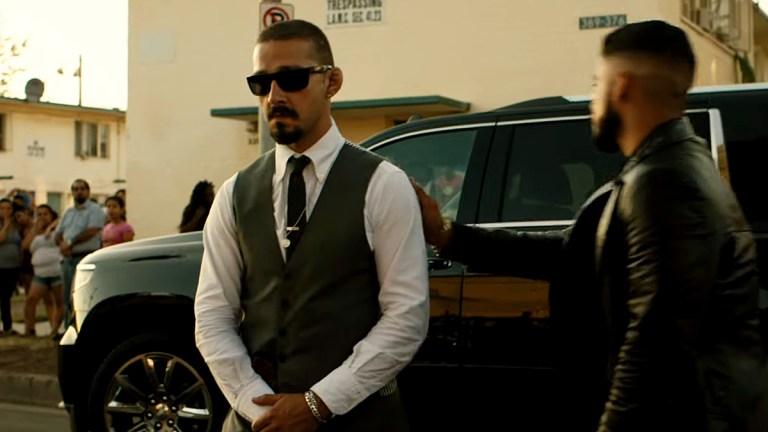 The Tax Collector, despite its title, is not a Hallmark channel drama about a lovelorn IRS agent, which the just-released trailer makes abundantly clear. Indeed, the film, an intense crime drama from Suicide Squad director David Ayer, is a Southern California-set tragedy with quite the ace in its hole with a maniacally unhinged performance by Shia LaBeouf.
Ayer, best known for the aforementioned DCEU outing, along with Will-Smith-starring (and sequel-set) Netflix feature Bright and Brad Pitt-headlined WWII epic Fury, makes a thematic reprisal of sorts with written/directorial offering The Tax Collector, which returns him to the wheelhouse of his earlier urban-action efforts like Street Kings, End of the Watch and Sabotage. In this case, Ayer depicts the dilemma of a So-Cal man who, for the sake of his family, attempts to escape his gang's reach; an endeavor that will put him in some serious cross-hairs.
Without further ado, check out The Tax Collector trailer:
As the official logline for The Tax Collector explains:
"David (Bobby Soto) and Creeper (Shia LaBeouf), are "tax collectors" for the crime lord Wizard, collecting his cut from the profits of local gangs' illicit dealings. But when Wizard's old rival returns to Los Angeles from Mexico, the business is upended, and David finds himself desperate to protect what matters more to him than anything else: his family."
Indeed, while the image of a tattooed and sadistic Shia LaBeouf—effectively hitting the memories of those weaned on his starring turns in the Transformers films, and kids' classic Holes—steals the oxygen here, The Tax Collector's plot actually centers on the plight of Bobby Soto's character. Thus, the film could potentially serve as a major breakout moment for the actor, who has mostly been fielding sporadic television roles, notably with a recent two-episode run on Netflix's Narcos: Mexico. He, along with LaBeouf (who appears to be taking the prestige-punctuated "and" cast billing here), leads a cast that consists of names like Cinthya Carmona, George Lopez, Chelsea Rendon, Elpidia Carrillo and Jay Reeves. Yet, most notable amongst the supporting players is Lana Parrilla, whose presence will undoubtedly delight fans of ABC's Once Upon a Time, on which she antagonistically co-starred throughout its 2011-2018 run.
For LaBeouf, who plays a character called "Creeper" (which almost sounds like a Transformer), this prominent role in The Tax Collector represents a years-long reinvention after spending his post-Transformers franchise years mired in bizarre behavior and addiction-attributed tabloid controversy, compounded by unconventional career choices (e.g. Lars von Trier's Nymphomaniac movies). Indeed, 2019 saw LaBeouf turn a new lead starring in the acclaimed drama, Honey Boy, which he also wrote. Additionally, he co-starred in another acclaimed comedic drama effort, The Peanut Butter Falcon. Thus, a sinister chameleonic performance in The Tax Collector could become another crucial step in an increasingly intriguing comeback story.
The Tax Collector Release Date
The Tax Collector is scheduled for a day-and-date release at theaters and on VOD and Digital HD on August 7. However, with the whole pesky pandemic still stubbornly a thing, you probably shouldn't hold your breath on that theatrical release.