Features
What the Super Mario Movie Can Learn from Sonic the Hedgehog
The Sonic the Hedgehog movies provide one big lesson Nintendo needs to learn for its own Super Mario animated film.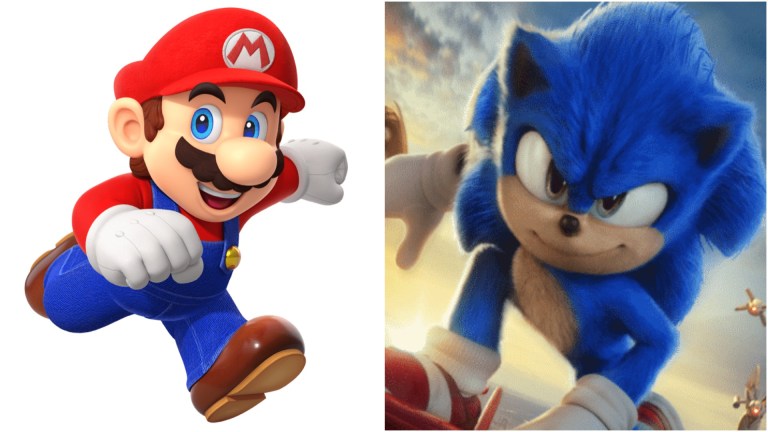 It seems that every big video game character is getting their own movie nowadays. Sure, there's always been a desire to translate big games into film, but the movement has hit new strides in the last couple of years, and 2022 is the biggest year for adaptations yet.
Tom Holland and Mark Wahlberg gave their take on Naughty Dog's impeccable adventure series, Uncharted, but live action remakes have a little more leeway in their interpretation of the story. When Hollywood tries to take an animated icon into the theaters, it can get even trickier.
It's fitting that in 2022 longtime rivals Mario and Sonic are on a collision course yet again, this time for bragging rights on the big screen. As Sonic the Hedgehog 2 releases, the Jim Carrey-starring vehicle can serve as a set of lessons, both positive and negative, for the Super Mario movie that is set to come out this December.
Sonic has always been a character with a big attitude. In many ways, his evolution into a movie protagonist seems more natural than other video game characters who just serve as avatars for players. The blue hedgehog has always sharpened his spikes to the beat of his own drum. He isn't afraid to be bold, loud, and energetic in the face of danger. In fact, Sonic was marketed as the brasher, bolder, better games character in comparison to Mario during the 1990s console wars, and his movies celebrate that tradition. 
The animation is gorgeous (the frightening original design for the movie version of the character notwithstanding), and the Sonic-themed comedy hits most of the right beats throughout the films. Sonic never takes himself too seriously, which makes him perfect for a kids movie, and it also doesn't hurt that Sonic has been a voice-acted character both in the games and his very own animated series for decades. Unlike Mario, Sonic speaks frequently during most of his adventures, and he has a very sharp tongue, constantly quipping with his peers and trading barbs with his enemies at a moment's notice. It's why the dialogue style in his films feels natural for this character (despite some truly cringe-inducing lines).
The combination of animation and live-action in Sonic's movie universe fits the series incredibly well, too. So many of Sonic's games have taken place in areas with metropolises and human elements. This makes it an easy translation when the character is put right back in that setting on film. Mario doesn't really have this advantage, as exemplified by the Super Mario Bros. movie that transported Mario and Luigi to a decaying urban hellscape in 1993. There's no denying the Nintendo hero looked and felt out of place. Fortunately, the new Super Mario movie is an animated film, meaning it can adapt the fantastical landscapes fans are more familiar with from the games as opposed to shoving the character onto realistic backdrops.
After the '90s live-action film, it's really no surprise Nintendo scrapped any future Mario movie plans for the next three decades. He has long been Nintendo's prized possession, and to this day, the publisher doesn't allow just anyone to fiddle with the character, whether it's for a video game or another medium. This is why it's so shocking that Nintendo is trusting Chris Pratt to voice their most important property, one that is historically silent beyond a few key catchphrases. In fact, none of Nintendo's most iconic characters usually speak in full sentences. Mario, Luigi, Bowser, and Peach have a select few phrases that they vocalize in each game, but nothing on the level of the Sonic series.
To be fair, we know very little about the plot or the direction of this new animated film. Mario creator Shigeru Miyamoto helped develop the film, which is directed by Aaron Horvath and Michael Jelenic, the creators of Cartoon Network's Teen Titans Go!, with the animation being handled by Illumination, the studio behind Despicable Me, The Secret Life of Pets, and Sing. Questionable casting choices aside, there is a great team behind this movie.
Its many failures as a movie aside, this week's Sonic the Hedgehog 2 is a pretty faithful adaptation of the video game universe, complete with homages to the Green Hill Zone, Knuckles, Tails, and quite a few surprises that will make fans of both classic and modern Sonic titles jump up from their chairs. It feels like a celebration of those video games, and the Mario movie creative team should take a similar approach with their adaptation. Mario is arguably the most recognizable video game character in history and the movie should feel like a new way to engage with his world and the myriad other Nintendo characters featured in it.
For example, the visuals of the Mario animated movie should mimic the bright and colorful Mushroom Kingdom that we've come to love. It's a setting rich in detail, an absolute gift for filmmakers looking for ways to sneak in fun easter eggs and nods to Bomb-Ombs, Goombas, Koopa Troopas, and Chain Chomps. With Mario also able to dive into green pipes that lead to mysterious, new corners of his world, or travel across the galaxy like in recent games, this is a video game universe that is ripe with possibilities. Mario can even fly, possess his enemies, turn to metal, and more, thanks to his trusty collection of hats. There's so much material to explore, including in potential sequels.
Action sequences should also replicate the high-flying platforming fun from the games, with the film taking pages from the series' best levels. That should be the priority, not the "funny" dialogue the the star-studded voice cast indicates we'll get. Mario's games have such a deep pool of worlds to choose from, and incorporating different animation styles from across the 2D and 3D games would be an excellent flourish that would again add to the feeling that this movie is a celebration of the world's greatest game character.
In other words, the movie should lean into what has made Mario such a lasting presence in the video game world and less on trying to make him more digestible for Hollywood. Strive to be faithful to the source material, not just funny. Unlike with Sonic, whose gaming relevance has waned over the past two decades, chances are the target audience going to see the Mario movie have already picked up a Nintendo game or two.
In Sonic the Hedgehog 2, the Blue Blur remains the same fast-talking, sarcastic, cool hedgehog that he is in the games. Mario should stick to his roots in his own movie and not stray too far from what makes him special. Of course, with Pratt replacing the legendary Charles Martinet, who has been THE voice of the character since the very beginning, it's possible Nintendo has already gone in the other direction…
The untitled Super Mario film hits theaters on Dec. 21. It also stars Anya Taylor-Joy as Princess Peach, Charlie Day as Luigi, Jack Black as Bowser, Keegan-Michael Key as Toad, Seth Rogen as Donkey Kong, Fred Armisen as Cranky Kong, Kevin Michael Richardson as Kamek, and Sebastian Maniscalco as Foreman Spike.