News
Scott Adkins and Louis Mandylor Get Payback in Exclusive Clip
An action movie star's work is never done, and in more ways than one, in this exclusive clip from the new Scott Adkins movie, Payback: Debt Collectors 2.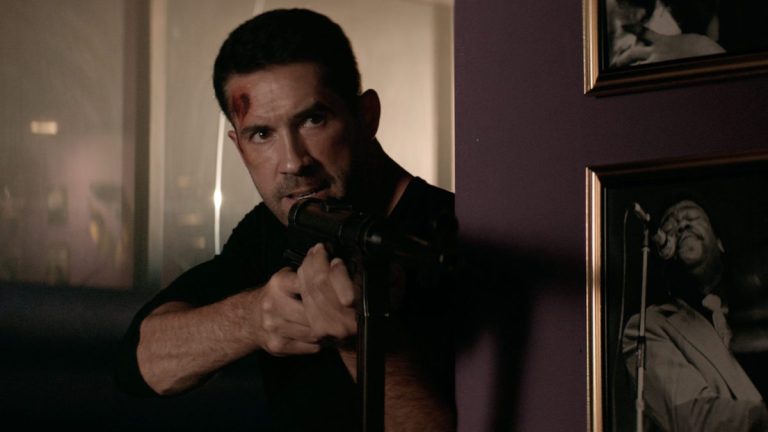 We imagine it's never thrilling to be recognized for your past work. Yet when you have action movie talents like Scott Adkins and Louis Mandylor on hand, it makes absolute sense a certain type of fan will crop up—and likely need a likely beat down in some circumstances! That's at least one humorous takeaway from a new exclusive clip of Payback: Debt Collectors 2, an action-thriller starring Scott Adkins and Louis Mandylor.
In the film, Adkins and Mandylor star as a pair of debt collecting heavies who are muscle for a particular type of bad men—all while avoiding another group entirely that wants them dead. And in the scene we have below, the men known as French and Sue (Adkins and Mandylor, respectively) are starting their morning by getting hassled for the fact Mandylor used to star in a direct-to-video martial arts movie named Ninja. While Sue never technically starred in such a movie, we kind of wish he had.
The scene is a funny interlude that winks at Adkins and Mandylor's credentials while promising badassery is soon to come. Indeed, Adkins is one of the most well-known action movie stars for genre fans in the last decade, leaving behind an army of fallen stuntmen in his wake. With credits that include Universal Soldier: Day of Reckoning, Re-Kill, and Triple Threat, he's got quite the list of credentials. In fact, while Mandylor never starred in a Ninja movie, Adkins did. Two of 'em, actually. Conversely, Mandylor has stared in Avengement, Rambo: Last Blood, Doom: Annihilation, and many more.
Payback is a sequel to The Debt Collector, a 2018 fighter that likewise starred Adkins and Mandylor as men whose fists could cash their mouth's checks. It's also a bit of a reunion for the director as well, with Jesse V. Johnson directing the pair after helming the original movie as well as their team-up in Avengement. He also directed Adkins in action fan cult classic, Triple Threat, which also starred Tony Jaa and Iko Uwais.
Payback follows the same lovable pair on a new adventure of evasion and outstanding balances. It also is already available for home release now in the UK, both Blu-ray and digital download, courtesy of Dazzler. It's likewise available in the U.S. under the title Debt Collectors.