News
Rick Moranis Randomly Attacked on the Upper West Side
Ghostbusters star Rick Moranis is fine after an unprovoked attack near Central Park.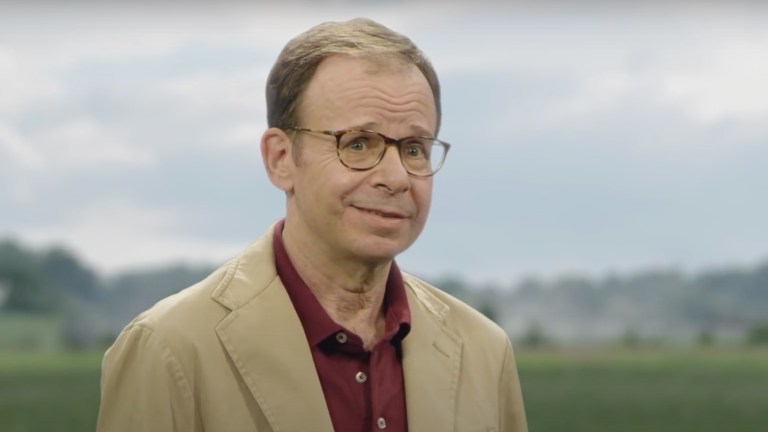 Honey, I Shrunk the Kids star Rick Moranis was sucker-punched by a stranger in a random attack on Central Park West near 70th Street just before 7:30 a.m. on Thursday, Oct. 1, according to Deadline. The 67-year-old retired actor was walking on a sidewalk near New York's Central Park when a man wearing a black "I Love NY" sweatshirt and a backpack hit him in the head, knocking him to the ground. The attack happened a few blocks from the apartment building where Moranis' character lived in Ghostbusters.
The unprovoked attack was caught on surveillance video which has been released by the New York Police Department. NYPD Crime Stoppers tweeted footage from the attack along with as a $2,500 reward for any information to identify the assailant.
According to the New York Police Department report, the attacker took a sudden step toward Moranis before hitting him with a closed fist. The suspect fled north on foot and has not been identified but can be seen calmly walking away after the attack. Early reports said the actor went to the hospital before reporting the attack at a police station. Moranis had pain in the head, back and right hip, according to the NYPD report.
"Rick Moranis was assaulted on the Upper West Side yesterday," Moranis's management and lawyers confirmed in a statement. "He is fine but grateful for everyone's thoughts and well wishes."
Moranis, who also starred in Little Shop of Horrors, Spaceballs, and was a long-running member of Second City Television, took a hiatus from acting after his wife, Ann Belsky, died from breast cancer, devoting himself to raising their children. He recently began appearing in an ad for Mint Mobile with actor Ryan Reynolds, and has also signed on for a Honey I Shrunk the Kids remake called Shrunk. His last on-screen role was the direct-to-video sequel Honey, We Shrunk Ourselves.
Twitter lit up with shows of support and outrage for the unprovoked attack. Chris Evans' "blood is boiling," according to his tweet. Josh Gad tweeted the "rage I am feeling right now is beyond words." James Woods suggested the still-at-large assailant "should be boiled in oil alive" in a Tweet.
The attack happened while New York City Police Department statistics show felony and misdemeanor assaults are down citywide in 2020 compared to a year ago. The murder rate has gone up almost 40% since 2019, though it's is still half what it was in 2001. Assaults are also down over 10% since 2001.