News
Release the Godfather!
...or rather, a definitive chronological version. On DVD and Blu-ray. Or the puppy gets it. It's nothing personal, just business...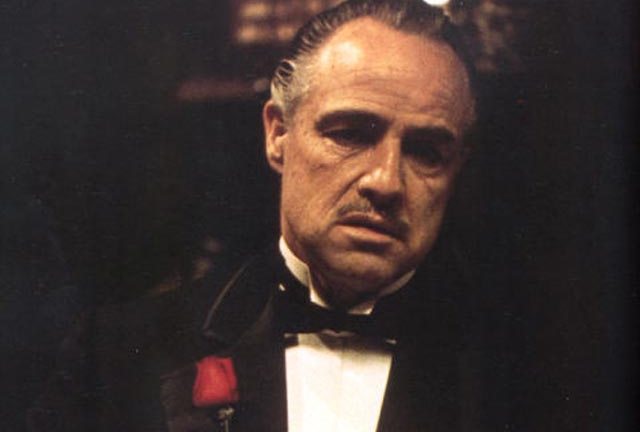 Normally I have a few harsh words ready when faced with a cavalcade of 'staggered' archive movie releases designed to make consumers buy the same film over and over again: the vanilla release followed within six months by the 'special edition'; within two years by the 'ultimate edition'; and thereafter (ever after) by a drip-fed stream of 'super-duper ultimate LAST EDITION EVER'/'extra commentaries'/'restored!'/'director's cut' versions. Add Blu-ray into the mix and it becomes clear that Hollywood is trying to shoehorn a 'rental' model into the traditional 'buy and own' model. 
Since Francis Ford Coppola's classic (well, two-thirds classic) Godfather trilogy is hitting Blu-ray in an extras-packed 4-disc edition in September (US)/October (UK), why am I therefore asking for another version on top of that? 
Surely the time has come for a fourth, final and definitive 'chronological' release of the Godfather movies, this time with every single piece of footage that was divided up between the three chronological versions to date: 
– Coppola's 1975 edited-for-TV version, in the usual deal with devil/network, cut out some profanity and violence but contained scenes and footage not included in the theatrical release. 
– The superb Godfather epic added other missing footage in a second 'chronological' release in the 1980s. At 406 minutes, watching this was a cardiovascular hazard, but it is the best version of the original material that I've yet seen. 
– Inevitably the inferior Godfather III was going to get in on the act, and the chronological laserdisc/VHS release assembled by Coppola in 1993 (known as "The Godfather Trilogy 1901-1980") has yet more 'new' footage from all three films, but has never been released on DVD.
None of these individual versions contain all the extra footage/scenes that the sum total of all three does. Since Coppola has spent a year restoring his masterpieces for the pending Blu-ray release, the job of releasing a new chronological version is surely 85% done…? So why not spend a few months sprucing up the collected extra footage from the previous three chronological versions and splice it into a new version? 
One possible impediment, from an aesthetic point of view, is that the single-tract Godfather splice with all extra scenes restored is likely to weigh in at near to twelve hours, and would have to be split over several Blu-ray discs. For the DVD release, over 4-5 discs. Thus the economies of this putative, bare-bones 'triple-dip' dictate that Coppola is waiting out a wider diffusion of Blu-ray players. Additionally, he knows we're all going to be 'Godfathered'-out after this autumn's 4-disc set, and a pause of a year is probably indicated before limbering up another assault on our wallets.
Coppola is said to have stated that the films were meant to be seen in their original form rather than the chronological version, which starts out in Sicily with the Robert De Niro strand and collects Pacino's descent into treachery in Part II into one discreet strand of its own. Why, if he feels like this, has he already edited the films together chronologically three times? Since the principle obviously doesn't offend him any more than the truckload of money that follows a 'new' release of Godfather material, I do wish he would get on with the version that I want to see.
Actually, the version that I'd like is one that excludes Part III. The Godfather is a classic cinematic saga of the 1970s, a chilling and Faustian tale that should end with Pacino's internal descent into evil. Rather than his falling flat on his face like a street-drunk in the Vatican City. It won't happen. But it would still be worth the less memorable inclusion of Part III to see the Corleone saga unfold in a straight line again…