News
Giveaway: Win the Godfather III 30th Anniversary Edition on Blu-Ray!
FOUR lucky mafia movie fans will each win one special release Blu-ray copy of The Godfather Coda. Enjoy the final entry of the Godfather trilogy as Coppola intended!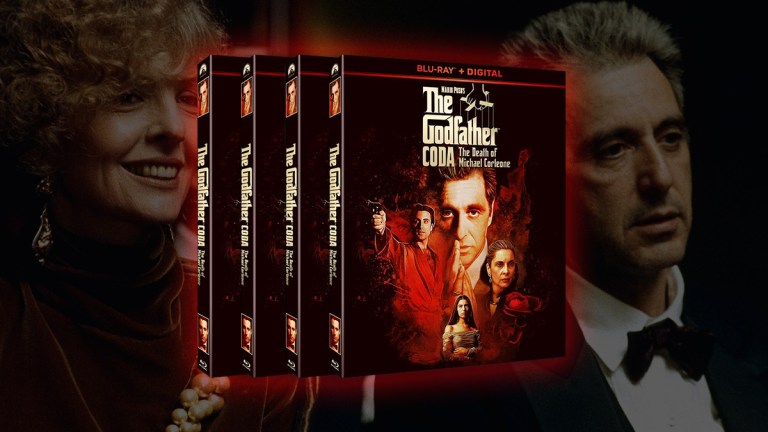 We're going to make you an offer you can't refuse. The Godfather III is getting a restoration for the ages, just in time for its 30th anniversary—and it's now available on Blu-ray! This new edition has been completely remastered for higher-definition audio and visual quality. But that's not all. Sporting the film title Coppola initially intended, The Godfather Coda: The Death of Michael Corleone, Francis Ford Coppola and Mario Puzo bring you their version of how The Godfather saga should have ended.
Coppola was given permission to create the ending he originally envisioned for this critically acclaimed mafia family chronicle. According to Coppola, he "created a new beginning and ending, and rearranged some scenes, shots, and music cues" to create a more appropriate conclusion. With this cut, Coppola proved that less is infinitely more when it comes to storytelling.
Follow one the most influential mafia families in cinema, the Corleones, as Michael attempts to bring his family out of crime. Basically, the Corleone family tries to "go legit," the Holy Roman Church gets involved, AND somebody's ear goes missing. Taking the whole Godfather trilogy into account, it might just be the ending that'll leave you most astounded. Featuring the amazing Al Pacino and Andy Garcia (nominated for his role as best supporting actor) the film's new bonuses are bound to make this feel like a proper retelling of the original story. The Pope blessed this film, you think you know better than the Pope?
If nothing else, the scenes of amazing Italian food are bound to leave you wanting more Godfather.
To enter for a chance to win a Blu-ray copy of The Godfather Coda: The Death of Michael Corleone, simply:
Entries will be accepted until December 21st. Four (4) lucky winners will be chosen and then notified via Twitter direct message. The winner must reply to the email within 24 hours with shipping information in order to accept the prize, otherwise another winner will be chosen. Good luck!