News
Rebecca Remake Trailer Promises Haunting Thriller
Lily James and Armie Hammer help Rebecca de Winter live again in Netflix's version of a gothic thriller previously adapted by Alfred Hitchcock.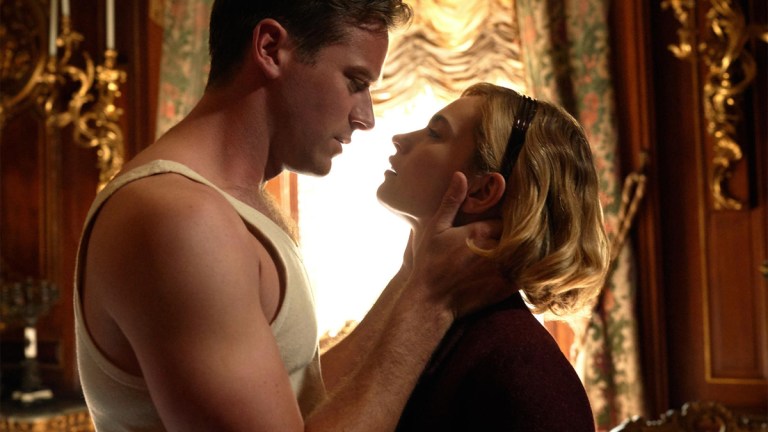 Every romance has a beginning, and every romance has an end… sometimes the story of each can be a killer. Such are the intimations at the heart of Daphne du Maurier's Rebecca, which is being handsomely brought back to the screen by director Ben Wheatley in a new Netflix production. With Lily James and Armie Hammer stepping into the roles of a newlywed couple with more secrets than kisses, and Kristin Scott Thomas taking on the role of the most menacing housekeeper eveer, there is a lot to take in with the film's first trailer.
Based on the 1938 Gothic novel of the same name, Rebecca was previously adapted to the screen in 1940 by director Alfred Hitchcock. That film, like the new one, focuses on an inexperienced young woman (James) who loses herself in a whirlwind romance with a rich and enigmatic man named Maxim de Winter (Hammer). After meeting at Monte Carlo, the pair are soon married, and the newly renamed Mrs. de Winter is traveling with Maxim to his ancestral home of Manderly where she learns about his late, deceased wife from the eerie Mrs. Danvers (Thomas).
The official synopsis notes, "Naive and inexperienced, she begins to settle into the trappings of her new life, but finds herself battling the shadow of Maxim's first wife, the elegant and urbane Rebecca, whose haunting legacy is kept alive by Manderley's sinister housekeeper Mrs. Danvers
The talent behind the picture, and the sheer audacity of revisiting this tale, is obviously intriguing. The original Hitchcock movie is considered to be a classic, even if it changed the ending of the original novel. Hitch's first film as a Hollywood director, Rebecca saw the corpulent filmmaker work (contentiously) with producer David O. Selznick on the picture, garnering a Best Picture Oscar for the latter. The movie starred Laurence Olivier as the widower, Joan Fontaine as the new bride, and perhaps most memorably Judith Anderson as Mrs. Danvers. All three earned Oscar nominations, and Anderson earned a place in cinema history as one of the most insidious screen presences in memory.
Yet Wheatley is pulling from material in the novel, including a climax, that was previously omitted. He's also working with the ever reliable screenwriter Jane Goldman in adapting this archetypal Gothic thriller for a modern sensibility. With the film also starring Ann Dowd, Sam Riley, and Keeley Hawes, there's potential in this being a remake of a Hitchcock movie that can stand on its own…. There's a first time for everything, right?
Rebecca premieres on Netflix on Oct. 21.