Features
Ranking Cinderella Adaptations
Where does Amazon Studios' Cinderella rank alongside the last 70 years of movie and TV adaptations?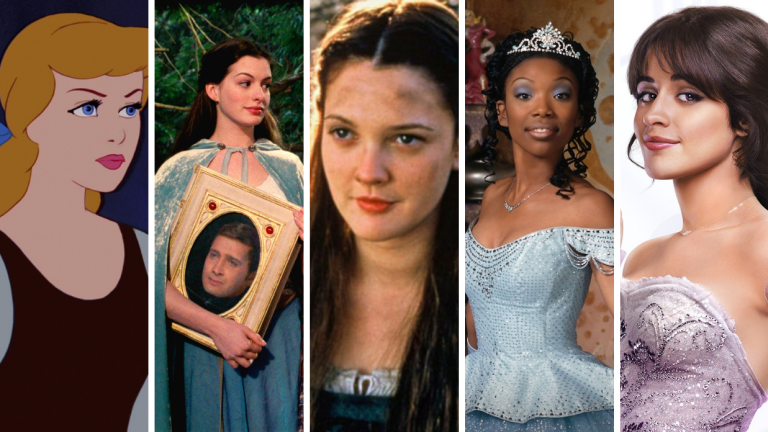 A dream is a wish your heart makes, and if your wish is to see countless takes on the beloved fairy tale of Cinderella, then consider your dreams having come true many times over—including this year, with a new Cinderella by way of Amazon Studios. This latest adaptation seems to have combined qualities of many of its predecessors: it's playfully anachronistic and eschews the traditional Disney or Rodgers & Hammerstein songs in favor of a tracklist of modern pop covers; it also engages with Cinderella's career aspirations beyond fitting her foot into a glass slipper.
But this Cinderella owes everything to the other soot-stained girls, animated and otherwise, who wished with all their hearts for decades before her. How does the new adaptation compare to the modern fairy tales, animated classics, and another fairy tale riff with an outstanding Stephen Sondheim tune? Check out our ranking of Cinderella adaptations, from worst to best.
10. A Cinderella Story (2004)
This cult classic is a clever retelling, with peak early-aughts casting of Hilary Duff and Chad Michael Murray as the star-crossed, Cyrano de Bergerac-inspired lovers: Sam toils away at her late father's Southern California diner, under the heel of a delightful Jennifer Coolidge as her vain stepmother, while Austin is the closest thing to high school royalty as the quarterback with a sensitive side. Regina King as the longtime diner employee-turned-metaphorical fairy godmother who gets Sam to the homecoming masquerade dance is the other key bit of casting, but you'd have to really be a fan of the "fairy tales in high school" subgenre to get on board. Plus, the stable of derivative direct-to-video sequels makes the sparkle wear off with each new, formulaic installment released.
9. Cinderella (2021)
Kay Cannon's (Pitch Perfect) progressive plot urging entrepreneurial dressmaker Ella (Camilla Cabello), her bitterly materialistic stepmother (Idina Menzel), and other original female characters to choose themselves over the supposed security of marriage is not quite enough to balance the cringey modern soundtrack and anachronistic witticisms. It's too bad, because this Cinderella puts forth ambitious ideas, and any production with Billy Porter as the fairy godmother should be nothing but fabulous. Compared to most of her predecessors, this Cinderella is a distinctively fresh role model for the next generation of kids, but adults won't find much magic in her story.
8. Ella Enchanted (2004)
This is a tough one, because the source material—that is, Gail Carson Levine's 1997 middle grade novel—is unquestionably one of the very best Cinderella adaptations: Ella's curse of obedience is an apt commentary on manipulating young girls into giving up their agency under the guise of people-pleasing. But the film—despite its adorable, baby-faced stars Anne Hathaway and Hugh Dancy—overcomplicates an already daring plot with a throne-stealing subplot (that Cary Elwes, as the unnecessary evil uncle, can't save) and an unforgivably cheesy cover of Queen's "Somebody to Love." Hathaway's voice is sweeter than Nicholas Galitzine's rendition in the new Cinderella, but the giants dressed in early-aughts miniskirts strain even the most loose definitions of fantasy. Despite all that, it (mostly) sells Ella struggling against abuses of her obedience in a way that's still more revelatory than many straight adaptations. Still, you've got plenty of better movie choices; forget this adaptation and just read the book.
7. Rodgers & Hammerstein's Cinderella (1965)
Richard Rodgers and Oscar Hammerstein II originally wrote their classic musical for television broadcast instead of the stage, though it has found its way to the latter. CBS' second TV production (following the original 1957 version starring Julie Andrews) introduced a bright-eyed Lesley Ann Warren (a.k.a. Miss Scarlet from Clue) as Cinderella, and unlike its predecessor was able to be recorded in color. Between the vivid hues, Warren's expressive acting, and the array of sets, it all contributed to the feeling of watching a taped performance—an incredibly charming one, at that. But the effect does come off as overwrought at times, making it the lowest of the three specifically Rodgers & Hammerstein adaptations on the list.
6. Cinderella (2015)
While visually Kenneth Branagh's live-action adaptation of the animated Disney classic hews so closely to its source material that it feels like a lost opportunity to be more original, there are some sly plot tweaks. Lily James' Ella is not hopelessly naïve about her abusive home situation, yet manages to keep up the mantra of "have courage and be kind" through even the worst mistreatment. Streamlining the classic songs to score strengthens the plot, with Ella's rare occasion of singing being what ultimately saves her. Fans of the blue dress and romantic vibe will have much to swoon over, even if they're not surprised.
5. Into the Woods (2014)
Or, then, what if I am? / What a Prince would envision? / But then how can you know / Who you are til you know / What you want? Which I don't… Anna Kendrick brings us a relatably existential Cinderella in this movie adaptation of Stephen Sondheim's musical about various fairy tale characters who wind up with questionably happy ever afters—including Cinderella, who decides "not to decide," then ends up with a philandering Prince. It's not a complete Cinderella story, but it's a more memorable performance in a handful of scenes than entire movies have attempted.
4. Rodgers & Hammerstein's Cinderella (1957)
Despite only surviving in black-and-white form, CBS' original TV broadcast shines thanks to its star: Julie Andrews, then performing My Fair Lady on Broadway, who makes this Cinderella both an amalgamation of her then-current and future roles and a performance all its own. You can see glimmers of her comic talents as Maria in The Sound of Music—this Cinderella also has more wit than other versions—but it's her voice that elevates Rodgers & Hammerstein's adaptation of Charles Perrault's fairy tale into something timeless.
3. Cinderella (1950)
Few Cinderella adaptations have achieved the same sweeping sense of sheer romance in the Disney animated classic: the painted backgrounds, the dreamy sequences reflected in soap bubbles and sparkling through the palace gardens, the surprisingly high emotional stakes that make the resolution all the sweeter. And while it's become a common Disney trope, the requisite scene in which the stepsisters cruelly rip apart Cinderella's dress adds a layer of wickedness not present in the Rodgers & Hammerstein adaptations, nor successfully recreated in any of the live-action versions. The same goes for the goofy mice singing "Cinderelly, Cinderelly"—every subsequent CGI mouse lacks the warmth that goes into a believable animal companion. That said, the animated movie's legacy is somewhat marred by its direct-to-video sequels of diminishing returns, though you also have to give them props for pulling an Avengers: Endgame 12 years earlier with Cinderella 3: A Twist in Time.
2. Rodgers & Hammerstein's Cinderella (1997)
For many of us, Disney's animated Cinderella was a childhood classic, but The Wonderful World of Disney's '90s production was the first time the story truly felt magical. Rodgers & Hammerstein's songs were updated with contemporary beats, bridging the forty years between the first broadcast and this version: "Impossible" is one of the best songs from the show, but it hasn't been truly sung until Whitney Houston is belting it out to a starry-eyed Brandy. The production's effortlessly diverse casting—Whoopi Goldberg as the queen, Paolo Montalban as the prince, Bernadette Peters as the stepmother—only amplifies the universal nature of the story. Almost twenty-five years later, this adaptation still feels like the television event it was when it premiered.
1. Ever After: A Cinderella Story (1998)
A truly successful adaptation is one that doesn't have to feel beholden to its source material. By opening with the Brothers Grimm explaining the inspiration behind their own interpretation of Cinderella, Ever After rewrites all of the familiar themes into a historical fiction—specifically, Renaissance-era France—context. Danielle's (Drew Barrymore) misfortune as an orphan servant girl is so believable thanks to the cruelty of her stepmother's (Anjelica Huston, a legend) abuse, but so is her determination and ingenuity to rise above her station. While Disney's animated Cinderella is romantic, Ever After is a romance: Danielle disguises herself as a comtesse in order to spend time with Prince Henry (Dougray Scott), and they develop an actual relationship, complete with rejection once her subterfuge is revealed. Plus, Leonardo da Vinci is there for comic relief and an unintentional fairy godmother assist! If you want your Cinderella story with a compelling feminist arc but you're also burnt out on the songs, this is your happily ever after.
Cinderella will begin streaming on Amazon Video on September 3rd.